It's all a show…but the war is real.
You are all extras in the take down of the world cabal. You must think for yourself. No one can decide what you believe but you. It is all free will. The spiritual warfare is real. It is a battle we have never seen before but have always been engaged in. Spiritual warfare is not an idea that the apostles wrote about for kicks…it is very real.
There is a realm we cannot see but it is very real. What we are battling now is a realm we call the deep state cabal that we cannot see. It is evil and has bad designs and plots against innocent people on the entire planet. It has been attacking and having its' way with mankind since the garden of Eden. Before that, the very same evil behind the garden attack dared to make war in heaven. Those behind it were kicked out of the heavenly realm. Now, we are about to see the same type of kicking out on earth as it was in heaven.
But you cannot see it for it operates in darkness. It operates in secret. It has to operate in darkness and in secret or it would have no power for people would see it is pathetic and people would see they have no power on earth at all without other people doing their bidding for them. For they cannot do a dang thing without all the little people taking bribes and pledging allegiance to fulfill their nasty, lust filled desires.
Does this sound like the description of Satan and his minions? It should for this is his army of earthly evil ones. The same ones who want to live forever and eat the children. It isn't new. It is ancient Baal worship and they believe Lucifer is their God. They follow the ancient rituals in secret for if they did such horrid things in the open…mankind, including the atheist, would rise up and destroy these whose numbers are less than the world population. Therefore, the war rages and most never see the enemy.
Most believe what they are told, and even in that they still question but because it makes no sense to question, for the answers given are lies, they follow along and obey. Believing lies they seek favor for complying. Favor never comes. Yet, they continue to comply for fear of what man will do to them. Having little or no faith in what God can do…they flee and comply to what man has threatened to do and sadly, they ignore the words that God gave to us. Those words are to not fear man who can destroy the flesh, but fear God who can destroy both the flesh and the soul.
Satan, cannot touch the soul, he cannot take what belongs to God. He can only tempt one to follow the ways and lusts of his world. He has come to kill, steal and destroy. Evil spirits that you cannot see are real. They enter into the fleshly body to possess the soul, and once they are inside of it they proceed to do the will of the wicked one.
How silly you are to say such things, so many do think…what ridiculous nonsense, believe it not. Yet, Jesus cast these wicked evil spirits out to heal the sick and to end the madness of those possessed by legions of these.
Matthew 8:28-33
"28 And when he was come to the other side into the country of the Gergesenes, there met him two possessed with devils, coming out of the tombs, exceeding fierce, so that no man might pass by that way. 29 And, behold, they cried out, saying, What have we to do with thee, Jesus, thou Son of God? art thou come hither to torment us before the time? 30And there was a good way off from them an herd of many swine feeding. 31 So the devils besought him, saying, If thou cast us out, suffer us to go away into the herd of swine. 32 And he said unto them, Go. And when they were come out, they went into the herd of swine: and, behold, the whole herd of swine ran violently down a steep place into the sea, and perished in the waters. 33 And they that kept them fled, and went their ways into the city, and told every thing, and what was befallen to the possessed of the devils."
So what did God allow for his people and their protection against the wicked ones? He sent to all those who believe upon his Son, Jesus, the gift of the Holy Spirit to fill their soul and to teach them the ways of God which are good, and to comfort them and protect them from evil wicked spirits from entering into them. It is God's all powerful Holy Spirit, the all knowing and all comforting the greatest teacher, the greatest one ever and not only that…but with the Holy Spirit within you, so also resides the Lord in you and you in Him. Who then can be against you? Not any of the evil realm. Oh sure they will hate you for they hated the Lord, and they rebelled against God and all Heaven. You are of God and the Lord is in you so of course they rebel against you for you belong to God. The Lord told us this!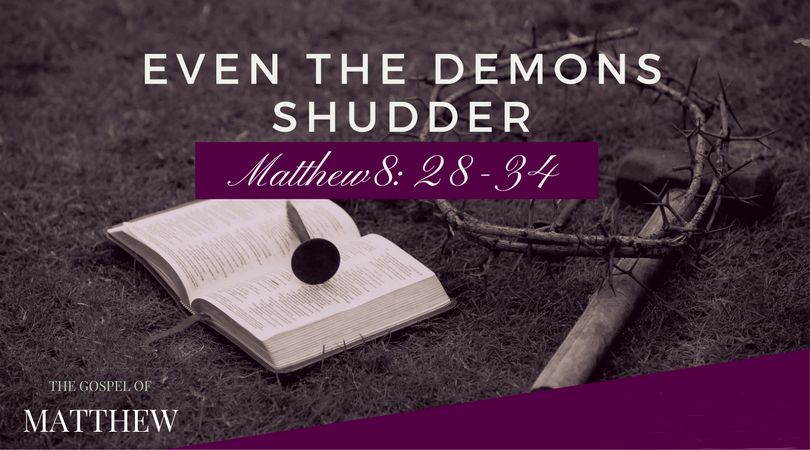 John 15:18-26 KJV
"18 If the world hate you, ye know that it hated me before it hated you. 19 If ye were of the world, the world would love his own: but because ye are not of the world, but I have chosen you out of the world, therefore the world hateth you. 20 Remember the word that I said unto you, The servant is not greater than his lord. If they have persecuted me, they will also persecute you; if they have kept my saying, they will keep yours also. 21 But all these things will they do unto you for my name's sake, because they know not him that sent me. 22 If I had not come and spoken unto them, they had not had sin: but now they have no cloak for their sin. 23 He that hateth me hateth my Father also. 24 If I had not done among them the works which none other man did, they had not had sin: but now have they both seen and hated both me and my Father. 25 But this cometh to pass, that the word might be fulfilled that is written in their law, They hated me without a cause. 26 But when the Comforter is come, whom I will send unto you from the Father, even the Spirit of truth, which proceedeth from the Father, he shall testify of me."
If you fail to see, hear and understand this…you will fail to resist the evil. You will be taken up into it like a whirl wind. Nothing is as it appears. It is all an illusion and a reality show. What is real is your soul, and your heart, mind and soul are one set of operations that no man can take or replicate… they can only tempt you to choose unwisely and follow evil. The brain has nothing to do with it at all. The brain is like a hard drive that it only repeats what has been downloaded.
Everything you have seen, and heard is recorded in the brain. It is the heart that tells the brain what to do.
Luke 21:26 KJV: "Men's hearts failing them for fear, and for looking after those things which are coming on the earth: for the powers of heaven shall be shaken."
What you think, feel and choose is how the mind processes decisions to act on. It is your free will. The free will that God gave all mankind. The mind is a process. It is not a body part. No one can take your free will from you, although evil can test it in the fire to the very core….and no one can touch your soul, nor replicate it. These are the two things that God has not allowed anyone to touch or tamper with…every soul has been given free will. Those who choose the Lord are given the Holy Spirit to live in them and teach them all things, protect them, guide them, comfort them. Without the Holy Spirit there is no protection from the wicked ones…and their evil tactics. The Lord said, that by casting out demonic spirits if you do not fill up the body with the Holy Spirit the demonic evil spirits will return in greater numbers. He told us all how the wicked unseen realm works.
Matthew 12:42-45
"42 The queen of the south shall rise up in the judgment with this generation, and shall condemn it: for she came from the uttermost parts of the earth to hear the wisdom of Solomon; and, behold, a greater than Solomon is here. 43 When the unclean spirit is gone out of a man, he walketh through dry places, seeking rest, and findeth none. 44 Then he saith, I will return into my house from whence I came out; and when he is come, he findeth it empty, swept, and garnished. 45 Then goeth he, and taketh with himself seven other spirits more wicked than himself, and they enter in and dwell there: and the last state of that man is worse than the first. Even so shall it be also unto this wicked generation."
All who believe in the Lord receive the Holy Spirit and have the power to cast out the evil spirits. Many denominations have not been told of this power belonging so freely to all who believe. They were taught man made interpretations that left their congregations powerless against the wicked realm. Each person who believes in the Lord as their savior has the power of the Holy Spirit which includes the power to cast out demonic strongholds. It is not a special anointing for merely a few evangelical super stars on TV…if they even have it at all? For many like Simon Magnus have crept into the church for money and gain of their names. It is a great evil that has been done to those seeking the Lord and being mesmerized by false shepherds. God will deal with each of those who have done such wickedness in all the high places they have done such evil.
It is demons that attack the body. The Bible tells us the Lord said these cause physical illness, mental impairment, the spread of false doctrine, they possess the body and it is called spiritual warfare. The Lord also said to believe in him and he shall send us the comforter which is the Holy Spirit.
John 14:13-19
"13 And whatsoever ye shall ask in my name, that will I do, that the Father may be glorified in the Son. 14 If ye shall ask any thing in my name, I will do it. 15 If ye love me, keep my commandments. 16 And I will pray the Father, and he shall give you another Comforter, that he may abide with you for ever; 17 Even the Spirit of truth; whom the world cannot receive, because it seeth him not, neither knoweth him: but ye know him; for he dwelleth with you, and shall be in you. 18 I will not leave you comfortless: I will come to you. 19 Yet a little while, and the world seeth me no more; but ye see me: because I live, ye shall live also."
So as the invisible war continues…know that nothing can stop what the Lord has put into motion and the giants are already falling! There are many giants that must fall…the giant of GMO Big Food; the giant of Big Pharma; the giant of Weather Modification; the giant of cyber warfare; the giant of false teachers, shepherds, and false prophets; the giant of tyrannical government (both national and global); the giant of wars on all fronts; the giant of transhumanism…. Call every one of the evils out, you name it, the list is long and full of evil not anything good. Lie after lie, after lie….all shall be exposed. Every one of the lies!
Keep your eyes focused on the Lord!
Keep pressing into the Kingdom of God…press, press, press!
Dianne