The devil's tower of Babel in Babylon the Great…what questions should we be asking to find the answers we seek?
Most go about proclaiming they want answers… and they want them right now! Yet they want answers to the questions that lead to more deception. This is what makes them susceptable to more propaganda and lies. They lack the most important thing and that is what is the right questions to ask in order to find the answers that lead to the truth?
The truth is layered over with many shrouds. Remove them one by one and see it is all an ancient spiritual warfare, there is nothing new under the sun. The same as Solomon said. Remember, Solomon was given all the secrets to the underworld….why then do those who seek to do wickedness seek the writings of Solomon they call the Kabbala?
What is Kabbalah? – A basic introduction to the Kabbalah – Chassidic Thought (chabad.org)
Is particle physics a cult? Is it a truth? Is it good or evil?
There are many principles that are of God but man and evil have taken these and warped them into deceptive forms and hidden truths from the masses.
In an article by Nick Bilton, titled: THE TECH REVOLUTION HAS REACHED WARP SPEED: WHAT LIES IN STORE FOR 2022
We have a glimpse of the predictions based on what I call an "if" Deep State gets what they want and achieve their totalitarian goals…. here is an excerpt that summarizes what Nick expects to us see.
"Over the next 365 days, people will start moving into the metaverse; cars will become more autonomous; cell phone cameras will get bigger and better; drones will start to deliver packages; deepfake technology will be as easy to download as Candy Crush; and Web3 scaffolding will be erected on top of the current internet. And yet, some of the downsides are as clear as day: In the metaverse, you might become even more dissociated from society, even more depressed, and even more deeply indoctrinated into a QAnon-type conspiracy theory that hasn't even been invented yet. ISIS, or some rogue state, might stop trying to recruit suicide bombers, and instead focus on hackers who can hack into a car's autonomous system and drive thousands of them into a thousand sidewalks. Cell phone cameras are about to get zoom lenses that will be able to record over your shoulder from a thousand feet away with extreme clarity, eroding our privacy even more. Consumer drones could cause airplane accidents, or be used in attempted assassinations (which already happened once in Venezuela), not just by the U.S. military oversees. Deepfakes will turn the midterms into a breeding ground for fake videos and photos of candidates, ones that will make fake news look about as treacherous as a talking paper clip. Web3 and crypto will surely have endless advantages for creative people and our lopsided economic system, but they will also be used in nefarious ways that we can't even see yet. And a year from now, when we look back at society in an even worse place than it is today, there will be one final certainty: that the people who build all of these things will be even richer than they are today." The Tech Revolution Has Reached Warp Speed: What Lies in Store for 2022 | Vanity Fair
The question is… will his predictions play out or will some other aspect win over?
Which brings us to the question…."Who is Elon Musk?" Finding out who he is first answers a multitude of other questions.
Is Elon Musk the real deal or is he another front face for a deep state or white hat program? Answer this question… and how you go forward changes dramatically.
Interesting … what do the deep state billionaires have to say about Musk?
And what does Trump have to say about Musk?
What does Musk have to say about both?
Elon Musk Longs for the Days When Trump Would Invite Him to the White House – Elon Musk Longs for the Halcyon Days of the Trump Admin (gizmodo.com)
A boat flying a Trump flag approached SpaceX's spaceship after the astronauts landed. NASA promised to 'do a better job' next time.
Boat Flying Trump Flag Disrupts NASA's Feed of Historic SpaceX Landing (businessinsider.com)
What is really taking place? What else is Warp Speed about?
Answer these questions first and deCERN all things. Next remember what Tesla knew and Donald Trump's Uncle John and what his uncle told him. Why did Trump take over the Space Program and make Space Force the fourth arm of the military in charge of all things cyber?
Have you seen the photos of SPACE X BOOSTER 4?
What does the heart of Musk's Starship's Super Heavy Booster remind you of? Remember Musk was awarded a Military Space Based Program Contract.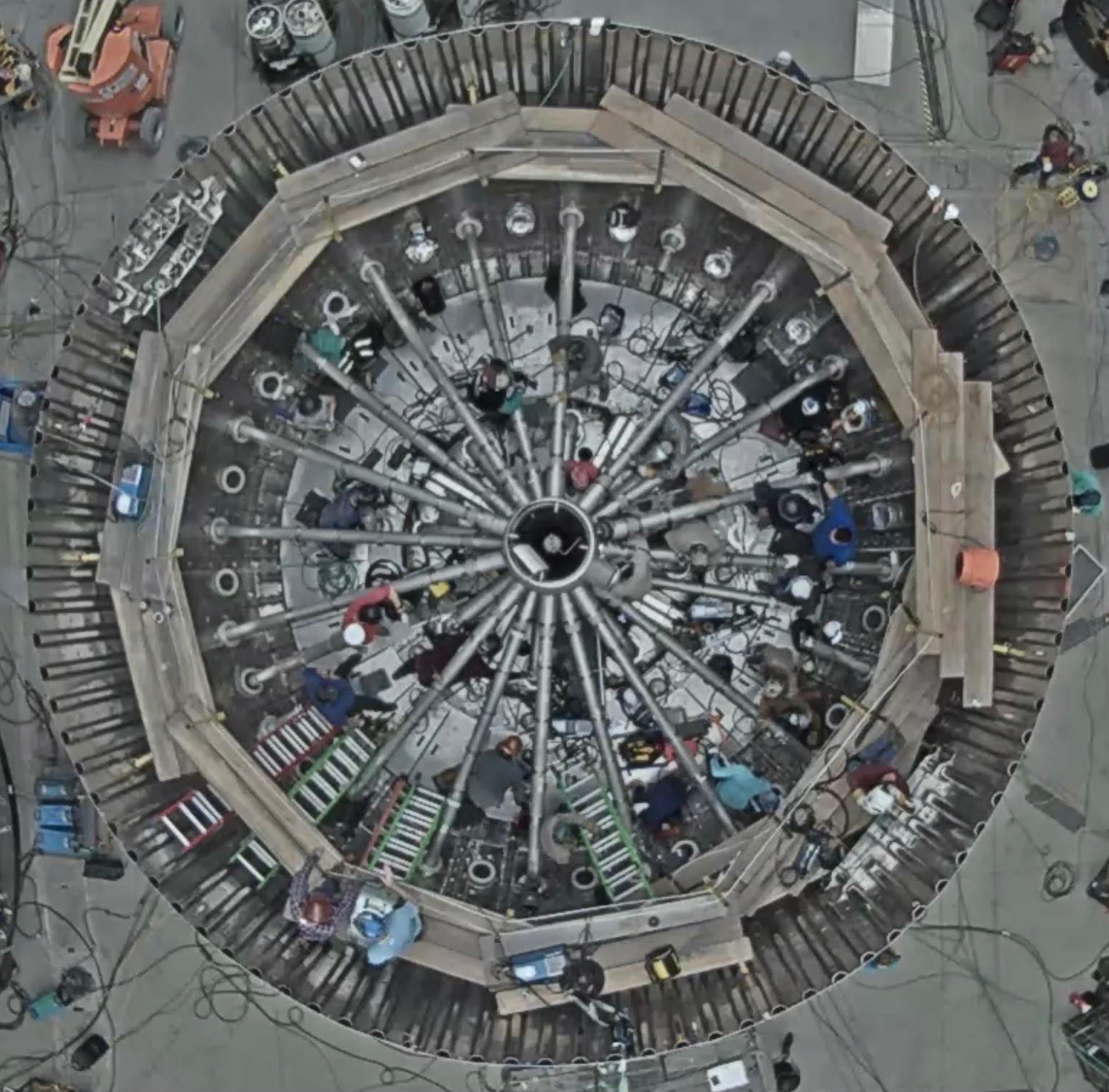 Remember Space Force requested 4.5 billion for developing, testing and engineering research for 2022 and some of that was to go to Space X. Why? Because they are working together.
Might I remind you that congress in their political battles had the DoD concerned that Congress will continue to extend temporary funding and not pass a full-year appropriations for the remainder of fiscal year 2022. An extended CR would be especially bad news for Space Development Agency because its proposed funding for 2022 is much higher than it was in 2021.The Space Development Agency's plans to launch 20 satellites and procure an additional 126 over the coming year could be derailed if Congress doesn't pass a budget when temporary funding expires in February, stated the agency's director Derek Tournear on Dec. 6, 2021. But hey…. pay no attention to any of this and just focus on the other boosters and the other Warpspeed…the one that has to do with Big Pharma of which both of them are what Trump is taking full credit for. But, why?
In a Dec. 6 statement, Defense Secretary Lloyd Austin said "some have even suggested a CR could last an entire year, an unprecedented move that would cause enormous, if not irreparable, damage for a wide range of bipartisan priorities — from defense readiness and modernization, to research and development, to public health." Read full story here: DoD space agency making contingency plans in case Congress doesn't pass a budget – SpaceNews
The Space Development Agency expects Tranche 1 satellites to cost "significantly less" than the $14 million average price it paid for Tranche 0 satellites.
WASHINGTON — The Pentagon's Space Development Agency will solicit bids for an upcoming procurement of up to 150 satellites to be launched in late 2024, agency director Derek Tournear said March 4.
A request for proposals will be issued in August and multiple contracts could be awarded before the end of the year, Tournear said at a Potomac Officers Club virtual conference.
The SDA is building a fleet of satellites in low Earth orbit that includes a Transport Layer of data-relay satellites and a Tracking Layer of sensor satellites to detect and track missiles. The agency last year ordered 20 transport satellites from Lockheed Martin and York Space Systems; and eight tracking satellites from L3Harris and SpaceX. Read full story here: DoD space agency to award multiple contracts for up to 150 satellites – SpaceNews
Now let's add the earthquake in France and Switzerland effecting CERN. The largest computer in the world and big SPACE TIME BIG BANG COLLIDER PROJECT, AND IGNORE THE CIA NORTH COMMAND CENTER? SHOULD WE IGNORE IT?
Keep on pressing into the Kingdom, press, press, press!
Dianne