IT'S PAST THE TIME TO WAKE UP AND LOOK AT THE ONE WAY TUNNEL THEY ARE FORCING YOU TO WALK INTO!
DON'T LET THEM HERD YOU LIKE CATTLE INTO THEIR TRAPS! SHOUT NO!
It's time to take these jab pushers to court for denying your basic human rights! And press charges on all who are behind manufacturing and pushing mandates to take the jab filled with toxic graphene oxide! This is poison and will disable and kill you. Call out their PSEUDO SCIENCE!
Below: NO ONE WANTS TO SEE THIS, BUT IT HAS TO BE SEEN IN ORDER TO SEE WHAT THESE DEMONIC, EVIL, SOULESS BEASTS ARE FORCING ON YOU AND YOUR KIDS.
Thousands buried older loved ones during COVID as we watched the nursing home masacres in horror. We watched grown adults choose to take a jab and shake in twisted pain, suffer from respiratory issues, enlarged hearts and many died. We watched videos of teens dying, and are watching people who took the jab getting sick and many of them are now dead or dying.
No one who took the jab and had side effects are saying they would do it all over again if they had the chance. We are hearing them say they would not have taken it if they had known it would disable them. Well, duh????
And now governments school systems and employers are forcing children to take the jab and even some parents. IT IS TIME TO GO IN MASS AGAINST THESE INSANE PEOPLE ORDERING MANDATES AND DEMAND THEY ALL BE ARRESTED FOR HARMING OTHERS!
APPLAUD THE PEOPLE OF TENNESSEE! IT IS TIME TO STAND UP LIKE THESE FOLKS ARE DOING! NO MASKS AND NO JABS AND NO EVIL MANDATES AND ARREST THOSE WHO PUSH THEM FOR CRIMES AGAINST HUMANITY!
It's time to come out of this Babylon or you will, without a doubt, share in their plagues!
What they are asking you all to do is to willingly poison your child and yourselves! Forcing you to poison yourselves or you can't work or function in their new insane mandated society. This is murder in the highest degree. There is no science behind this, but there is a lot of history and that is why we have the Nuremberg Code! Sue them all in court. Every employer who is mandating a jab has just threatened to poison you. That is a murder threat. It is time we start calling it what it is. Genocide and murder! That is exactly what they are doing!
That's all I have to say on this for now.
Meanwhile, on a positive note…warrants for the arrests of 52 democrats are being issued to those who fled Austin to avoid voting on a controversial GOP election reform bill that they claim would infringe on the ability of minorities to cast ballots..
Twitter is flooded with naked photos of Hunter Biden and his sex capades. You can imagine how pathetic that is…I'm not posting them here but that is what people find important and it is going viral to distract from the real news which is the Deep State is scrambling because they have finally ticked off We The People to the point of no return and they know it.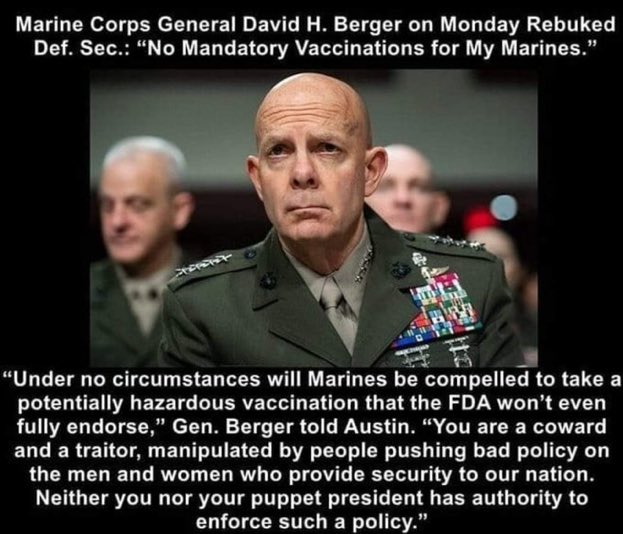 We are at the stage of this war where both sides have no where to go but forward. They have no god but Satan and we have God Almighty so pray like you have never prayed before and ask GOD to send out a legions of angels to bring down the evil strongholds and do it in the name of Jesus our Lord! We belong to God and he will protect us if we faint not…keep on pressing forward into the Kingdom. Stand up and rebuke this evil in the name of Jesus our Lord!
DIANNE