BIDEN'S BOTCHED UP AFGHANISTAN EVACUATION- IT ALL LOOKS LIKE ONE BIG FAT FALSE FLAG!
When false flags get sloppy, people wake up. This is VERY SLOPPY AND NOW PEOPLE ARE WAKING UP! IT'S TIME TO ARREST THE ONES RESPONSIBLE, AND END THEIR RESET HUNGER GAMES!
False flags do not mean nothing happened. It means your government has developed a strategy of attack to serve their own purposes and lied to you about what and why an event took place because THEY PLANNED IT AND DID IT. You aren't supposed to know or you WILL BE ANGRY AND DEMAND THEY BE PULLED FROM THEIR OFFICE(S)! You might even want to drag them through the streets and take care of them yourselves. They know this, therefore they commit these crimes in secret. The names of the main persons behind the false flags are generally unknown by the public. They put their paid deep state operatives in high places and make you believe they are the ones in charge. But they are not in charge. They are puppets doing the bidding for their dark war lords you never see or know about.
So now we will show you some of the hell the present false flag in Afghanistan is having and their insane, public scenario.
They tell you they have an evacuation plan. They don't tell you how upside down it is and why they made it this way. If you ask them serious questions they will simply answer with a lie or evade the questions all together.
Biden's Evacuation Contracts….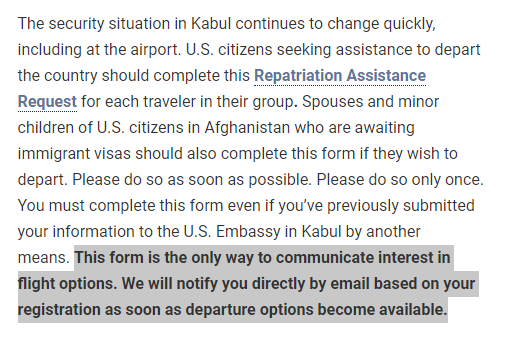 This form also requires signing a promisary note or you won't get rescued and you will be left to become the new property of the Taliban.
And if you signed the loan agreement YOU ARE NOT ELIGIBLE FOR A NEW PASSPORT UNTIL THE LOAN IS REPAID AND THEY DO NOT ACCEPT CASH OR CREDIT CARDS AS PAYMENT!!
14. Repatriation flights are not free. All passengers will need to reimburse the U.S. Government for the flight. A promissory note for the full cost of the flight, which may exceed $2,000 per person, must be signed by each adult passenger before boarding. No cash or credit card payments will be accepted.
15. Loan Repayment. While my passport will not be canceled, U.S. citizens who have signed a loan agreement for repatriation may not be eligible for a new passport until the loan is repaid.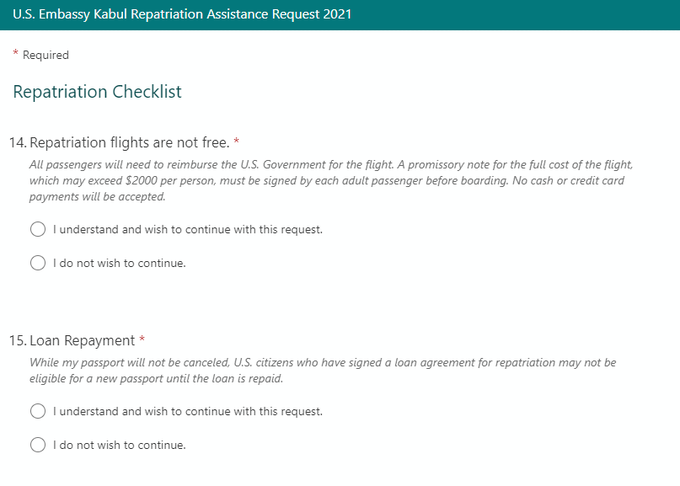 THE USA EVACUATION AGREEMENT IS FROM HELL ITSELF!
Politico says that it confronted the State Department over the matter, which they said did not deny that it was happening.
"U.S. law requires that evacuation assistance to private U.S. citizens or third country nationals be provided 'on a reimbursable basis to the maximum extent practicable,'" the spokesperson said. "The situation is extremely fluid, and we are working to overcome obstacles as they arise."
"In other words, the Biden administration may request payments for evacuation flights," the report added. Read more here: Biden Admin Continues To Tell Fleeing American Citizens They Must Pay For Evacuation Flight Out Of Afghanistan: Report | The Daily Wire
FALSE FLAGS IN A NUTSHELL FOR THOSE WHO HAVE NO IDEA WHAT IT MEANS….
A false flag is a term used to describe military or intelligence operations that governments perpetrate on their own civilians for the purpose of blaming another country or group. Often this is done to get the public behind whatever war the ruling class would like to wage that particular moment.
For those who don't understand how the Cabal works with false flags in order to create the exact type of chaos they need…please read this link. Time is short and the days of educationg are few. Learn now or forever wonder……and be fooled.
KEEP PRESSING FORWARD AND EXPOSE ALL THE EVIL TRAITORS!
DIANNE