We keep saying nothing is as it appears, but how many of us knew there was so much that was hidden? And now, even though many suspected while even those as myself stood there and said, "We can all trust Barr." Oh how even the critical thinkers can from time to time be blinded not to see… or is that just one being hopeful and loyal to want one wants to see? Whatever it is, it happens when one digs only to a certain level because they know not what questions they should be asking.
And just today, we hear once trusted deep state sheep in wolfs clothing "Former Attorney General Bill Barr" saying Trump "has neither the temperament nor persuasive powers" necessary to lead the U.S., and urges the Republican Party to move on from him."
I see the RINOS now have their marching orders, after all this means war. But, then again, the patriots already knew Barr had done nothing but stall and oblige the deep state. So, he can join the rest of the betrayers of the Republic for they are all being exposed, little by little.
These words from a man that failed miserably at every opportunity to do his job for we the people. He protected the deep state openly and proudly. Shame on him. Shame, shame, shame!
And now for the Internet Archives… but first the back story.
I am not sure when this internet archive was first published, but it is a BIG EYE OPENER and may as well be NEWS of the DAY, for I am certain most all of you have not heard of this book before. I had not.
U.S. Attorney Bill Barr who was investigating Jeffrey E. Epstein (didn't kill him self) Death, has a father who wrote the most unusual book on a very unsettling topic on the rape of enslaved people, notably- teenage girls. The so-called fiction-based book entails coercive sex acts for the so-called purpose of entertainment and spells out a scenario of controlled procreation from space alien sex traffickers.
But who am I to question literature and why would any of this mean anything at all? So, if you are among the nobodies out there, such as me… you can ponder and then question why such a piece as this should or would have been written at all and for whose enjoyment? What purpose did it serve? You may even wonder if it has anything to do with Area 51 or Los Alamos Labs? Or something else? Like how did Epstein get involved in this bazaar world of sex trafficking? Was it a book her once read or was he possibly recruited? Was he selected? But that would be silly, now wouldn't it?
And as long as we're being silly, we might even wonder about the Epstein Ranch in New Mexico, the place where he was going to donate his own sperm to build a perfect Epstein race of people? But then that would be buying into letting your imagination of a fiction novel run away with reality, so if you are among the sleeping, you can peruse this fiction and move along for there really is nothing here to see. Just a novel of Donald Barr's imagination for the enjoyment of his friend Jeffry Epstein. I wonder if Ghislaine Maxwell enjoyed it too? Or was that before she linked up? I'm sure there were still copies in print. Who knows and what does any of this really matter today, after all the seventies have come and gone and now this is 2022.
Below is the article from the internet archives on this very bazaar subject. You can read the book here: Donald Barr – Space Relations : Donald Barr : Free Download, Borrow, and Streaming : Internet Archive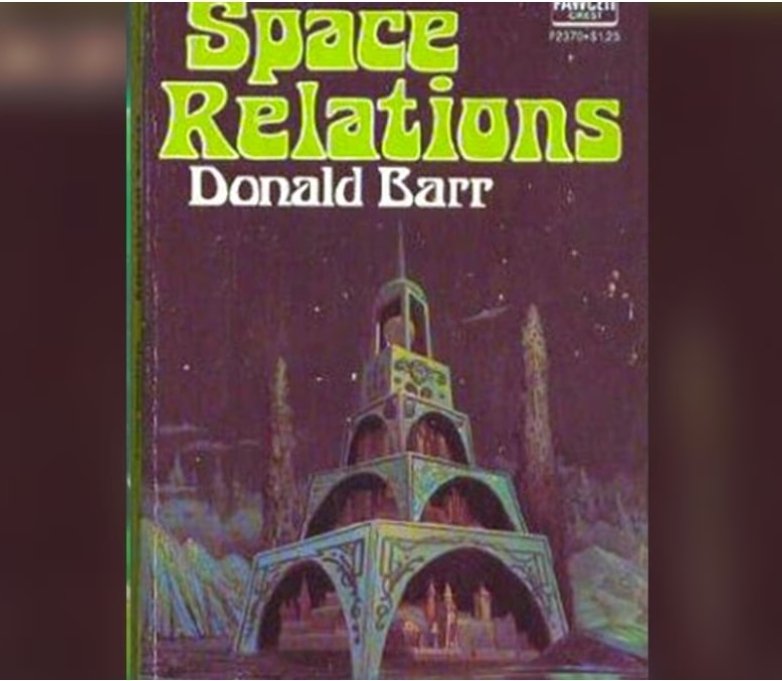 Donald Barr – Space Relations
by Donald Barr
Publication date 1973Usage CC0 1.0 UniversalTopics donald barr, space relations, jeffrey epstein, william barr, politicsCollection opensourceLanguage English
Donald Barr's son, US Attorney General William Barr is currently investigating the death of Jeffrey Epstein.
In 1973, Donald Barr, hired a young 20 year old college dropout named Jeffrey E. Epstein to teach math at the Dalton School. Epstein taught at the school between 1974 and 1976.
Donald Barr also wrote this sci-fi novel, Space Relations, about sex slavery in space.
Epstein went on to build a career in finance and became a multimillionaire. He served time in 2008 as a sex offender for having molested 36 girls, some as young as 14.
In July 2019, Epstein was arrested on federal charges of sex trafficking of minors in Florida and New York. Epstein committed suicide while being held in US Federal custody on August 10, 2019.
US Attorney General William Barr was appointed by the Trump administration in February 2019.
From the back cover: "ON A DISTANT PLANET IN THE DISTANT FUTURE. When all the galaxies are colonized, John Craig, a young space diplomat, is captured by interplanetary pirates and sold into slavery. On Kossar, where boredom and absolute power have driven the rulers to a special kind of madness, Craig is auctioned off to the exquisite Lady Morgan Sidney, a beautiful, sensual woman. He soon makes his way from the hellish slave mines into her bed in the tower of her castle. And it is here, under the strange castle, that he finds the secret that may bring about the end of man in the galaxy. SPACE RELATIONS—A bizzare, fascinating tale of a Feudal Age of the Future"Addeddate 2019-08-17 01:49:57Identifier donaldbarrspacerelationsIdentifier-ark ark:/13960/t0mt1jv0vOcr ABBYY FineReader 11.0 (Extended OCR)Ppi 300Scanner Internet Archive HTML5 Uploader 1.6.4
What were they really doing with the NAZI paper clipped scientists at area 51? Didn't Trump want to release that information?
REMEMBER NOTHING IS AS IT APPEARS…QUESTION ALL THINGS AND BRING THEM BEFORE THE LORD FOR EXAMINATION!
DIANNE