So Donald J. Trump is at it again, telling the truth!
He should know by now that the truth is so rare that few who hear it ever recognize it. Or at least that is how it appears on the surface…until you dig a bit deeper and see his style is indeed 5-D chess, or another more appropriate phrase to call it would simply be…"Holy Spirit Discernment".
An article in Capitol Hill News says: "RINOs are the worst aspect of politics. Self-serving, cowardly traitors and losers who are more than happy to capitulate to the demands of our enemies. These men and women were elected to uphold the principles of a Constitutional Republic. Instead, they undermine it. Donald Trump said they should be embarrassed for helping the Democrats tank this economy. But they have no shame."
Read more here: Donald Trump Ridiculed Congress and Republicans For Passing The Non-Infrastructure Bill
But, let's look deeper at the real message being sent. Pelosi has called Trump's style, "goading" he goades them all on. But who is the real goader? Remember the famous…"I'm Nancy and I do what I want to do, I own the show." Followed up by fake news applause for her immature, disrespectful display of immaturity and lack of any real common decency for the office and seat she splats her arse on? I do.
The definition of Goad is to provoke or annoy (someone) so as to stimulate some action or reaction."he goaded her on to more daring revelations"synonyms:provoke · spur · prick · sting · prod · egg on · hound · badger · incite · rouse ·
So the goading is from the tyrannical left's "toy box". Who are the real goaders and President Trump knows how to "BOOMERANG" the goades back to where they came from. That is the art of his 5-D Holy Spirit Discernment! Trump's "TOY BOX" IS BIGGER, BETTER, AND FULLER!" The tyrannical left wing global owned puppets hate that. So what have we learned from watching five or now six years of this puppet show?
Could one of the lessons, and most important lesson of all, be to not react to the antics of the enemy who publicly displays their immaturity for the world to see and has no shame at all? Give the enemy all the rope they need to not only hang themselves but to tie their entire league of anti-Americans into a knotted up bundle for all to see?
Trump throws it back in their faces in spite of the fake press…."Crazy Nancy…not the same person, she's lost it. She's a mess. She's disintegrating….Speaker Pelosi's incompetant….nor do I like people who say…"I pray for you"… AND THE GOAD SHOW CONTINUES ON AND ON AND ON! What emerges like a light in the darkness….is the TRUTH!
And how does the truth emerge from such a swampy mess? By those who listen, watch and observe. Not by those who react….and get all frustrated. When one remains calm and watches the body language, the lies in full swing, and the fake news wrap up smears….the truth falls out and stares a truth seeker in the face. Where the show is entertaining….it is the truth – that shining nugget of truth that rises above the fray and awakens those who were not paying attention.
One begins to observe more and watch. They see President Trump remains cool, calm, collected and very sharp in his comeback. Where the left rummages through their toy box and keeps playing with the same toys, the same strategies, the same irrational bla, bla, bla….and become like BIG BIRD AND EATING ICECREAM FROM NANCY'S TOILET…OR WAS THAT HER FREEZER? At a certain point, it all looks the same.
But what does all the icecream really lead to…and was this really Nancy? If it was…why is she in your face with chocolate and icecream? What else was happening during this time? What else was taking place during the lockdown?
What was one of the very first things that President Trump did when he took office in 2017?
President Trump upon taking office signed Executive Orders to combat child trafficking and continued to make that a priority! Ask yourself why you don't know this? Who is fighting to keep it from you? And why don't they want you to know?
FACT CHECK IT!
ASK WHY MANY OF THESE EXECUTIVE ORDER LINKS HAVE BEEN TAKEN DOWN? WERE THEY OVERWRITTEN BY NEW E.O.'S BY THE ONES WHO STOLE THE ELECTION? OR JUST REMOVED AND PUT INTO THE ARCHIVES?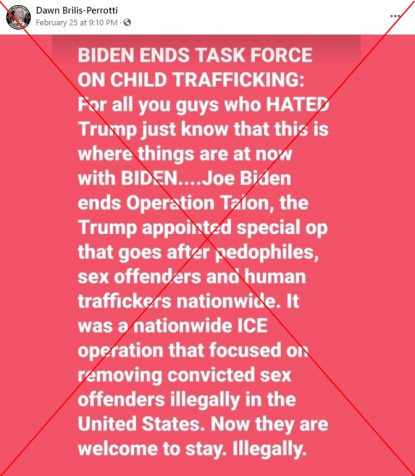 FACT CHECKING SOURCES…GO AHEAD, KNOCK YOURSELF OUT…THE TRUTH IS WAITING!
The White House, Jan. 31:

"Executive Order on Combating Human Trafficking and Online Child Exploitation in the United States"

The White House, Feb. 9, 2017:

"Presidential Executive Order on Enforcing Federal Law with Respect to Transnational Criminal Organizations and Preventing International Trafficking"

The White House, Dec. 31, 2019:

"Proclamation on National Slavery and Human Trafficking Prevention Month, 2020"

The White House, Dec. 31, 2018:

"Proclamation on National Slavery and Human Trafficking Prevention Month, 2020"

The White House, Dec. 31, 2017:

"Proclamation on National Slavery and Human Trafficking Prevention Month, 2020"

CNN, June 27, 2017: "Ivanka Trump spotlights global human trafficking"
Rev, Aug. 27, 2020: "Ivanka Trump 2020 RNC Speech Transcript"
Congress.gov, accessed Oct. 14, 2020: "Allow States and Victims to Fight Online Sex Trafficking Act of 2017"
Congress.gov, accessed Oct. 14, 2020: "Protecting Young Victims from Sexual Abuse and Safe Sport Authorization Act of 2017"
Congress.gov, accessed Oct. 14, 2020: "Trafficking Victims Protection Act of 2017"
Congress.gov, accessed Oct. 14, 2020: "Department of Homeland Security Blue Campaign Authorization Act"
Congress.gov, accessed Oct. 14, 2020: "SOAR to Health and Wellness Act of 2018"
Congress.gov, accessed Oct. 14, 2020: "Combating Human Trafficking in Commercial Vehicles Act"
Congress.gov, accessed Oct. 14, 2020: "No Human Trafficking on Our Roads Act"
Congress.gov, accessed Oct. 14, 2020: "Abolish Human Trafficking Act of 2017"
Congress.gov, accessed Oct. 14, 2020: "Not Invisible Act of 2019"
Congress.gov, accessed Oct. 14, 2020: "Savanna's Act"
According to the website for Congress, before the RNC in August, Trump had signed eight bills expressly targeting human trafficking into law:
What was really going on in DC when the entire capitol grounds were surrounded by armed guard and under martial law?
What happens under martial law? Who is in charge under martial law? Who has the power to declare martial law? Who was president when martial law was declared?
ALSO WORTH READING: Tankar i samtiden och för framtiden: Military Continues Child Rescue out of Underground Tunnels Across the Globe (hagenbo.blogspot.com)
Truth seekers question all things. Ask what does ice cream have to do with Biden? What is ice cream in terms of children and sex trafficking?
So let's revisit Nancy and her ice cream. She says, "This is something you can get in the mail".
She shows us her icecream….. and tell us that other people in "our family" like other flavors but…
Where we observe and dig deeper we find…icecream and pedophilia connections as noted by the F.B.I. and way before Q and Trump. We see the F.B.I. report says: "Internet users noted that the logo appeared in the GB Glance ice cream logo. GB Glace, the largest ice cream company in Sweden, was purchased by Unilever in 1996. Others noticed that the logo also appears prominently on Good Humor ice cream, a Dutch-owned American brand of ice cream. Given the nature of their products, some believe they may be the original source of the symbolisms adopted by the pedophile community."
But, the puppet masters say…let's blame this all on Trump and Trump supporters and get rid of all those pesky flies in our ice cream factory who seek to serve us our just deserts!
BELOW ARE EXCERPTS FROM The original text of the FBI Intelligence Bulletin regarding "Symbols and Logos used by pedophiles to identify sexual preferences"
Note the date on this article and the FBI – 31 January 2007 (way before President Trump!)
This intelligence bulletin addresses Crimes Against Children Standing Intelligence Requirements Set contained in Q-FBI-2200-005-06, HRWC CAC-VI.A.5.
Pedophiles, to include those who sexually abuse children as well as those who produce, distribute, and trade child pornography, are using various types of identification logos or symbols to recognize one another and distinguish their sexual preferences. To specifically indicate the pedophile's gender preference, members of pedophilic organizations encourage the use of descriptions such as "boylove", "girllove", and "childlove." These symbols have been etched into rings and formed into pendants, and have also been found imprinted on coins.
The BoyLover logo (BLogo) is a small blue spiral-shaped triangle surrounded by a larger triangle, whereby the small triangle represents a small boy and the larger triangle represents an adult man. A variation of the BLogo is the Little Boy Lover logo (LBLogo), which also embodies a small spiral-shaped triangle within a larger triangle; however, the corners of the LBLogo are rounded to resemble a scribbling by a young child. Images of the BLogo and LBLogo symbols are depicted below.
The GirlLover logo (GLogo) depicted below is a small heart surrounded by a larger heart, which symbolizes a relationship between an adult male or female and minor girl.
The ChildLover logo (CLogo), as shown below, resembles a butterfly and represents non-preferential gender child abusers. The Childlove Online Media Activism Logo (CLOMAL), also represented below, is a general purpose logo used by individuals who use online media such as blogs and webcasts.
FBI investigations in several cities have uncovered several symbols used by pedophiles to proclaim their attraction to children. After a seizure of a subject's computer in connection with an Innocent Images case in the Jacksonville Division, a Computer Analysis Response Team forensic examiner came across an unfamiliar symbol that was integrated into a Web site banner named "ATBOYS.COM, where the "A" in "ATBOYS" was actually the BoyLove symbol and written as follows: TBOYS.com. It was further determined that "ATBOYS" is an acronym for Attracted To Boys. These pedophilia symbols also appear on Web sites such as one of the banners advertised on www.boylover.net, shown below.
In another incident, FBI Sacramento was alerted by the California Department of Justice about an unusual marking on a coin. Research of the marking concluded that the BoyLover logo (BLogo) was imprinted on the front of the coin, and the phrase "Kids Love Pedos" was engraved on the back of the coin. (Coins depicting the BLogo are pictured on page one.) The appearance of the BLogo on coins is another method used by pedophiles to announce their sexual preferences.
Pedophilia symbols on jewelry, coins, Web sites and other effects are indicative of advertisement methods used by child sexual predators to promote their cause. Pedophile activists advocate for the social acceptance of sexual relationships between adults and children. These organizations seek to decriminalize sexual relationships between adults and children and to legalize child pornography based on their belief that children have the ability to consent to sexual acts.
Identical or similar jewelry and symbols as described in this intelligence bulletin should raise suspicion of possible pedophilia activity when found during searches. Investigators should also be attentive to pedophilia symbols advertised on Web sites. During examinations of computer files, investigators should be conscious of subjects who try to conceal child pornography by labeling them with symbols instead of the typical suggestive explicit names. READ FULL ARTICLE: The pedophile handshake – how pedophile secret symbols are used by pedo underground in plain sight – Altered Dimensions Paranormal
So even though the F.B.I. Reports on "Ice Cream" were way before Trump in 2007 and many reports way before 2007… the spin is to blame Q and blame Trump for conspiracy theories and push a FALSE NARRATIVE THAT THIS IS JUST ALL POLITICAL….EVEN THOUGH THE F.B.I. HAS BEEN INVESTIGATING ALL THESE THINGS FOR YEARS AND HAS CONNECTED THEM TO CHILD AND HUMAN SEX TRAFFICKING!
THEN THEY PUT THE TRUTH IN YOUR FACE SO YOU WILL NEVER SEE IT!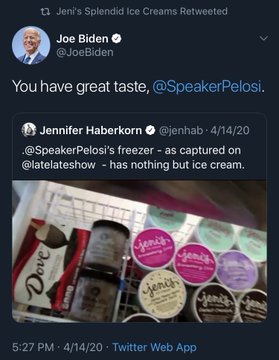 And we aren't supposed to know that Biden's campaign spent $11,000 on ice cream. The same ice cream Nancy Pelosi showed off during her lock down. The kind you get in the mail!

SO NOW YOU SEE WHY THEY DO THEIR GOADING AND WRAP UP SMEARS, AND ALL MANNER OF GOAD….THEY HAVE TO GOAD, GOAD, GOAD IN ORDER TO SURVIVE and HIDE THEIR EVIL.
So, we need to PRESS, PRESS, PRESS into the kingdom and help to expose the truth because they GOAD THE MASSES TO HIDE THEIR EVIL LAWLESSNESS WHICH CHILD AND HUMAN TRAFFICKING IS AT THE TOP OF THEIR LIST OF EVIL FAVORITE SINS!
HOW LONG? AS LONG AS IT TAKES! KEEP PRESSING FORWARD INTO THE KINGDOM!
DIANNE
For truth that fake news don't want you to know…visit the Conservative Business Journal!  www.ConservativeBusinessJournal.com  www.WeThePeopleFightBackEvent.com  www.ConservativeMarketplace.com