Everyone must have a money tree, right?
Everywhere we turn, someone is needing your last dime to save America, in someway, somehow for someone….yet, NOTHING IS APPEARING TO CHANGE except YOUR CHANGE IS DWINDLING.
We have ads now pushing what to buy, buy, buy….and politicians out the wazooo….begging for dollars to make some cha'ching change….and we have people with go fund me's to pay legal bills out the wazooo…..and money to help people who were earning well over six figures to survive the whatever it is they are trying to survive now….. and of course poor little Kyle and his mum….still need their millions after all… he shot three people in self defense and killed two of them….so he needs more money. Being free and found not guilty isn't enough. He has to sue Lin Wood (who actually raised his bail $2,000,000) and all the fake news who made him famous and he can't wait while that process takes its course so send him his millions now, right now so Fraudcock can have some payday. And then we must fund the new heroes at the rallys….and Mr. Lark who is annointed by God to save America and make a profit. Are you seeing the big picture here?
So, how much is still out there to be sent somewhere? I didn't know there was that much cash circulating even in the digital world?
For some reason the Church going people are the ones sending in money… they have been taught this is what the Lord says to do. Send people all your money for the root of all evil is money. Ignore the fact that Solomon was blessed to be the richest King in all the world and the Bible says no one was ever as wealthy as he nor would anyone ever be again…. he received 666 talents of gold yearly by each nation as tribute (taxes)….so God does bless his people with wealth as long as they use it for good. When you go looking at other things that are not so Godly, the Lord giveth and the Lord taketh away.
It is not wealth that is a sin, it is the love of it. That being said….
James wrote –
James 5:1-6 KJV
1Go to now, ye rich men, weep and howl for your miseries that shall come upon you. 2Your riches are corrupted, and your garments are motheaten. 3Your gold and silver is cankered; and the rust of them shall be a witness against you, and shall eat your flesh as it were fire. Ye have heaped treasure together for the last days. 4Behold, the hire of the labourers who have reaped down your fields, which is of you kept back by fraud, crieth: and the cries of them which have reaped are entered into the ears of the Lord of sabaoth. 5Ye have lived in pleasure on the earth, and been wanton; ye have nourished your hearts, as in a day of slaughter. 6Ye have condemned and killed the just; and he doth not resist you.
Meanwhile, stores who supported the looters are now pulling back…it's hurting their Holiday Sales….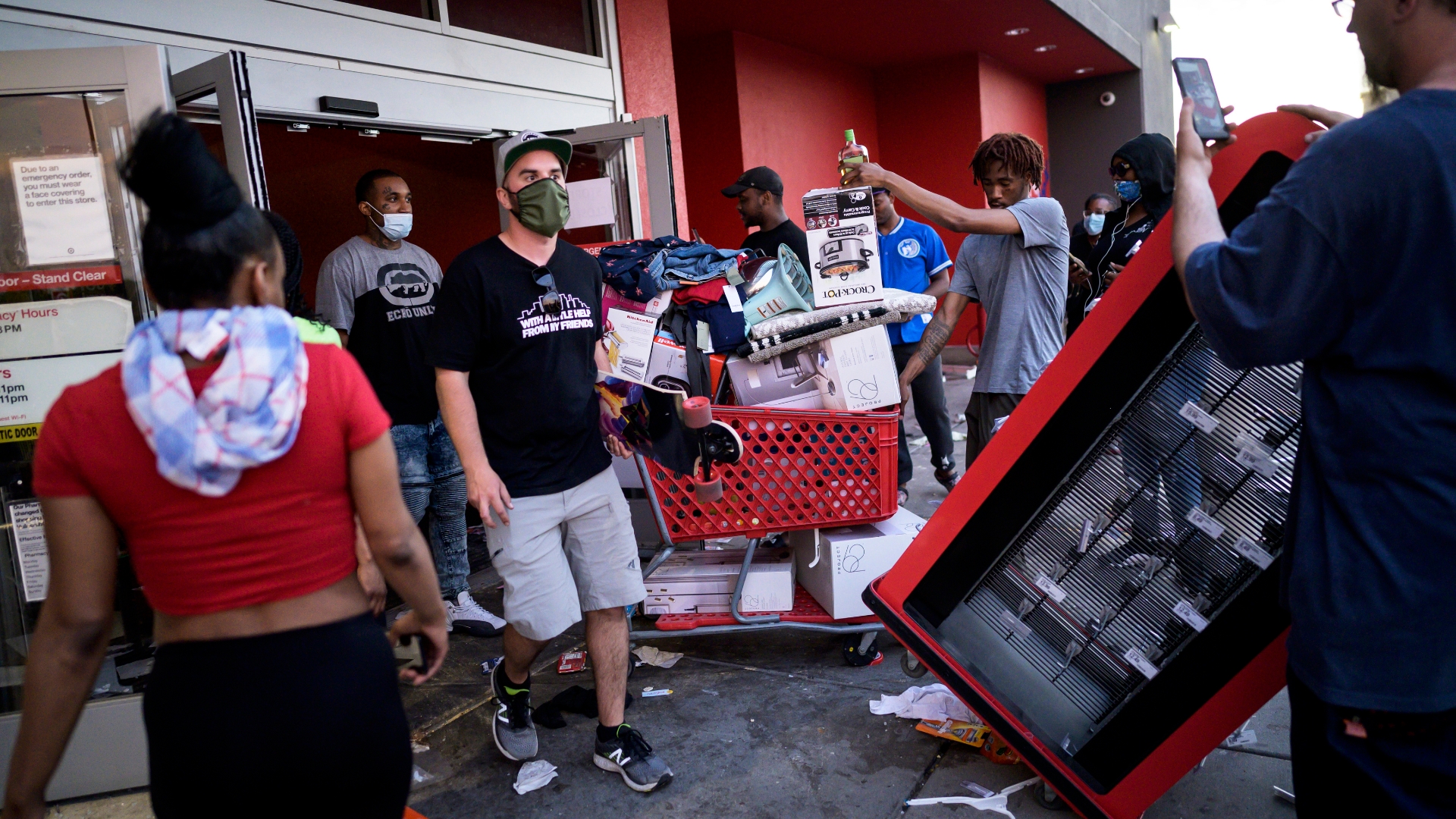 Horowitz: Woke companies that funded BLM agenda now complain about looters, thieves on the loose
Excerpt: "Last week, the Retail Industry Leaders Association, representing 20 major retailers, sent a letter to Congress asking legislators to deal with the growing theft, shoplifting, and "smash-and-grab" mob attacks on retail stores. The corporations represented include giants like Target, Best Buy, Nordstrom, Home Depot, and CVS."
" They are now learning the hard way that when you call theft a low-level crime and essentially decriminalize it – at least in terms of incarceration – well, you will get more theft. These companies have funded the policies, organizations, and politicians behind the decriminalization and de-incarceration laws."Horowitz: Woke companies that funded BLM agenda now complain about looters, thieves on the loose – TheBlaze
It looks like they aren't wanting to continue to play the game anymore? It was all fine when it hit the small business owners, and the small nonessential ones are still getting hit hard…but now the essential businesses are saying…hey…we want paying customers…not the thieves. Funny how they use the word thieves so loosely. Just saying…ponder that a moment.
So, follow the money and see who sits on the boards of all these who went along and now are shouting…not fair anymore. Who owns these? Who ties your IRA investments up in these? Who is about to lose a lot? It boils down to a small group also known as the great merchants of the earth. These are the ones who by their sorcery were all the nations deceived. Ya think? I sure do….
Revelation 18:23
"And the light of a candle shall shine no more at all in thee; and the voice of the bridegroom and of the bride shall be heard no more at all in thee: for thy merchants were the great men of the earth; for by thy sorceries were all nations deceived."
And now…what is left of the Mayfield Candle Factory in Kentucky….
Irony?
So, you can pay a politician, buy a Mr. Lark ticket to a show….or help some REAL PEOPLE WHO NEED SOME REAL HELP! FIVE STATES ARE LEFT WITH PEOPLE IN NEED! IT'S TIME TO TAKE YOUR DOLLARS TO THE PEOPLE YOURSELF…DO NOT GIVE TO THE ORGS…THE ORGS HAVE TO PAY TO SOLICITE YOU AND THEY HAVE TO PAY TO ORGANIZE TO GET YOUR CHANGE….GO RIGHT TO THE PEOPLE AND HAND THEM WHAT YOU CAN FACE TO FACE!!! BYPASS THE MONEY GRUBBING MIDDLE MAN!
THAT IS HOW WE DO IT!
KEEP ON PRESSING INTO THE KINGDOM AND PRESS, PRESS, PRESS!
DIANNE