D.C. Judge supports religious vaccine exemption! Blocks Biden From Firing Unvaccinated Employees, and Active-Duty Military Members – it is UNCONSTITUTIONAL!
A temporary restraining order was issued on Thursday, blocking President Joe Biden from firing unvaccinated federal employees, including active-duty military members, named in a law suit challenging the Biden's jab forced vax mandate as unconstitutional. The first amendment still stands!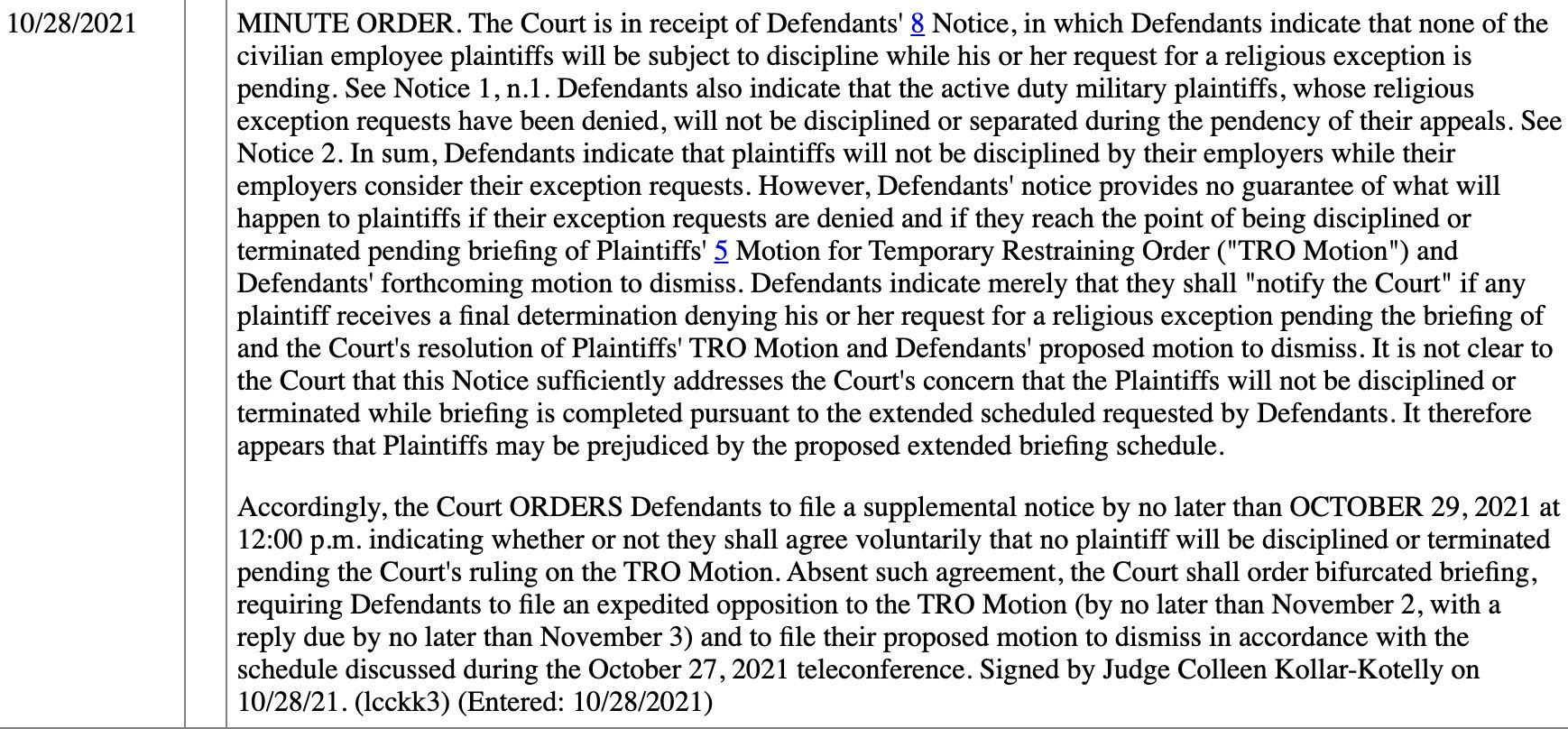 In September, Attorney, Mike Yoder, the plantiffs lawyer tweeted:
So, the first round for a temporary restraining order is a life line to all who were on the firing line. The next step is to end all of the Biden regime unconstitutional mandates.
According to The Wall Street Journal, the U.S. Labor Department plans to issue an emergency temporary standard in a matter of weeks "implementing the new requirement, which will cover 80 million private-sector workers. … Businesses that don't comply can face fines of up to $14,000 per violation, [officials] said."
The battle is just beginning, but the light at the end of the tunnel is shining! We need to press forward together and demand our constitutional rights against a corrupt lawless regime.
Read full report here: D.C. Judge Blocks Biden From Firing Unvaccinated Employees, Active-Duty Military Members | The Daily Wire
LIVE HUMAN EXPERIMENTS ARE NOT NEW…
WE ARE STILL IN THE PROPAGANDA WAR AND IT IS NOW IN FULL FORCE!
On the other hand that they never show you…nothing is as it appears…by design. It's all part of the propaganda war that they have been using on all of us as without our permission. We have all been their lab rats for live experiments in mind control for ages.
Imagine what the globalist will do in the future if they are not removed and their magical sorcery stopped… there is no end to their mind washing and reprogramming. They can say what they will and rewrite whatever they choose, but the author of lies is not God…that one is Satan who is the great deceiver of this world. There are all sorts of lures to entice believers and non believers into a realm they should not enter.
We must guard our walk daily that we don't become enticed to venture into darkness that may appear to make sense to us, or to family and friends. Be not unequally yoked. If you cannot help others come out from their bad choices…don't hang around. You only make yourself vulnerable to torment and mind control thoughts that are not of God and not your own.
And that my friends is why we need to approach this war, however off the rails it is with the weapons the Lord has given us. The full armor of God, for we wrestle not with flesh and blood but with principalities and powers in high places.
Put on the full armor of God so that you will be able to stand in the wicked day!
KEEP ON PRESSING INTO THE KINGDOM….HOW LONG LORD? UNTIL IT IS APPEARS ON EARTH AS IT IS IN HEAVEN!
Dianne