The media is full of swamp garble trying to program what AMEN AND AWOMAN can think. Manhatten is about to be Womanhatten, as COMMON CORE hits the congress smack in the head. What they think they are doing is changing political correct gender speech over the cliff to drive sane people crazy. Because those who can critically think know what they are really doing is laying more ground work to destroy the family unit and kill free speech! However, what they are accomplishing is proving they are idiots and unable to lead themselves outside of a circle, let alone pass a mental health test to make laws for the nation. That will change soon, or so we all hope it does and are rooting for the dots to be connected and the bad people to go home.Joe's not foolin' anyone. Folks know why Biden's inaugural parade was really cancelled. (bizpacreview.com)
Meanwhile, aside from the looney bin show in congress, why are the nervous Nancy democrats threatening another Trump impeachment if they really believe Biden won? Why are they still going nuts if their big guy will be in office in a couple of weeks? Better yet, why did Harris swear in for her Senate Seat when she is supposed to be VP with the Big Guy?
And why is the Biden/Harris inaugural parade cancelled?
And why did the District of Columbia pass a bill that children can be vaccinated without their parents permission?The "Minor Consent for Vaccinations Amendment Act" permits a child aged 11 years or older "to consent to receive a vaccine where the vaccination is recommended by the United States Advisory Committee on Immunization Practices. DC passes bill to vaccinate children without parental knowledge, consent | News | LifeSite (lifesitenews.com)
How long will this crap keep coming? All unconstitutional…let us have our constitution and Bill of Rights back please!
Then we have the Trump news that the media is not talking about. It appears that the Trump Leadership continues in spite of all the insane things being slung by the swamp. Today while the Georgia Election takes place the Department of State is moving right along.
Why did Secretary Pompeo tweet this on the Department of State account?
Pompeo has been busy building world unity to help Venezuela. Why hasn't the news talked about this?
And why did he tweet this on human trafficking when the heat of the day is the Georgia Election?
It sure looks like something to do with World Liberty and the end of World Human Trafficking on the horizon? Is that why the swamp has been so unhinged for the last four years and they are screaming like banshees now?
And why has very little if any news covered the historic middle east peace deal, the Abraham Accords?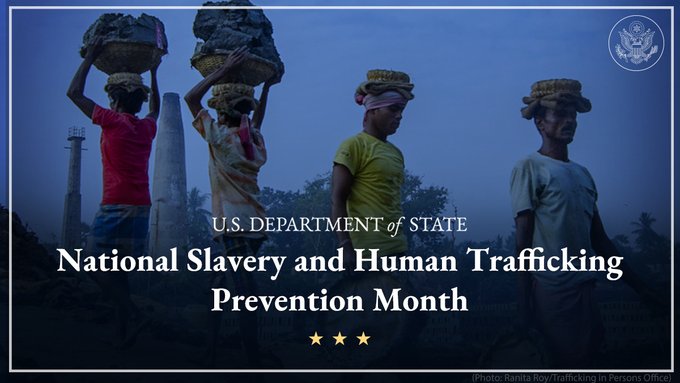 Did the news even mention that President @realDonaldTrump has proclaimed January to be National Slavery and Human Trafficking Prevention Month and called on each of us to do our part to #EndTrafficking. Read more about it here: https://go.usa.gov/xA8Dc.
What do you think is in store for the rest of the month? If clues are windows and we connect the dots…what picture can we see? Perspective is in the eye of the beholder. There are no right or wrong answers…but there are a lot of unanswered questions.
Tonight is the big night for Georgia and America and now we see the entire world. The fight we are in is one that the entire world is watching and all who desire freedom ARE ROOTING FOR AMERICAN PATRIOTS TO TAKE A STAND FOR LAW AND ORDER AND FREEDOM!
The media won't tell you that, but the media can't stop what's coming and they can't STOP GOD GIVEN LIBERTIES AND FREEDOM!
Dianne Marshall