NOT ALL THINGS MADE BY GOD ARE VISIBLE TO THE EYES, BUT ALL THINGS CAN BE SEEN IN THE SPIRIT. BLESSED ARE THOSE THAT CAN SEE THE UNSEEN THINGS AND ARE READY IN THE DAY OF THE LORD!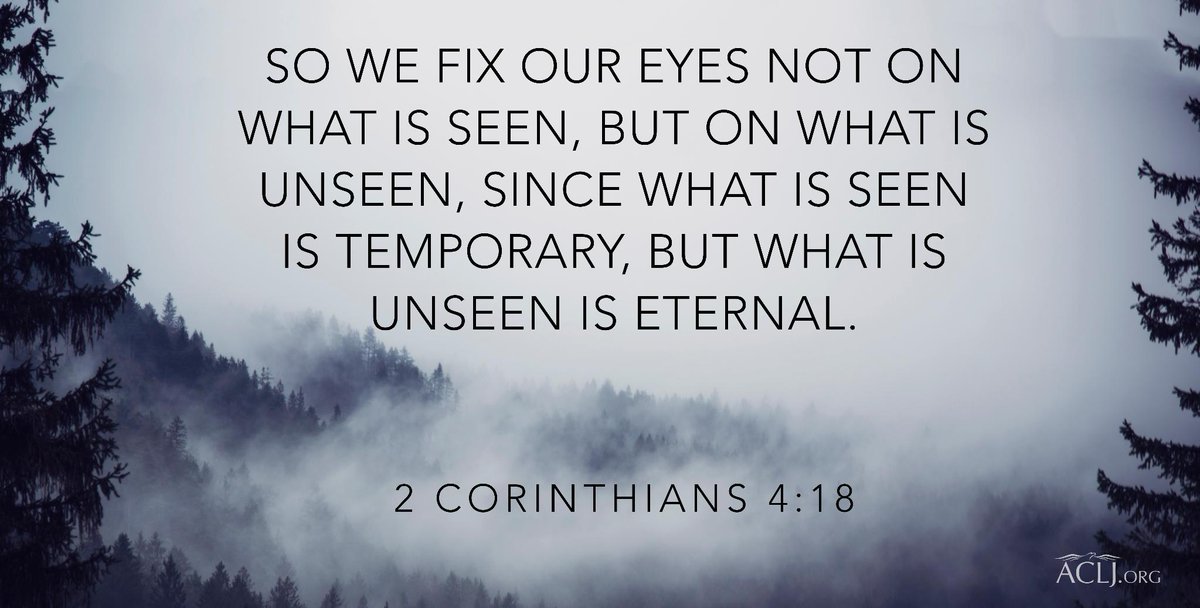 What are some of the invisible things we cannot see with our eyes?
We cannot see the wind, but we feel it and watch what it does when it blows soft and when it blows hard. Therefore, we know the thing we call the wind exists.
We cannot see the air. It is colorless, tasteless, odorless gaseous but it carries oxygen that we need to breathe in and out, in order to live. Without oxygen, we cannot live.
We cannot see the carbon dioxide our bodies produce when we breathe out the oxygen we have taken in to live. Yet, we see the plants all take it in and thrive. After it does so to live, it releases gaseous oxygen back into the air. This exchange is needed for man to be and for plants to be. Without this exchange there is nothing good that can exist.
We cannot see fear but it will stop us cold and cause us to tremble. We cannot see faith but faith the size of a mustard seed will move a mountain!
We cannot see God, but we know he exists through His Holy Spirit. We cannot see the Holy Spirit but we can hear the spirit within and feel comfort. All God's creation is in harmony one with the other. What is not good disrupts God's harmony among his creation. Through prayer unceasing, we shall know the way to go and know God's voice when he calls. When He calls, answer and listen to all he says and all he shows to you.
When God speaks it brings peace to your soul and to your spirit. The Holy Spirit will give you discernment so you will choose wisely. Discern all things and trust that the Lord shall lead you in the way for you to go. Do you have peace in your decision? If not, go to the Lord in prayer, read the scriptures and seek discernment in what you are to do. You will know for the Spirit will lead you to the truth.
But, in our lives, nothing shall manifest without first being seen.
We must first see a thing in order for it to exist….we are now in the process of building God's Kingdom here on earth. Faith is belief in things unseen. So is fear. Fear destroys faith and that is the enemies greatest weapon to attack you with. Fear stops a person and causes them to tremble, to retreat, to not try to win. It causes a person to comply to terrible things that are not good for them.
If we are to see the good things God has planned for us… we must adhere to faith and fear not. You are gifted by God, you are one of a kind. He has given you the gifts to create, to build, to communicate, to worship, to love, to reason, to feel, to choose, to forgive others and He has given you free will to choose. God made you just the way you are in His image. Stand up and stand for righteousness, love God with all your heart, mind and soul, and love your neighbor as yourself. In so doing, you shall do well in God's eyes.
Follow the voice of God and listen for him to speak. Try all things….remember God doesn't always speak first, sometimes the devil speaks first. The Holy Spirit will discern for you, therefore discern all things and seek the Lord with all your heart, mind and soul.
God speaks to us through his Word. Read His word to receive instructions for righteousness.
To know what God wants of you, study His word. The word of God has the power to reknew your mind, heart and soul. Prayer is a two way communication. You speak to God and he speaks to you. The spiritual realm is far bigger than what we can ever imagine. The Holy Spirit intercedes for you and as you build a stronger relationship with God, His will manifests within you greatly and you will know if a word is from God or of another spirit. You must diligently seek Him and spend time with the Lord like you would a best friend. Walk close with the Lord God and pray unceasing, having him in your thoughts, and in all that you do. The Lord is in you and you in Him. You are never alone.
Be strong and keep pressing forward into the Kingdom of God. It is manifesting on earth as it is in heaven through each one who believes in Him. Fear not and keep on pressing forward – THE LORD IS WITH YOU ALL THE WAY SO PRESS!
DIANNE