America's Frontline Doctors and Whistle Blower Eh'den (Uri) Biber share valuable and damming information of contracts between Pfizer and World Governments.
Contracts state that even if there is a safer more affective way of treating COVID, you have to use their jab. These are illegal contracts and dangerous to all citizens!
PFIZER NEVER WANTED THEIR CONTRACTS EXPOSED TO THE CITIZENS OF THE STATES WHO SIGNED THEM!
Governors and leaders of nations have signed contracts with Pfizer that state there are no guarantees on the vax, you can't use any other therapy, and you have no recourse if you have bad side effects including death. And, you have to use their death jab or nothing, and pay millions up front! That is exactly what they are saying folks!
READ IT FOR YOURSELF!
Thread by @eh_den on Thread Reader App – Thread Reader App
Some key Random highlights to the contract:


THE ONLY WAY to get a recall is if you can prove cGMP fault.
"Purchaser shall not be entitled to reject any Product based on service complaints unless a Product does not materially conform to Specifications or cGMP."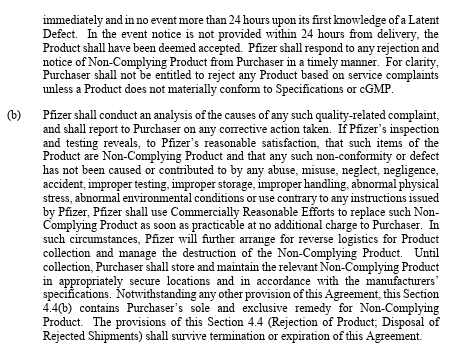 This agreement is above any local law of the state!

Agreement to kill?
Even when side effects both short and long-term are not known…and what we are already seeing is horrific! Who wants to shake like a blender, be disabled, have respiratory issues, wreck their immune system or worse, as some have experienced, die! This is as Sidney Powell has stated publicly numerous times, murder by mandates!
"Purchaser acknowledges…the long-term effects and efficacy of the Vaccine are not currently known and that there may be adverse effects of the Vaccine that are not currently known."

But in all fairness…you do have an escape clause…if you can find a material breach, after you just agreed to ALLOW all the obvious material breeches imaginable. And remember Pfizer can terminate the agreement if they don't get their money, even if they DEEM IT SO?
Your state acknowledged the vax can harm, even kill you and they will use no other drug or therapy to help you get well. It is what it is: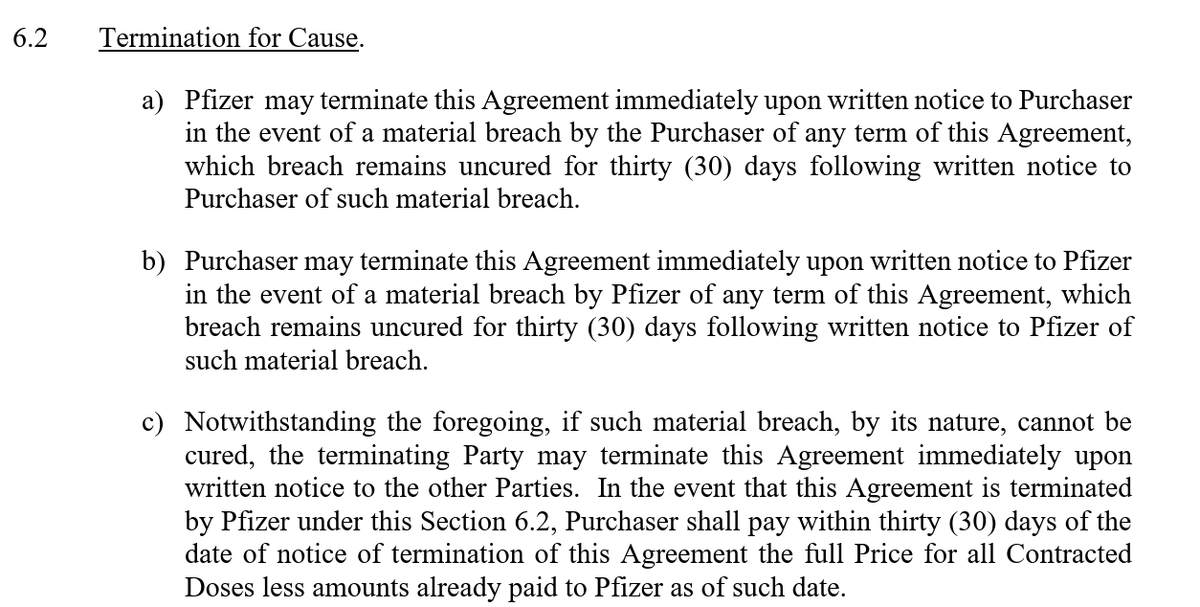 And your state agreed to pay with your tax dollars all the doses it buys even if they are not used. Do you see why states have goals? They do not care if you are sick, disabled, lose your job, or die. They care about getting their return on their investiment in order to serve the new world order RESET GOALS!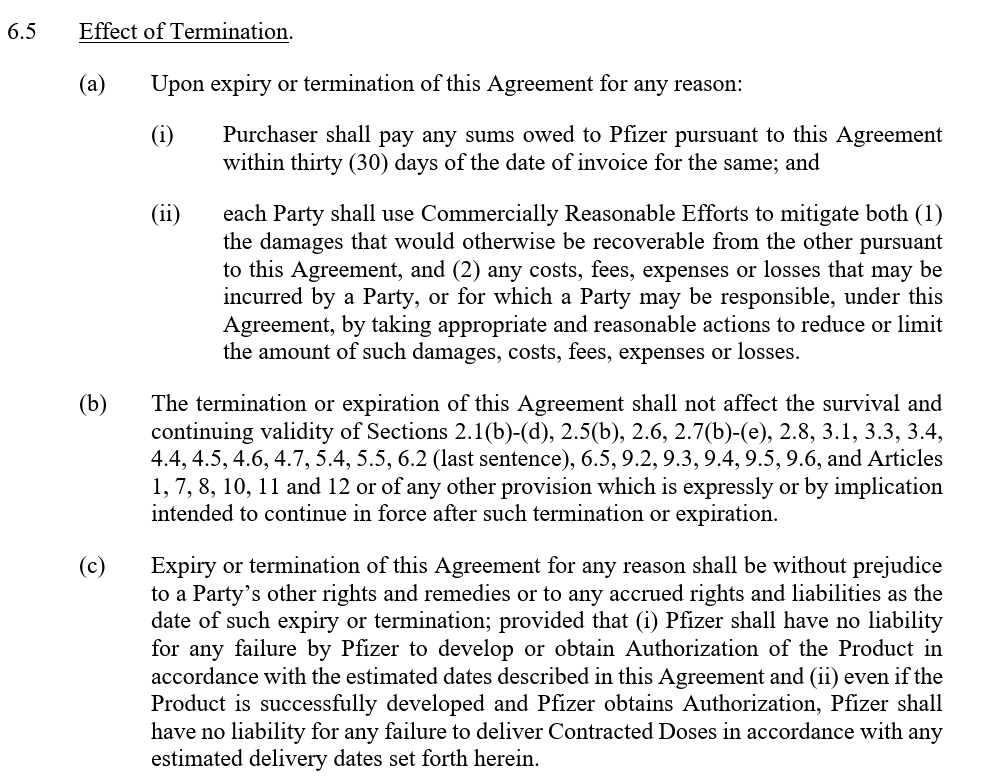 REMEMBER – YOUR STATE AGREED TO HOLD PFIZER HARMLESS IN THEIR EVIL ACT!
"Purchaser hereby agrees to indemnify, DEFEND AND HOLD HARMLESS Pfizer, BioNTech (and) their Affiliates…from and against any and all suits, claims, actions, demands, losses, damages, liabilities, settlements, penalties, fines, costs and expenses…"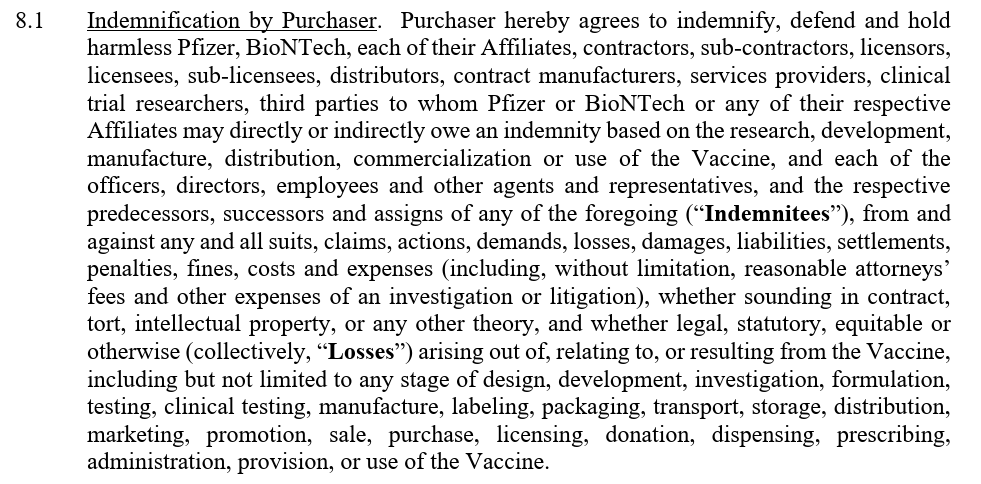 I'm surprised Pfizer did not include a Nuremberg Clause Disclaimer in their agreement! Or did they?
The state must defend Pfizer:
"(Pfizer) shall notify Purchaser of Losses for which it is seeking indemnification… Upon such notification, Purchaser shall promptly assume conduct and control of the defense of such Indemnified Claims on behalf of (Pfizer)"

Will they go to jail for them too? Just asking.
"Pfizer shall have the right to assume control of such defense… and Purchaser shall pay all Losses, including, without limitation, the reasonable attorneys' fees and other expenses incurred."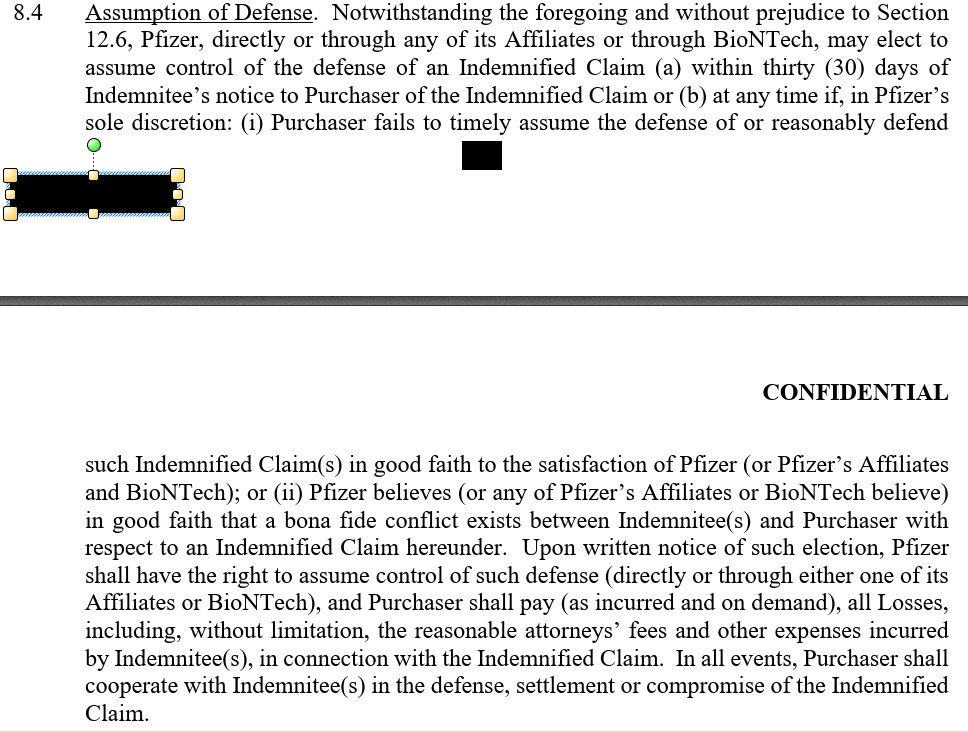 The Purchaser waives any right for immunity, it gives up any law that might cap the obligation to pay damages to Pfizer.
NOTE: The BEAST'S court is in NY which has the capacity to hold international assets of a country if the country fails to honor the contract.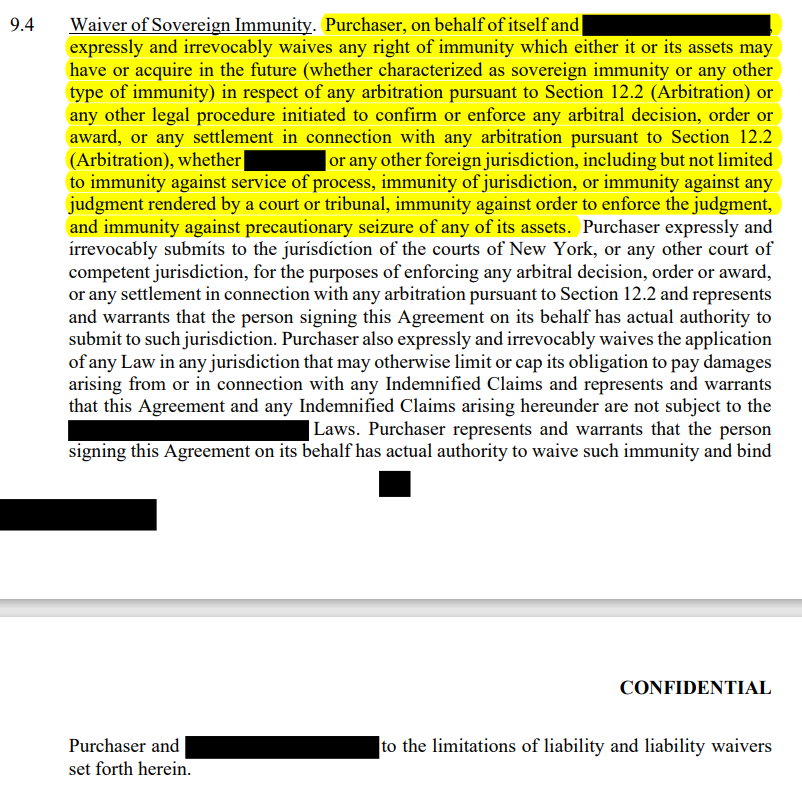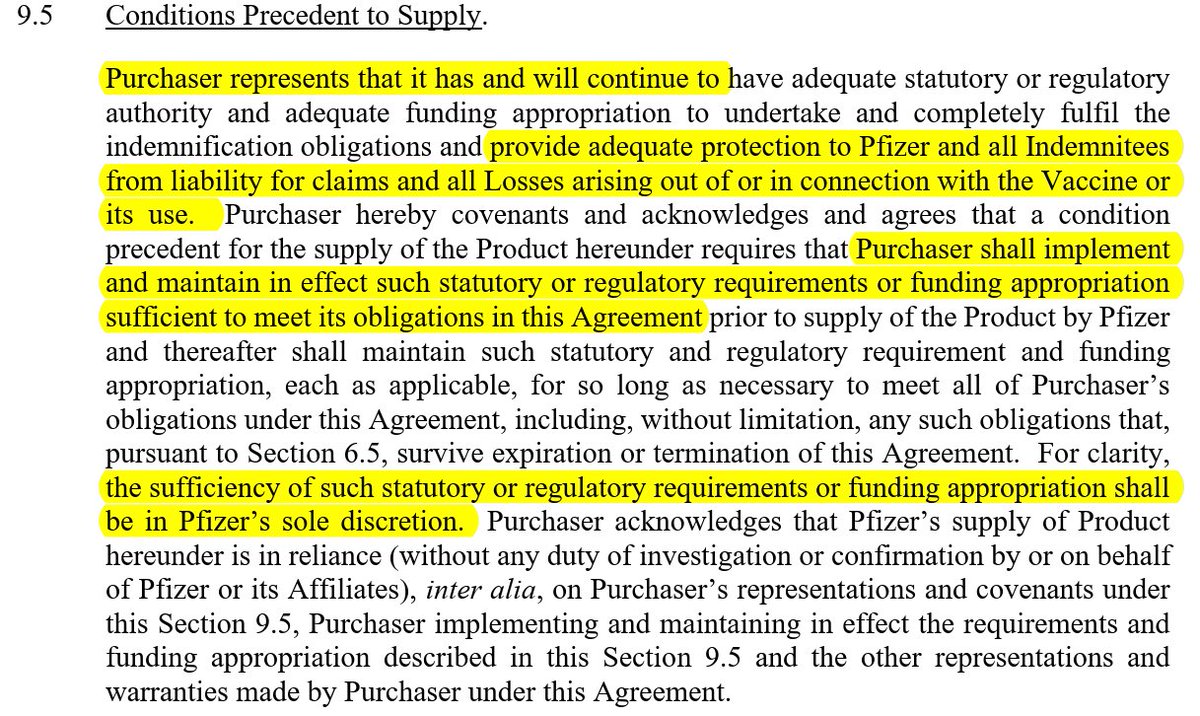 And it ends with obvious Confidentiality Clauses – do not tell anyone what is in this agreement…just like they do with their vaccine!

"Each Recipient shall safeguard the confidential and proprietary nature of the Disclosing Party's Confidential Information with at least the same degree of care as it holds its own confidential or proprietary information of like kind"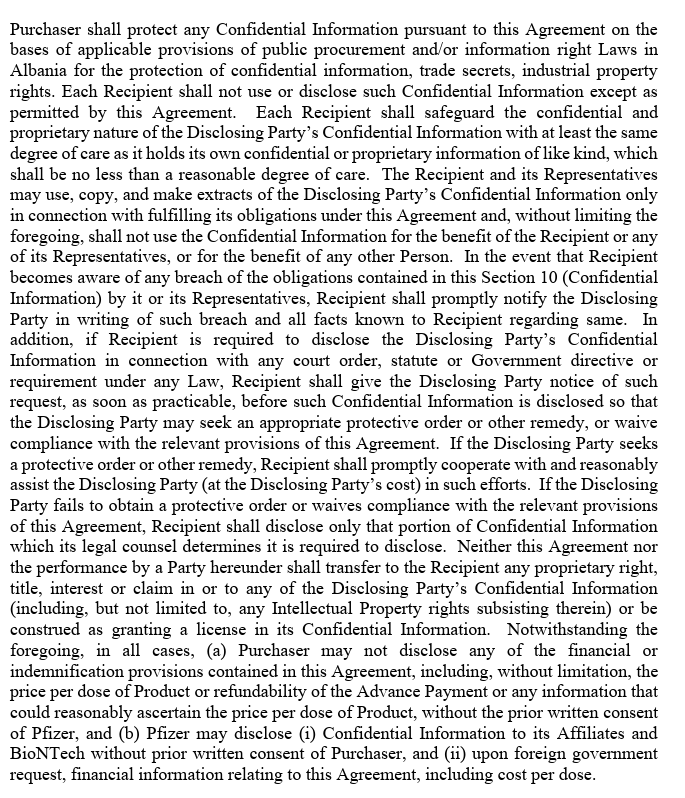 So, again, we shall repeat that Pfizer Contracts State that there are no guarantees on the vax, you can't use any other therapy, and you have no recourse if you have bad side effects including death. But, you have to use their death jab or nothing! And pay millions up front. That is exactly what they are saying folks!
Why won't they list their experimental Jab ingredients? Perhaps because there are ingredients inside the jab that they will have to answer for such as graphene oxide which is a poison to the body. Why would they put a poison in the vaccine? Why do they need to encapsule a poison in a liposome molecule to get it inside your cell? What is the purpose of this? Cells have built in protections to keep toxic substances that have no business inside the cell from entering. Why are they putting this substance inside the cell?
Information security expert Ehden Biber told America's Frontline Doctors (AFLDS) Frontline News that the first document to recently emerge was discovered by Albanian newspaper Gogo.al. Biber then was able to locate the digitally-signed Brazilian contract, and at least two others, one with the European Commission, and the other with the Dominican Republic.
ONE IMPORTANT PIECE OF INFORMATION THEY ARE FORGETTING:
Anything written within a contract is null and void if it goes against a legal law that is prewritten and binding on the books in the United States of America. For example, you can draw up a legal contract stating that if you fail to do bla, bla, bla, we can enslave you. This is null and void as we have a slavery act that forbids any person to be enslaved in the U.S.A. You can have a contract that includes that you can shoot and kill a person, but that will not make the contract legal. You will have committed a CRIME PUNISHABLE BY LAWS ON THE BOOKS! The Pfizer contracts appear to be null and void as they break present legally binding laws on the books. Such as we do not allow people to be science experiments, as there are laws that protect against forcing any and all medical care on individuals. These contracts include many other loopholes to their evil designs when wieghed against laws and rights. Fight these evil tyrants in court! CONTACT THE LEGAL EAGLE DREAM TEAM OR ANY DECENT LAWYER ON THE SIDE OF THE LAW! GOOGLE SOMEONE.
EXPOSE THE LIES AND PRESS FORWARD! NEVER GIVE UP AND EXPOSE THE TRUTH!
DIANNE