TODAY STEVE BANNON TURNED HIMSELF IN TO THE FBI IN WASHINGTON, DC. for an alledged MISDEMEANOR charge that fake news pushed out as though it were A CLASS A FELONY.
Can theses people get any more ludicrous? The word is the subpoena Bannon did not show up for, and or refused to cooperate with, was not even legal and binding as he had executive privilidge and duty to decline, as the matter was already under Federal investigation and the Kangaroo court was overstepping their position.
Bannon, greeted by dozens of fake news press seeking a comment…..tells them, "Hey- all together guys, remember we're here today. What we're doing is taking on the illegitimate Biden Regime! Don't ever let this noise up here take you off message! Every day hammer, hammer, hammer!"
Before he turned himself into the FBI, Bannon went on air for an episode of his podcast WarRoom, imploring followers to continue the fight against the Biden administration.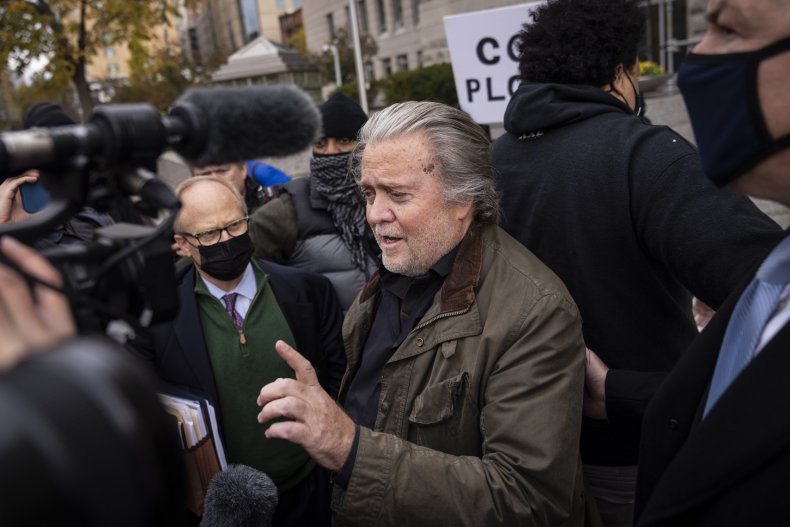 "I don't want anybody to take their eye off the ball from what we do every day, OK," he said. "I want you guys to stay focused on message and he stayed focused on his message, immediately afterwards getting back to work in the WarRoom!"
Bannon is not sitting down, he is not cowering…he is standing up and taking on the Administrative state on offense. He says to watch and see how they take this on for all of us on offense!
Meanwhile the fake news at the Washingtonian can't understand why Bannon is not being jailed for his alleged misdemeanor? They truly are either out of touch more than we thought, or plain stupid about the real laws in their lawless land of "read the script and support the smears". Which is it?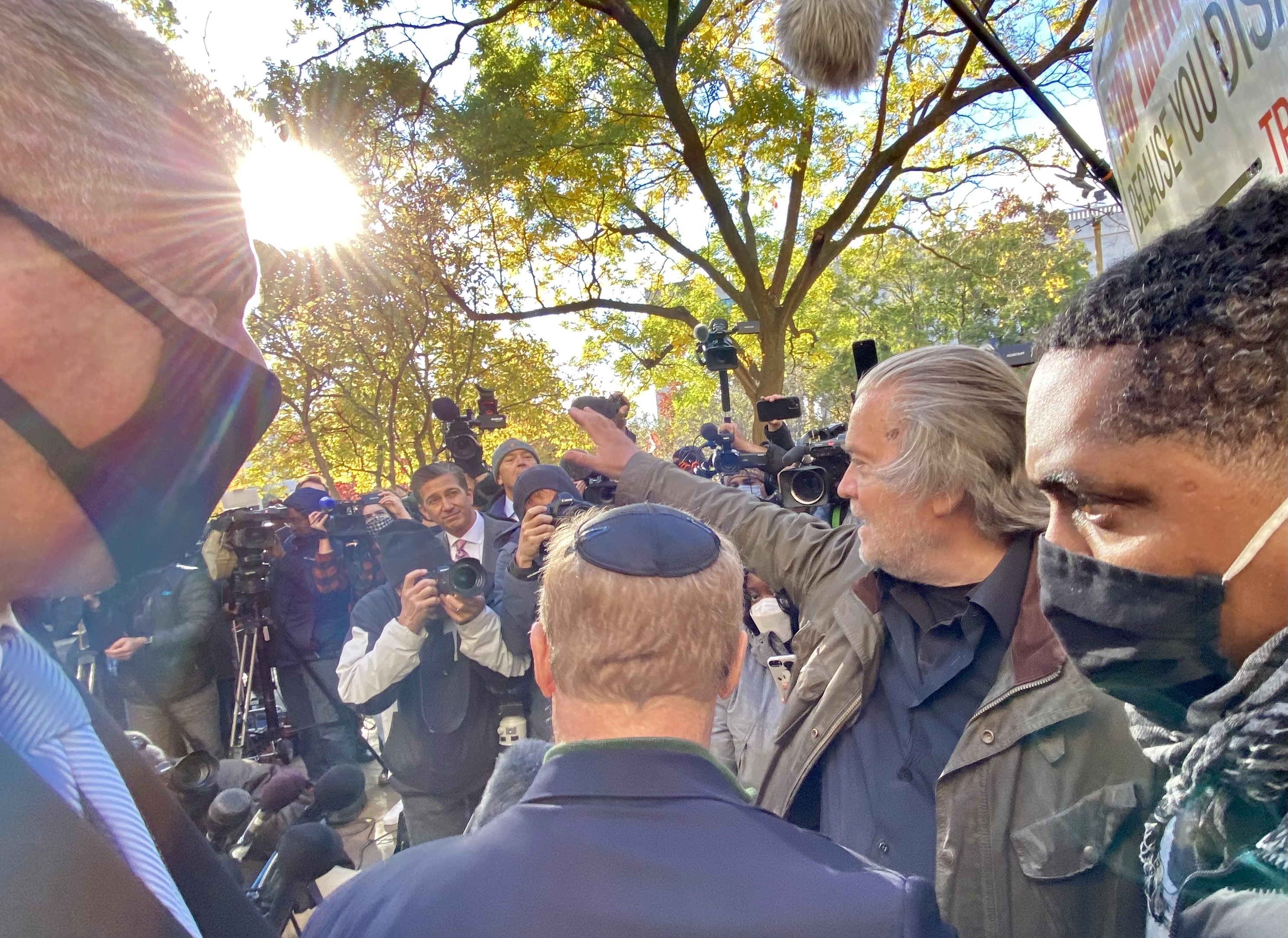 The Washingtonian, among other fake news sites, went out of their way to smear Bannon treating his alleged misdemeanor like he was arrested on a class A felony. Whereas the truth is, he can't testify to a group of congress persons about an ongoing investigation that is a Federal case. He was advised by legal council to decline the subpoena under Executive Privlidge. The FBI has been investigating the case since it took place. The entire ruse of even issuing a subpoena to Bannon was lawless and now he will have to defend his decision before a court. Another way the left get to create distractions and because of lawlessness….they have gotten away with it far too long. This time, it is looking as though they have gotten caught and they just may have made the dumbest move they could have made.
The real story is the one fake news is not talking much about, and that is Durham's indictment and arrest of Igor Danchenko and the coup that is now in the process of being blown wide open. All things look like this case has and or will implicate many of the people shouting…look at Bannon, and that includes the fake news press!
CENSORING CAN NOT STOP THE TRUTH FROM BEING TOLD! KYLE RHITTENHOUSE WAS CARRYING A LEGAL GUN WITH THE RIGHT TO CARRY IT!
My prayer is that Kyle is found not guilty. Every thing shows he was attacked by crazed people with intent to kill him…heck it's in the videos! You hear them shout – kill him! But, by the grace of God and divine intervention all along the way, Kyle survived kicks in the head, skateboard direct hits to the head, rocks striking the back of his head, thugs aiming guns in his face, mobs running after him….all the action packed maneuvers required for a dramatic scene in a Hollywood film….. he somehow narrowly escapes it all and lives. The prosecutor's eye witness who had his gun aimed at Kyles face, could have had his head blown off and it would have been justified…but, instead Kyle shot his arm and the man's gun was frozen aimed at Kyle as he now could not pull the trigger nor move his arm. Frozen for the world to see. God is good.
The lies the fake news told and the lies fact checkers said to contribute to the liar story in this wrap up smear will come back to bite them all! Prayers are going up that after he is found not guilty that he sue these liars for a LOT!
Robert Kennedy Jr. Speaks out!
Children's Self Defense – WORLD WIDE WALK OUT….IT BEGAN NOV. 3RD…AND IT CONTINUES REGARDLESS OF WHAT FAKE NEWS IS TELLING YOU!
Kennedy spoke out with the people in Italy – and was received with strong support!
Robert F. Kennedy in Milan
AND JUST FOR FUN, BECAUSE NOTHING IS AS IT APPEARS… AND SOME THINGS HAVE BEEN PLANNED AND NOT ALWAYS BY THE DARK SIDE… WHAT IF….
Keep pressing forward! The citizens of the world are standing together for the very same cause!
GOD IS NOT MOCKED! HE IS WATCHING AND PERFORMING MIRACLES IN OUR LIVES… KNOW HE IS WITH YOU AND YOU ARE NOT ALONE! NEVER!
TRUTH IS, FOR THOSE WHO BELIEVE…HE IS ALREADY IN YOUR ROOM. WHAT WILL YOU DO?
DIANNE