Lin Wood has presented his facts, those he can divulge…as no good attorney throws out all of their information to the jury in their opening remarks….just enough to prove why beyond a reasonable doubt they have brought the case to trial. And Lin Wood presented a compelling case. Today, he brought us to a pause and now the jury of "We The People" must collaberate and come to our own verdict. May all that was presented be lay down before the Lord for him to send each one discernment in the matter.
Think about why the deep state would want to oust Lin Wood? Think of what he has said and no law suits? Why no law suits?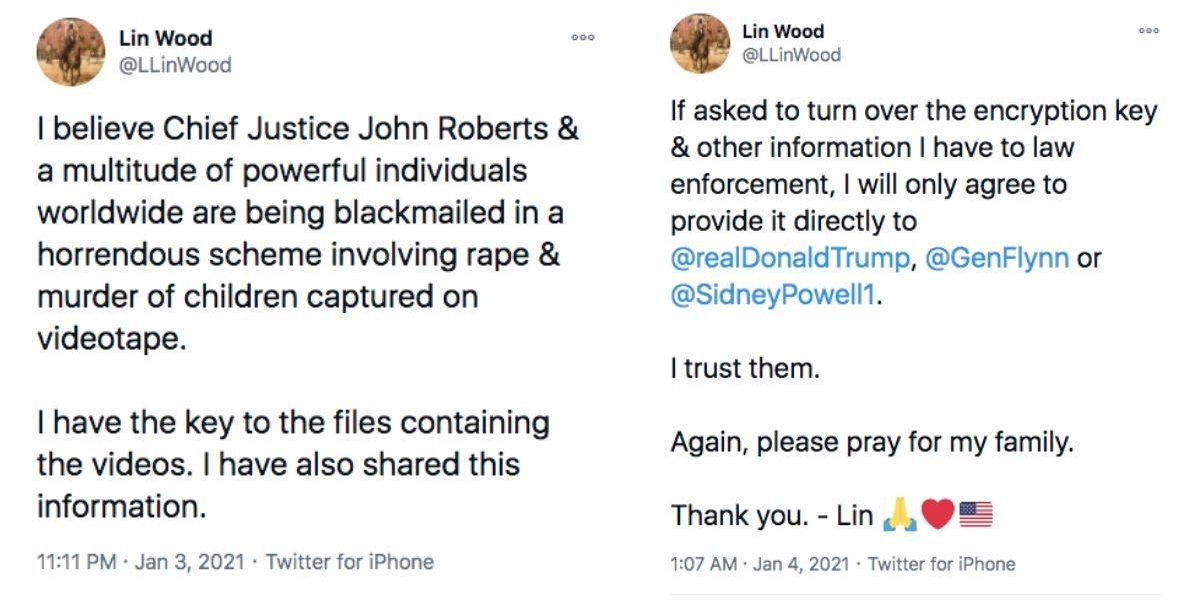 So ENTER LIN WOOD…
Lin Wood (Forwarded from The Professor's Record)
Kind of weird that Stew Peters, Lin Wood, Jarrin Jackson, and myself were all sent the same bogus information at the same time.
Kind of like it was coordinated.
Note From Dianne: The bogus information was the list of Michael Flynn and his Power of Attorney in a George Soros Foundation. Remember how they do….they set you up with a honeypot and then you repeat it and then they point their finger that YOU are the one spreading fake news not them. But…they sent it out as what do you think of this? Why would they send this to us all at the same time? So you can see how they do it.
Back to Lin Woods rests his case:
Lin Wood
If you had asked me one year ago if I record my telephone conversations with third parties, the answer would have been a resounding NO. It has never been my personal or professional practice to do so.
But what a difference a year makes.
In the past two years, I have been the victim of surreptitious recordings by people who in time I have learned were doing so with the intent to use out context portions of my conversations to falsely attack me. I was being set up.
In the few instances in the past year where I have felt the need to record conversations to protect myself, I have ALWAYS published the entire conversation.
The Deep State surreptitiously records you to harm you. I have done so in a few instances in an effort to protect myself. As distasteful as it is to record others without their knowledge, I am glad I did so. Otherwise, these nefarious actors would be able to peddle their lies.
I have recorded former Mercer Law School Dean Cathy Cox, certain members of the Deep State Propaganda media when they call for "interviews," Patrick Byrne, and Michael T. Flynn (and a handful of others who will remain unnamed at this time).
Sadly, have been forced to surreptitiously record individuals I thought were trustworthy but came to realize were not worthy of my trust.
I don't like it. But I did what I have to do to preserve and document TRUTH. After suffering 2 years of almost non-stop false attacks created to destroy me and my family, I did what I had to do.
I trust those who have followed me on social media over time understand why I have had to occasionally adopt the tactics of the enemy.
And remember, I have always provided the entire recordings.
I am human. I make mistakes. I do the best I can to always speak TRUTH.
Please forgive me for my past mistakes.
Stay with me for a few more thoughts on this subject.
Facts are stubborn things. See below.
Lin Wood (Forwarded from LetFreedomRing/MimiMel)
Discernment is a gift from God.
I listen to people who love to talk about Jesus as much as I do.
Telegram has a unique feature to where you can search each channel for key words and it will tell you how many times that word was used from the owner of the channel.
As of yesterday, here are some counts of how many times "JESUS" was used by the channel.
Lin Wood-403
Jarrin Jackson-348
The Professors Record-98
Kandiss Taylor-77
Stew Peters-68
@RealGenFlynn-7
(Comments turned off)
Sidney Powell-5
(Comments turned off)
Doug Billings-5
Vernon Jones-2
(Comments turned off)
Patrick Byrne-1 (news article)
JovanHuttonPulitzer-0
(Comments turned off)
As my brother in Christ would say I'm
"Just sayin-Connect the dots'"😇
Note From Dianne: Sidney Powell has had comments turned off long ago and made an announcement when she did so as to why. It was due to the overwhelming amount of feedback (comments) and turned them off and directed people where to go to find information to direct them. She made it clear she was using Telegram as an outlet to give out information, not to exchange comments and feedback.
Lin Wood
I do not make references to my faith in Jesus Christ to gain numbers of followers or to brand myself as a good man. I am who I am.
I love Jesus Christ. He changed my life dramatically 3 years ago when I was facing possible blindness in my left eye.
As a follower of Jesus, I am instructed to share Him and my faith with others.
I know that in doing so, I will be attacked, vilified, and persecuted. The Bible tells me so.
I do it anyway. Why?
Because I love Jesus and I know what He sacrificed and endured for ALL, including an unworthy person like me.
I always thought I was a good man despite my shortcomings and sins.
I believe that since I surrendered my life to Jesus, I am a much better man. He changed my life on Earth. He is the Way, the TRUTH, and the Life. I know I will spend eternity in Heaven with Him.
I know who the enemy is. The devil.
So keep attacking me. As the enemy tries its best to take me down, Jesus Christ, my LORD and my Savior, will lift me up.
God bless each of you. And from the bottom of my heart, I thank you for continuing to believe in me despite the false and demeaning attacks being made by others about me.
We serve an awesome God.
The God of the Bible.
The Father, Son, and Holy Spirit.
Enjoy your day.
Lin 🙏❤️🇺🇸
www.FightBack.law
Lin Wood
My journey with Michael T. Flynn is now over.
I loved Mike and still do. But when the TRUTH was revealed to me about him, I could not deny it. I felt that I had to share it with you. I try my imperfect best to speak TRUTH.
Mike was disloyal to me and betrayed me. I believe he had others try to harm me.
But it is not about me. It is about you. I do not want Mike to be disloyal to you and betray you. I do not want Mike to harm you or our nation. i want you to do your own research, connect the dots, and draw your own conclusions.
I forgive Mike. I still love him. I will keep praying for him.
My personal battle with Michael T. Flynn is now over. I will stand steady and let my God fight my battles for me. I know God will do so through His other children.
Lin 🙏❤️🇺🇸
https://t.me/GeneralFlynnExposed/73
Lin Wood
My nightmare with David "Fraudcock" Hancock is now over.
Hancock infiltrated my life in disguise in the Spring of 2020 and I tossed him out at the end of October of 2020.
Hancock is a Deep State operative.
Hancock has been obsessed with falsely attacking me since I demanded he leave my property.
Hancock has continuously lied about me, my family, and my closest employees. He has been complicit in an elaborate scheme to blackmail my oldest son into silence dating back to the Elon Musk trial in December of 2019. Hancock used my son's compliance and that of my other children to falsely attack me as being abandoned or rejected by my children.
I know everything about what has been done to my children. I love them and I forgive them.
I was never fooled. I love my children with ALL my heart and soul. And I know they love and respect me. In time, I know God will restore our relationship and it will be stronger then than it was in the past. And it was very, very strong in the past.
Hancock has also conspired and worked with my former law colleagues, Nicole J. Wade, Jonathan D. Grunberg, and G. Taylor a Wilson. The Deep State swamp is deep and wide.
Hancock also illegally accessed the #FightBack computer system and stole the #Fightback donor list.
As his chief in the SEALS told me, Hancock is a "liar, a conman, and a fraud." He is.
I basically ignored Hancock for many months as I realized that he was all bark with no bite.
I only engaged with Hancock again in the past several days when it became clear to me that he was a threat to young Kyle Rittenhouse and his mother, Wendy. I tried my best to help Kyle a year ago and I felt compelled to try one more time to get the TRUTH to him vis social media about Hancock.
I know that Hancock has been working indirectly under the direction of the head of a Deep State family. You do the research, connect the dots, and draw your own conclusions.
My faith instructs me to forgive Hancock and to love him even though he is my enemy. I know who the real enemy is. So I will pray for David Hancock.
My personal battle with Hancock is now over. I will stand steady and let my God fight my battles for me. I know God will do so through His other children.
Lin 🙏❤️🇺🇸
I do think Joe Flynn needs to answer some questions about his efforts to reach the Rittenhouse Family almost immediately after the verdict in Kyle's favor on Friday, November 19, 2021.
It appears from the text below that Joe's efforts may have been related to a fund to raise money for the Rittenhouse Family.
You will recall that it was Joe Flynn who connected me with actor Rick Schroder who loaned #FightBack the final $150,000 to reach the $2M cash bail necessary to free Kyle.
That promissory note to Rick was the one I personally guaranteed as I wanted Kyle out of the Kenosha jail where his criminal lawyers felt he was not safe.
Maybe Joe Flynn also needs to answer some questions about the false smear campaign launched against me by Kyle and his his handlers within a short few hours after he had been innocent of 2 murder charges.
The love of money is the root of ALL evil.
Do the research.
Connect the dots.
Draw your own conclusions.
Lin 🙏❤️🇺🇸
Lin Wood Rested his case on Michael Flynn and Handcock, and gave it now to God and all who are called and chosen to discern. Which are all who believe on the Lord as their Savior and King of Kings and Lord of Lords. Call upon the Holy Spirit and ask what God would have you do and listen. Whatever you are told…listen and see and dicuss it all with the Lord. Amen.
But the case for Joe Flynn and "tocuch" (a typo or code who knows?) has just begun.
But wait…one more thing….
Lin Wood (Forwarded from Garrett Ziegler)
(File: of Full Transcript of Whistleblower Interview. pdf)
It would be worth your time to grab a coffee or tea either over lunch or tonight and read this.
FULL Transcript of Whistleblower Interview.pdf
Note from Dianne: Well looky here…. I think he's right…grab a coffe or tea and take a look at these interesting whistleblower details.
FULL Transcript of Whistleblower Interview.pdf
Stay in prayer unceasing and discern all things before the Holy Spirit as we continue to press into the kingdom. Press, Press, Press.
Dianne