We'll just get right to the point…. The last few years of the bloody war on Donbass has been run from Miami by Zelensky …and guess who was there with Zelensky….Ihor Kolomoisky, a Ukrainian – Cypriot – Israeli oligarch.
Now, remember the old pictures and magazine covers we've been looking at and shouting that's from 2018? Well, I guess Zelensky never thought anyone would connect the dots. Trump was right, these oligarchs are rich but not that smart.
A Report says Zelensky himself is a billionaire oligarch with a $35m Miami pad reminiscent of Epstein. True or false? We shall see…
According to an announcement by the deputy of the Verkhovna Rada of the Opposition Platform – Party For Life Ilya Kiva, Zelensky has accumulated $1.2 billion in the Dresdner Bank Lateinamerika in Costa Rica during the two and a half years of his presidency. This money was transferred to the president by Ukrainian oligarchs, such as Rinat Akhmetov, Viktor Pinchuk, Igor Kolomoisky. As Kiva noted, replenishment is done regularly, in tranches of $12 million to $35 million.
It has been reported that these funds go through banks like First Union Bank, Deutsche Bank, Banque Nationale de Paris. According to the deputy, the movement of such funds would be impossible without the control of the authorities of Germany and France.
But hey…let's just dance and prance and remember life is a stage and Zelensky has just cast himself a starring role! What's that line again stage boy? Oh yea…
Remember this for later…."Zelensky has repeatedly pledged to reign in Oligarchs. Oh Heck…Spoiler Alert: Who knew Zelensky is one of those he desires to reign in? It sounds to me like this indeed is A WAR OF THE OLIGARCHS!
THE KOLOMOISKY PYRAMID STARTED WITH HILLARY CLINTON AND VICTORIA NULAND OF THE STATE DEPARTMENT PLUS CHRISTINE LAGARDE OF THE INTERNATIONAL MONETARY FUND.
In an article written by John Helmer, Titled: The Kolomoisky Pyramid: Hillary Clinton, Victoria Nuland and Christine Lagarde It reveals Igor Kolomoisky's financing anti-Russian units operating within the Ukrainian Army and Secretary of State Hillary Clinton and her Assistant Victoria Nuland's involvement in a bloody war and toppling of the Ukrainian government with the help of fresh International Monetary Fund money from Christine Lagarde!
Excerpts from the article:
When Igor Kolomoisky financed anti-Russian units operating with the Ukrainian Army in the Ukrainian civil war, he was a staunch ally of Petro Poroshenko's government in Kiev and the Obama Administration's chief Ukraine policymakers, Secretary of State Hillary Clinton and her Assistant Secretary for European Affairs, Victoria Nuland.
They in turn dominated the voting on the board of directors of the International Monetary Fund (IMF), led by managing director Christine Lagarde. Following the US regime change which installed Poroshenko's regime in the spring of 2014, the IMF voted massive loans for the Ukraine to replace the Russian financing on which the regime of Victor Yanukovich had depended. More than a third of the fresh IMF money was paid out by the National Bank of Ukraine (NBU), the state's central bank, into PrivatBank controlled by Kolomoisky and his partner, Gennady Bogolyubov.
At the time, investigations of Kolomoisky's business and banking practices, and the special relationship he cultivated with the NBU, reported he was stealing the money through a pyramid of front companies lending each other the IMF cash which was not intended to be repaid. Clinton, Nuland, Lagarde and the IMF staff and board of directors ignored the evidence, as they continued to top up Kolomoisky's pyramid. Criminal investigations by the US Department of Justice and the Federal Bureau of Investigation (FBI) were also reported at the time; they were neutralized by their superiors.
A new Delaware state court filing a month ago, triggering new US media reports, appears to signal a shift in US Government policy towards Kolomoisky. Or else, as some Ukrainian policy experts believe, it is a move by US officials to put pressure on the new Ukrainian President, Volodymyr Zelensky, whom Kolomoisky supported in his successful election campaign to replace Poroshenko.
In the new court papers, front company names and the count and value of US transactions between them, which PrivatBank has dug out of its own bank records, is published for the first time. But the scheme itself is not new. It was fully exposed in 2014-2015 in this archive. Nor is it news, as subsequent US media reports claim, that the FBI is investigating Kolomoisky and his US associates for criminal racketeering. The FBI investigation was first reported here.
The racket – called the Optima schemes in the court papers after the names of several of the Delaware-registered companies used as fronts for moving the money into US assets – was this:
"Through the Optima Schemes, the UBOs [Kolomoisky and Bogolyubov] exploited their positions of power and trust at PrivatBank to cause PrivatBank to issue hundreds of millions of dollars' worth of illegitimate, inadequately-secured loans to corporate entities also owned and/or controlled by the UBOs and/or their affiliates (the "Optima Scheme Loans"). To facilitate and fraudulently conceal the Optima Schemes from discovery, the UBOs created and utilized a secretive business unit within PrivatBank's operations (the "Shadow Bank") to fund the fraudulent loans and launder those loan proceeds through a sophisticated money laundering process.
"The stated purpose for each loan involved in the Optima Schemes was typically for financing the activities of the ostensible corporate borrower. The Optima Scheme Loans, however, were sham arrangements and the proceeds were not in fact used for that purpose. Instead, sometimes within minutes of being disbursed, the loan proceeds were cycled through dozens of UBO-controlled or affiliated bank accounts at PrivatBank's Cyprus branch ("PrivatBank Cyprus") before being disbursed to one of multiple Delaware limited liability companies or corporations (or other United States-based entities), all of which were [controlled by the UBOs].
"In effect, the UBOs utilized a Ponzi-type scheme: old loans issued by PrivatBank would be 'repaid' (along with the accrued interest) with new loans issued by PrivatBank, and those new loans issued by PrivatBank would then be repaid with a new round of loans. The UBOs and their co-conspirators continuously carried out this process to conceal their frauds. Thus, proceeds from new PrivatBank loans were used to give the appearance that the initial PrivatBank loans (along with the accrued interest) were repaid by the borrower when in fact there was no actual repayment.
"The proceeds from the new PrivatBank Ukraine loans were then laundered through various accounts at PrivatBank Cyprus to disguise the origin of the funds (i.e., a new loan from PrivatBank), and then used to purport to pay down the initial loans plus accrued interest. On paper, this appeared to be a repayment, but in reality, it was a sham and fraud, as PrivatBank was repaying itself and increasing its outstanding liabilities in the process. This process was carried out over and over again, over a period of many years, giving the appearance that PrivatBank's corporate loan book was performing when, in fact, new loans were being continually issued to new UBO-controlled parties to 'pay down' the prior, existing loans. As a result, the size of the 'hole' in PrivatBank's corporate loan book grew and grew, with each iteration of a loan plus interest being 'repaid' through the issuance of a new loan, which accrued interest itself before being 'repaid' through the issuance of yet a further new loan.
Kolomoisky and Bogolyubov controlled PrivatBank from 2006 until it was taken over by the state in December 2016. The bank is alleging that Kolomoisky directed "the process of raising the loan exposure from UAH 27 billion (USD 5.3 billion) in December 2006 to UAH 195 billion (USD 8.1 billion) on December 31, 2015 (the Bank's financ© State of Delawareial year end). During the same period, PrivatBank's total liabilities relating to its customer accounts increased from UAH 24 billion (USD 4.8 billion) to UAH 192 billion (USD 8 billion)."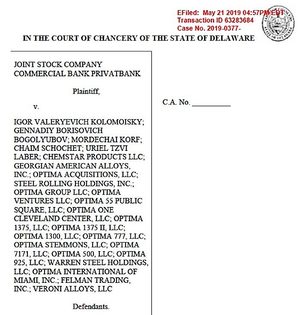 And of course it involves George Soros….
Excerpts from The Kolomoisky Pyramid: Hillary Clinton, Victoria Nuland and Christine Lagarde
Anders Aslund is an employee of Victor Pinchuk, a Ukrainian oligarch with bank, media and steel interests who has long been a rival of Kolomoisky's. Aslund, a former Swedish government official, has worked for US think-tanks funded by Pinchuk. Aslund is now at the Atlantic Council in Washington, DC. The council lists Pinchuk's foundation as having giving it up to $500,000 in financing for research, including Aslund's pay. The US State Department, the British Foreign Office, and George Soros's foundations are also listed as large donors.
Aslund reported on the charges on June 4. Aslund claims to be reading about the stealing scheme for the first time.
"The money trail is surprisingly simple. To begin with, the ultimate beneficiary owners collect retail deposits in Ukraine by offering good conditions and service. The money then flows to their subsidiary, PrivatBank Cyprus. In Cyprus, they benefit from the services of two local law firms. Untypically, the ultimate beneficiary owners did not take the precaution to establish multiple layers of shell companies in Cyprus, the British Virgin Islands, and Cayman Islands, as is common among Russians with seriously dirty money. Instead, they operated with three US individuals in Miami, who helped them to set up a large number of anonymous LLCs in the United States, mainly in Delaware, but also in Florida, New Jersey, and Oregon."
Aslund expresses surprise that among Kolomoisy's investments there were US ferro-alloy and steel plants and traders.
"More remarkable is that Kolomoisky and Bogolyubov, according to the suit, purchased several ferroalloy companies in the United States: Felman Production Inc., in West Virginia; Felman Trading Inc. and Georgian Manganese, LLC; Warren Steel Holdings in Warren, Ohio; Steel Rolling Holdings Inc., Gibraltar, Michigan; CC Metals and Alloys, LLC, in Kentucky; Michigan Seamless Tubes, Michigan. These appear to be medium-sized companies in small places. Real people worked in these enterprises. Why didn't anybody raise questions about the dubious owners?"
Aslund wouldn't ask his question if he knew that Bogolyubov had until November 2016 operated Consolidated Minerals, a manganese mining company which has produced and shipped manganese ore and concentrates from mines in Australia and Ghana; and in the Ukraine, Bogolyubov and Kolomoisky have run the manganese refining plant called Nikopol. The fight between them and Pinchuk for that plant was reported here.
Aslund thinks the lesson of the new lawsuit is that
"the United States allows the formation of hundreds of thousands of anonymous companies that have permeated this country with laundered money. The PrivatBank case shows that dirty money is not necessarily concentrated in the big cities and in real estate but can penetrate the real economy. The PrivatBank case provides a graphic illustration of the need to prohibit anonymous companies in the United States once and for all."
This is what Pinchuk, a contender to recover the Nikopol plant and other assets from Kolomoisky if he is prosecuted in the US, is prompting Aslund to say. Pinchuk himself has been charged in the US courts with stealing and money-laundering schemes.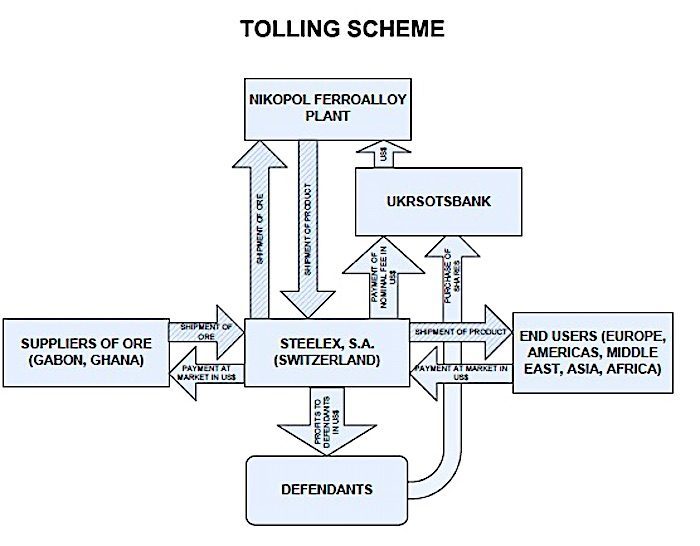 Read Full Article: The Kolomoisky Pyramid: Hillary Clinton, Victoria Nuland and Christine Lagarde — Puppet Masters — Sott.net
Pandora Papers reveal the off-shore holdings of Zelensky and his inner Circle: Pandora Papers Reveal Offshore Holdings of Ukrainian President and his Inner Circle – OCCRP
Kolomoisky funded Zelensky's campaign, Kolomoisky also ripped-off his own PrivatBank to the tune of $5.5B, In 2011 Kolomoisky purchased the Westin Hotel in Cleveland.
Documents Reveal Offshore Holdings of Ukrainian President and his Inner Circle. Zelensky and his partners in a television production company, Kvartal 95, set up a network of offshore firms dating back to at least 2012, the year the company began making regular content for TV stations owned by Ihor Kolomoisky, an oligarch who is facing allegations of multi-billion-dollar fraud. The offshores were also used by Zelensky associates to purchase and own three prime properties in the center of London.
The same documents also show that just before he was elected, he gifted his stake in a key offshore company, the British Virgin Islands-registered Maltex Multicapital Corp., to his business partner — soon to be his top presidential aide. And in spite of giving up his shares, the documents show that an arrangement was soon made that would allow the offshore to keep paying dividends to a company that now belongs to his wife.
Two of Zelensky's associates in the offshore network, who were also part of his TV production company, now hold powerful positions. Serhiy Shefir is Zelensky's top presidential aide, while Ivan Bakanov heads the Security Service of Ukraine.
Shefir narrowly escaped an assassination attempt when his car was fired on outside Kyiv on September 22. He was unharmed, but his driver was wounded. Zelensky repeatedly pledged to rein in oligarchs. The day after the attack on Shefir, the country's parliament passed a bill that would create a register of oligarchs and bar them from financing political parties or taking part in privatizations. Zelensky said that the attempt on Shefir's life will receive a strong response and will not influence his fight against vested interests.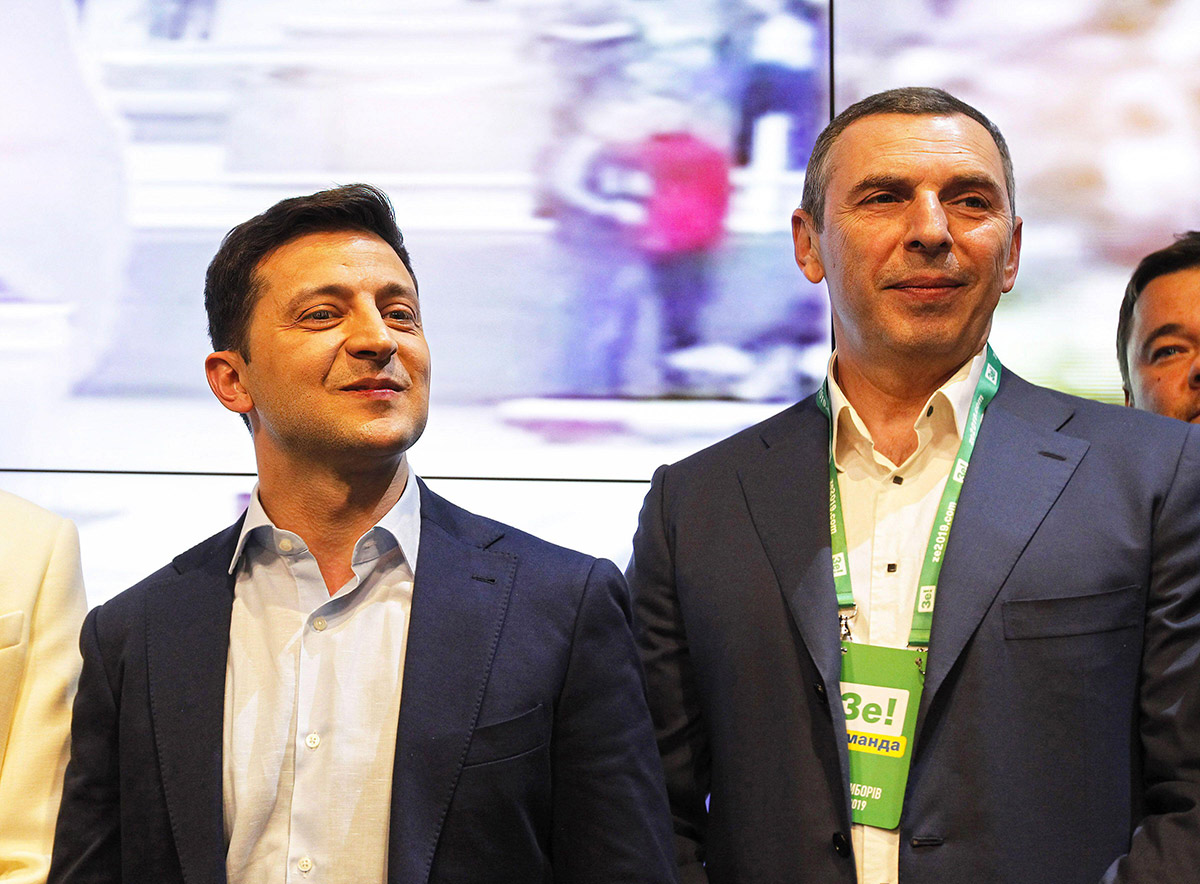 Valeria Gontareva, former governor of the Ukrainian Central Bank says says, @ZelenskyyUa boss' Ihor #Kolomoisky stole from the country via his #bank#Privatbank the equivalent of nearly 5% of its #GDP! Since 2014 #CIA#coup, Ukraine has been living on #loans.
PrivatBank was founded in 1992 by co-founders Ihor Kolomoiskyl who is also a co-founder of the financial and industrial Privat Group, and Hennadii Bohollubov, who both controlled 92% of the bank's shares before its' nationalization by the state, while Serhill Thipko was appointed as a manager.
By the start of the bank's nationalization to the end of 2016 it had become the largest private bank in Ukraine. Today, more than 22 million customers have opened accounts in the bank. It serves about 60% of transactions and half of payment cards issued in Ukraine; 40% of deposits of the entire banking system are concentrated in it.
The ex-owners sent letters to the Government and the NBU asking the government agencies to acquire a share in the bank's capital and undertake its sanation (restoring to sound and healthy), while on their part, they guaranteed non-interference in the process and undertook to conduct the RESTRUCTURING of the bank's loan portfolio to mid-2017 onwards. By December 18th the government had made a decision on the state's acquiring a share in the bank's capital.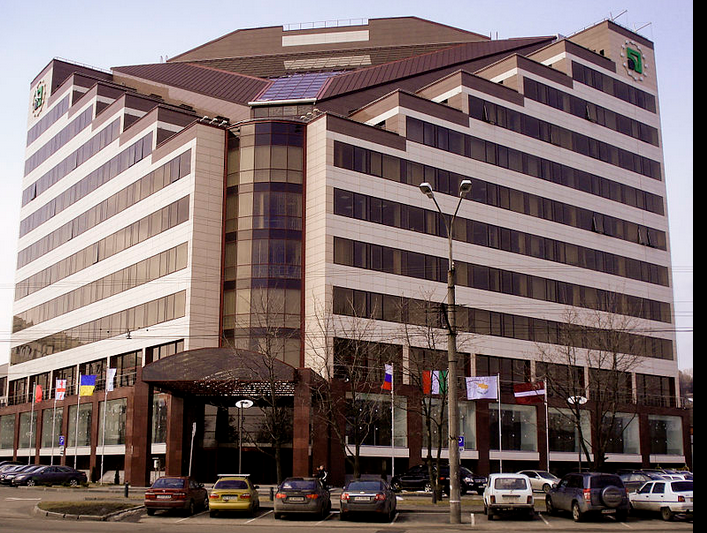 PrivatBank's ex-owner Ihor Kolomoisky in comments to TSN (which is the news program of his own media group) confirmed his appealing to the government with a request for the bank's nationalization. PrivatBank has become a victim of the NBU's tyranny. PrivatBank had a balanced secured loan portfolio, confirmed by the international audit. However, the NBU, by constantly changing its own standards, invented more and more ways to artificially reduce the bank's capitalization. Then they began talking about a mythical UAH 150 billion hole, 97% of related loans, and all the money having been stolen or siphoned offshore. Although they obtained all of those figures as a result of arbitrary changes in accounting policies. Sound central banks help banks in difficult times, such as economic crisis's, occupation, or war. Whereas our regulator used all the possible tricks to pin PrivatBank down. And unfortunately, he managed to do it."
In November 2016, The British specialized banking magazine "bne IntelliNews", conducted PrivatBank's loan portfolio analysis. Of all major borrowers of PrivatBank, journalists managed to identify only a few companies with REAL BUSINESS! The well-known companies from the Privat Group account for about UAH 10 billion, which is 5% of the bank's total loan portfolio. The rest of the bank's borrowers are offshore companies (8% of PrivatBank's loan portfolio, or UAH 18 billion) and unknown LLCs, created in 2014-2016 and having strong connection with abroad and offshore businesses of ex-owners.
The ex-owners never implemented restructuring the bank's corporate portfolio as had been agreed to and in July 2017, the state resorted to the procedure of judicial recovery of pledges from the loan portfolio debtors which were the General Prosecutor's Office of Ukraine, the National Anti-Corruption Bureau of Ukraine, and the Specialized Anti-Corruption Prosecutor's Office and have started several investigations related to PrivatBank and ex-owners.
According to the financial statements, verified by Ernst & Young auditors, as of Dec. 31, 2016, the provision for impairment of loans to legal entities was increased by UAH 155.9 billion. The auditors final opinion based on not obtaining sufficient audit evidence for the period of devaluation of loans and advances to clients…concluded that PrivatBank had started experiencing financial problems long before 2016.
According to the regulator the auditors determined the need for creation of additional provisions of UAH 10 billion, which eventually led to PrivatBank's negative balance sheet value of UAH 882 million as of the end of 2016.
Then in January 2018, the Kroll's (a company that provides consulting services and investigates cases of fraud, bribery and corruption) investigation results were published which confirmed that before the nationalization, PrivatBank had been the subject of LARGE-SCALE AND COORDINATED FRAUDULENT ACTIONS resulting in LOSSES OF AT LEAST 5.5 billion.
Now, are you ready for this one? Hold on… Hunter allegedly tried to facilitate investment for his cash in NY, DC, and a Nevada mining company. Per the report, Hunter successfully got a $1 million investment from Rakishev to a politically-connected filmmaker. (Massimov pictured). Rumors or it happened? You decide.
The photo that reportedly shows Hunter and Joe Biden with the Prime Minister of Kazakhstan Karim Massimov, and Kenes Rakishev
EVERY LIE SHALL BE REVEALED… KEEP ON DIGGING FOR THE TRUTH!
PRESS, PRESS, PRESS AND PRAY UNCEASING! THE TRUTH SHALL SET YOU FREE!
DIANNE