Finally the world leaders are responding to the boy with his fingers pressing buttons to blow up Canada!
The "mini Klaus" called Justin has gone way too far and the international world leaders are not impressed with his infantile madness.
It appears that Trudeau's days are indeed numbered. The writing is on the wall and in letters admonishing the tyrannical acts against his own people and his attempt to control business and citizens actions beyond his own country's jurisdiction. "It appears if he doesn't listen, he'll have to hide with Go Brandon in his basement.
The adults in the room are not amused at the clown show of terror displayed by toy boy Trudeau in Canada. These two yahoos have forgotten they are elected to serve the people and the states are not subject to their little bang bang army games. They are not little boys and there is no excuse for their unbridled behavior except that they are not competent to serve in a free world leadership capacity. They are a danger to civilization and have acted as such while the entire world watched. Will they be held responsible for their third world dictatorship behaviors? Afterall, J6 is the exact same tactics being played on American Citizens who did nothing wrong.
Massive outrage is pouring in from Israeli Physicians, and scientists who are also not looking at these moves as unwarranted. Trampling grannies and people in mobile wheelchair assistance isn't playing well on their world stage. Trampling constitutions is not becoming in a sovereign nation claiming to be a democracy. There is no walking back this major blunder… the world is watching and standing up. Might I add, the world was already protesting experimental toxic jabs, that's not new…but the idea to halt deliveries to be heard? Well that was and now calling citizens and families terrorists, freezing bank accounts, and seizing property, calling in Interpol….well all of that has sparked attention and lit a flame!
LEADING ISRAELI PHYSICIANS AND SCIENTISTS in an OPEN LETTER TO @JUSTINTRUDEAU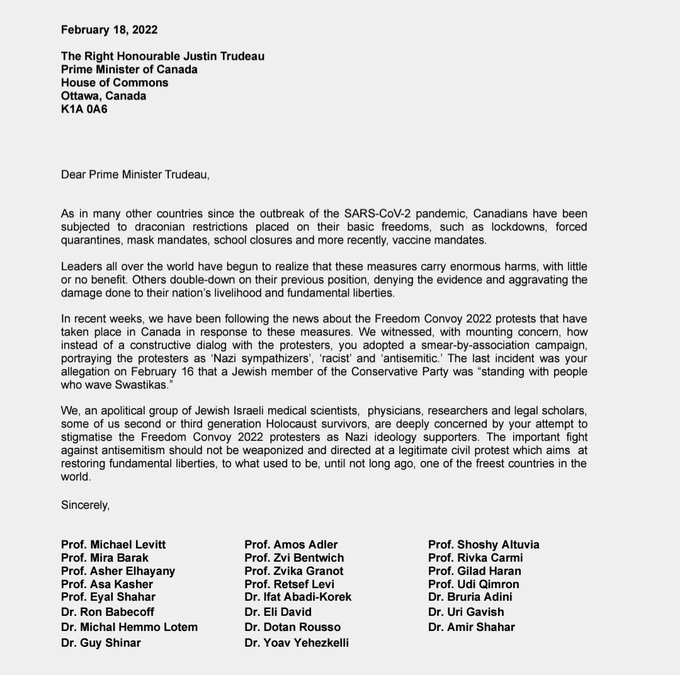 The Canadian Ruling Class is rebelling against Trudeau, and US Governors are calling upon Trudeau and President Biden to end the vaccine mandates imposed on Truckers.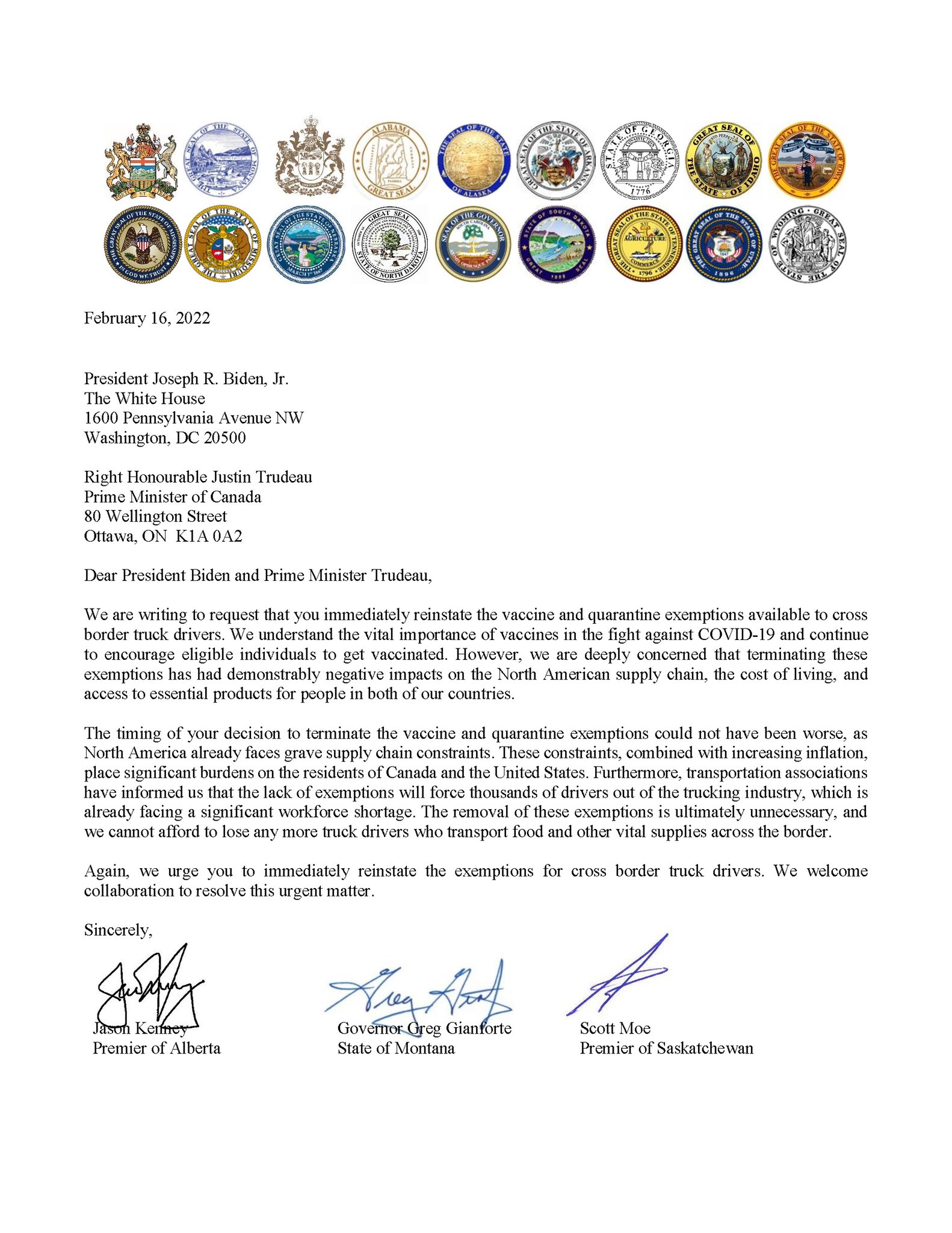 Here is a transcript of the letter:
"Dear President Biden and Prime Minister Trudeau,
We are writing to request that you immediately reinstate the vaccine and quarantine exemptions available to cross-border truck drivers. We understand the vital importance of vaccines in the fight against COVID-19 and continue to encourage eligible individuals to get vaccinated. However, we are deeply concerned that terminating these exemptions has had demonstrably negative impacts on the North American supply chain, the cost of living, and access to essential products for people in both of our countries.
The timing of your decision to terminate the vaccine and quarantine exemptions could not have been worse, as North America already faces grave supply chain constraints. These restraints, combined with increasing inflation, place significant burdens on the residents of Canada and the United States.
Furthermore, transportation associations have informed us that the lack of exemptions will force thousands of drivers out of the trucking industry, which is already facing a significant workforce shortage. The removal of these exemptions is ultimately necessary, and we cannot afford to lose any more truck drivers who transport food and other vital supplies across the border.
Again, we urge you to immediately reinstate the exemption for cross-border trucker drivers. We welcome collaboration to resolve this urgent matter "
The letter is signed by multiple Premiers and 16 American Governors including the governors of the states of Alabama, Alaska, Arkansas, Georgia, Idaho, Iowa, Mississippi, Missouri, Montana, Nebraska, North Dakota, South Dakota, South Carolina, Tennessee, Utah, and Wyoming were signatories.
For more information see: Moe, Kenney, 16 U.S. governors sign letter calling for Trudeau, Biden to end vaccination mandate for truckers | CBC News
This is just beginning! Hold the line!
Dianne