FEAR NOT, FOR THE LORD IS WITH YOU ALWAYS …
Isaiah 41:10
10 Fear thou not; for I am with thee: be not dismayed; for I am thy God: I will strengthen thee; yea, I will help thee; yea, I will uphold thee with the right hand of my righteousness.
The wicked plan as wicked always does to do a vain thing, to kill, steal and destroy all that is of God and to rule the earth as a wicked tyrant. To fill every crevice and hollow grove with perverted evil, tortures, enslavements, all manner of sin and worship of false gods and sacrificing rituals that dig deep into the pits of hell. These conjure demonic spirits and call them their strength. Is God not stronger than the offspring of fallen angels that he cursed to roam the earth with no physical shell? The same demons that have no where to rest but artifacts that cannot move? The same ones who can possess a body and though they dare not speak it, they live in fear of being cast out at any time by one of faith in Jesus, for these have the power to cast them out and back to hell.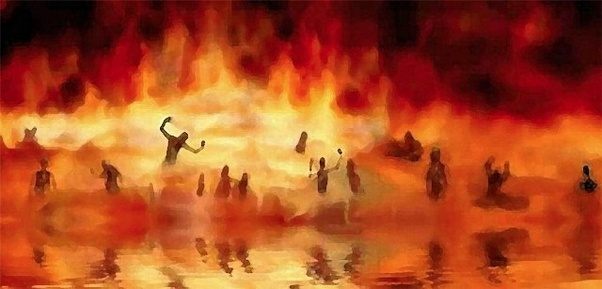 Why do you believe they fight so hard to torture you into believing God and His Son do not exist? Why do you believe the evil spirits fight so hard to keep you from using the Holy Spirit within you for strength, comfort, wisdom, understanding and power to move any and all mountains, heal the sick, raise the dead, and cast every one of them out and back to hell itself? They are the fearful ones, scared to death of you who are empowered with the gifts of the Holy Spirit and they are the ones who tremble. So make them all tremble and sound the trumpet loudly – shout at once, together in the name of the Lord!
Isaiah 40:28-31
28Hast thou not known? hast thou not heard, that the everlasting God, the LORD, the Creator of the ends of the earth, fainteth not, neither is weary? There is no searching of his understanding. 29He giveth power to the faint; and to them that have no might he increaseth strength. 30Even the youths shall faint and be weary, and the young men shall utterly fall: 31But they that wait upon the LORD shall renew their strength; they shall mount up with wings as eagles; they shall run, and not be weary; and they shall walk, and not faint.
To all those who plan an evil thing to God's people, they plan in vain. For they boast of destroying, they boast of mingling of seeds, they boast of turning man into a machine that can be controlled, and they boast in controlling all creation and hoarding it up for themselves. Do they not know what God has done to all who have boasted such vain things? For God laughs at their folly, their wickedness, and laughs as they plan their vile satanic plots to sit on high and set their eyes for His throne of glory; but God does not laugh at their evil toward what belongs to Him. No, he does not. He does not laugh at the torment the tormentors give to those who are called by His name.
God always pours out His wrath on those who do such evil things to His people called by his name. The evil ones provoke and God responds just like he did to Lucifer and the angels who followed him and rebelled…were they not all cast out of heaven forever? When the fallen corrupted man were they not bound in chains and cast into the desert until the day of judgement?
When Enoch gave the petition for the fallen who corrupted mankind, did not the Lord God deny them clemency? Did the Lord God not say it is they, the fallen watchers that should petition for man, and not man to petition for the fallen watchers? Indeed He did so say it. And did he not curse their offspring that they mingled with the seed of woman to roam the earth, thirsting and in hunger until the day of judgement as evil spirits? Yes he did. Did he not bind the fallen and make them watch their giant offspring war against one another until they died in battle? Yes He did. And did he not bring a flood upon the earth to destroy all that was left of their evil mixing of seeds and their monstrous creations? Yes He did.
When Nimrod sought to build a tower into the heavens, did not God watch them build and toil in vain and then destroy the tower and mix their tongues? Yes He did.
Did not God have enough of the evils of Pharaoh and bring about them plagues, and give all of their wealth to his people then drown them in the sea? Yes He did.
History is filled with downfall after downfall of all who sought to war against God and to touch His people with cruelty and strike them with whips, binding them in chains, and yokes heavy… has God not always said enough and brought each one down to the dust? Yes He has. What empire of old has ever stood upright and existed once God has said enough? None of them….not a one of them has stood.
Even in Israel when the High Priests, Pharisees, Sadducees, and Rome condemned the Lord, and they thought they had killed the true Messiah who threatened them and their evil reign, lo they did no such thing at all. For did God not raise His only begotten Son from the grave? Yes, He did raise Him up. Did not God allow His only begotten Son to tear down the gates of hell and free the captives? Yes He did.
So death where is thy sting, and grave where is thy victory, for you have no power over the Son of God, nor any power over that which is Holy and belongs to God. You who are evil doers of perverse and utterly evil acts are all brought down low to the fires of hell reserved for you and all who love lawlessness.
1 Corinthians 15:55-58
55O death, where is thy sting? O grave, where is thy victory? 56The sting of death is sin; and the strength of sin is the law. 57But thanks be to God, which giveth us the victory through our Lord Jesus Christ. 58Therefore, my beloved brethren, be ye stedfast, unmoveable, always abounding in the work of the Lord, forasmuch as ye know that your labour is not in vain in the Lord.
Your folly and ignorance will fall upon your own heads when God is moved out from his throne and says ENOUGH and nods to His Son and says boldly … IT IS TIME! GO AND PUNISH THOSE WICKED ONES, ALL OF THEM WHO HAVE DARED TO TOUCH WHAT BELONGS TO ME AND TO YOU.
Has wicked not learned that they never win? Have those who do such evil really believed they are above God and God's commands? That they are stronger than God? That they are smarter, wiser than God. God laughs at them and their ignorance. God laughs at all their vile weak ideas and plans. For God has His own plans, and His own destiny for His people and He has a destiny for all who sin against Him, and all who receive NOT His Son Jesus. Evil shall NOT rule over God's people any more. For it is written and God is not mocked.
So, do not be impatient in waiting, for it is written that God is not slack concerning His promises.
2 Peter 3:3-9
3 Knowing this first, that there shall come in the last days scoffers, walking after their own lusts,
4 And saying, Where is the promise of his coming? for since the fathers fell asleep, all things continue as they were from the beginning of the creation.
5 For this they willingly are ignorant of, that by the word of God the heavens were of old, and the earth standing out of the water and in the water:
6 Whereby the world that then was, being overflowed with water, perished:
7 But the heavens and the earth, which are now, by the same word are kept in store, reserved unto fire against the day of judgment and perdition of ungodly men.
8 But, beloved, be not ignorant of this one thing, that one day is with the Lord as a thousand years, and a thousand years as one day.
9 The Lord is not slack concerning his promise, as some men count slackness; but is longsuffering to us-ward, not willing that any should perish, but that all should come to repentance.
So work diligently for the Harvest has come and there is much to be done. Do not sit back and mumble that you are tired of waiting when such a terrible measure has been poured out onto all the land. Be thankful that God has allowed you this time to make ready and prepare any areas that you are still in lack of preparation of. Therefore, how ought you to be on this day? With thanksgiving and hope that He is not far off and that you are wise to see the signs of the times? Yes, indeed. With prayer, love for God and love for one another, encouraging, strengthening and offering hope of the promise of His coming? Yes, indeed. Should not this time be better spent gathering oil for your lamps? Yes, indeed. Prepare and stand firm, doing all that you can do to stand, then stand. Amen.
Dianne