BIDEN WANTS YOUR CANNONS… HE'LL TAKE'EM WITH HIS F-15's and NUKES!
Like a true idiot, THE COMMANDER in THIEF", Joe double Biden, BOLDLY READ FROM HIS prepared speech, "The 2nd Amendment from the day it was passed limited the type of people who could own a gun, and what type of weapon you could own. You couldn't buy a cannon … If you think you need weapons to take on the government, you need F-15s & maybe some nuclear weapons."
This isn't the first time Biden made the stupid statement that "You weren't allowed to own a cannon during the Revolutionary War as an individual." He shouted it out in 2020 when on the campaign trail. He's of the progressive communist teachings that if you repeat a lie often enough, people will believe it. Well, Joe, this is America and you may be able to bluff those who also think climate change has left us with 12 years to live, AND WANT A VACCINE, but you will never be able to lie to a patriotic American who loves their country and knows the constitution and Bill of Rights.
Biden's answer to the second amendment on the campaign trail in 2020, (one of the rare occassions Joe got out of the basement) when asked about his stance on gun control?" He proceeded to answer, that he wanted to outlaw assault weapons, which he termed anything other than a shot gun. "They have no rationale for being owned by individuals on the street," Biden said. "They should be outlawed. … From the very beginning you weren't allowed to have certain weapons. You weren't allowed to own a cannon during the Revolutionary War as an individual."
At that time, University of Pennsylvania law professor Kermit Roosevelt said, "You would need to point to something — a law, or a tradition, or a case where someone was not allowed to possess a cannon." And there were no such laws, traditions, or cases!
Historians all said they were doubtful that there were laws to bar individual ownership of cannons during the Revolutionary War period.
"It seems highly unlikely that there were restrictions on the private ownership" of cannons," said Julie Anne Sweet, a historian and director of military studies at Baylor University.
David Kopel, the research director and Second Amendment project director at the free-market Independence Institute, agreed. "I am not aware of a ban on any arm in colonial America. There were controls on people or locations, but not bans on types of arms."
The campaign was unable to come up with an example of a law banning private ownership of cannons, and neither were historians. There are however, documented instances of privateers, or privately owned vessels, setting sail with cannons during the period. Read, Edgar Stanton Maclay, "A History of American Privateers," 1899.
And then there was the book written in 1830, by a veteran named Joseph Plumb Martin titled "A Narrative of Some of the Adventures, Dangers, and Sufferings of a Revolutionary Soldier."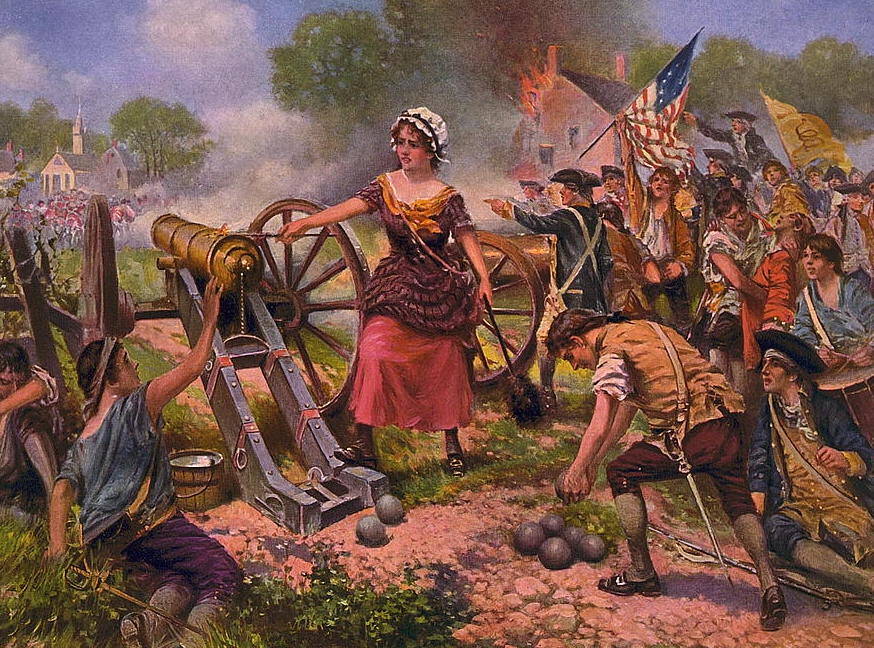 The book told the story of how in the heat of the Battle of Monmouth in June 1778, a woman darted among the American troops. She carried a pitcher of water, so they called her Molly Pitcher. But as the battle raged, she threw down her bucket. She grabbed a cannon. And she cast herself into an American legend. The story grew fame.
In a newspaper article, George Washington's grandson, George Washington Parke Curtis confirmed the story about the 22 year old, Mary Ludwig, who had come to be known as "Captain Molly." She had followed her husband to the Battle of Monmouth. While she was bringing the troops water, her husband was suddenly struck down by a bullet. Curtis wrote that "Captain Molly", seeing her husband fall, "threw down the pail of water, and crying to her dead consort, 'lie there my darling while I avenge ye,' grasped the ramrod" to fire the cannon.
I don't think she needed anyones permission to take action but her own voice for FREEDOM!
So who will call out BIDEN for his public lying threat? (or whoever is playing the role of Joe) for his public lying threat to dare a revolution against his mad max thunderdome style theft of the White House?
His presidency alone is treason, as is all who are his accomplices in the entire stolen election. Not to mention his China deals, his part in the election interference that created a revolution that led to the Arab Spring style toppling of the Ukraine Government. His hands are bloody red for his part in the masacre that led to sniper fire on unarmed Ukranians to force a Regime Change that formented a revolution of massive deaths, by the hands of the Obama Regime. His reward? Burisma and the firing of the Attorney General who could out them all.
And the real reason they had to strip Giuliani of his law license. They are desperate to keep their evil hidden from the American people. Giuliani has everything on Obama, Biden, et al and Ukraine election interference, the toppling of the Ukraine government, and the massacre of its' people. The world knows and so does President Trump!
BIDEN'S HANDS IN UKRAINE NEVER WENT AWAY…BUT there is reason to believe, Joe did!
Joe Biden was formally indicted on a Class A Felony in Ukraine. Breaking News: Joe Biden Now Has Class A Felony Charges Against Him – The GOP Times
Biden is desperate to forment a revolution in the streets of America so he can send in Obama's drones to kill civilians. The cabal has reached its desperate point and "Summer" is hot and ripe for them to throw their grand finale. That is all they have left to topple and rid America of its' constitution, Bill of Rights and its' VOICE OF FREEDOM!
If you do not see the writing on the wall now, you never will. This is what they have been trying to invoke during the entire COVID MANDATED LOCKDOWNS. Blue states have done EVERYTHING THEY COULD to provoke a civil war and they are still poking and prodding the people to fight. Now they are pushing for a 911 commission to investigate innocent citizens who went to D.C. to stand up for a fair election. They bussed in the ANTIFA thugs to create a mob scene and breech the Capitol with the preplanned intent to blame it on Trump and all his supporters. This is a CLASSIC UKRAINE ON FIRE MOMENT! Call them out and expose their evil. Refrain from a street war that the left is itching to create. This is a HUGE FALSE FLAG MOMENT IN OUR FACE!
THE MALPRACTICE OF THE AMERICAN NEWS MEDIA: JOE BIDEN IS INDICTED IN UKRAINE BUT YOU NEVER HEARD IT!
Written by Mike Church 2-3-2020 – During the 2014-2016 period, the Prosecutor General's Office of Ukraine was conducting a preliminary investigation into a series of serious crimes committed by the former Minister of Ecology of Ukraine, Mykola Zlotchevski, and by the leaders of the "Burisma Holding Limited" (Cyprus), whose board of directors included, among others, Hunter Biden, son of Joseph Biden, then vice-president of the United States of America…. Throughout the last months of 2015 and the first months of 2016, Joseph Biden, taking advantage of his position, came several times on an official visit to Ukraine in order to negotiate with the country's leaders, both my eviction and, therefore, the closure of the impartial investigation into the offenses committed by persons linked to the company "Burisma Holding Limited" (Cyprus), including the son of the above-mentioned US official.Joe Biden Is Indicted In Ukraine But You Never Heard It! (crusadechannel.com)
GENERAL FLYNN WARNS OF COMING FALSE FLAGS!
General Flynn has all but said they are heading in this direction. He is warning of a Deep State/Democrat attack to take the attention off the coming voter fraud reveal found in the Maricopa County and the 2020 Election audit. What better way to do that than to egg on a revolution? Flynn said they are going to continue to attack President Trump, and remember Trump has said, "It is not me they are after, it is YOU!"
REMEMBER, THERE WAS NEVER A REAL PANDEMIC! IT WAS AND STILL IS ALL A LIE TO BRING DOWN SOVEREIGN NATIONS AND CREATE A WORLD WIDE ARAB SPRING IN ORDER TO KILL CIVILIANS AND TAKE OVER ALL NATIONS INTO A ONE WORLD GLOBAL RESET!
Biden has gone 100% Mao Marxist, Communist in the face of the world and directly into the fake news TV cameras!
KEEP PRESSING FORWARD INTO GOD'S TRUTH! TRUTH IS WINNING!
DIANNE