According to the United Nations, there are 3.7 million Ukrainian refugees. Not sure where all of these are but that sure is a lot of people. According to the news reports Go Brandon (Biden) somehow reached Poland to assess the crisis in Ukraine and met with US troops for pizza.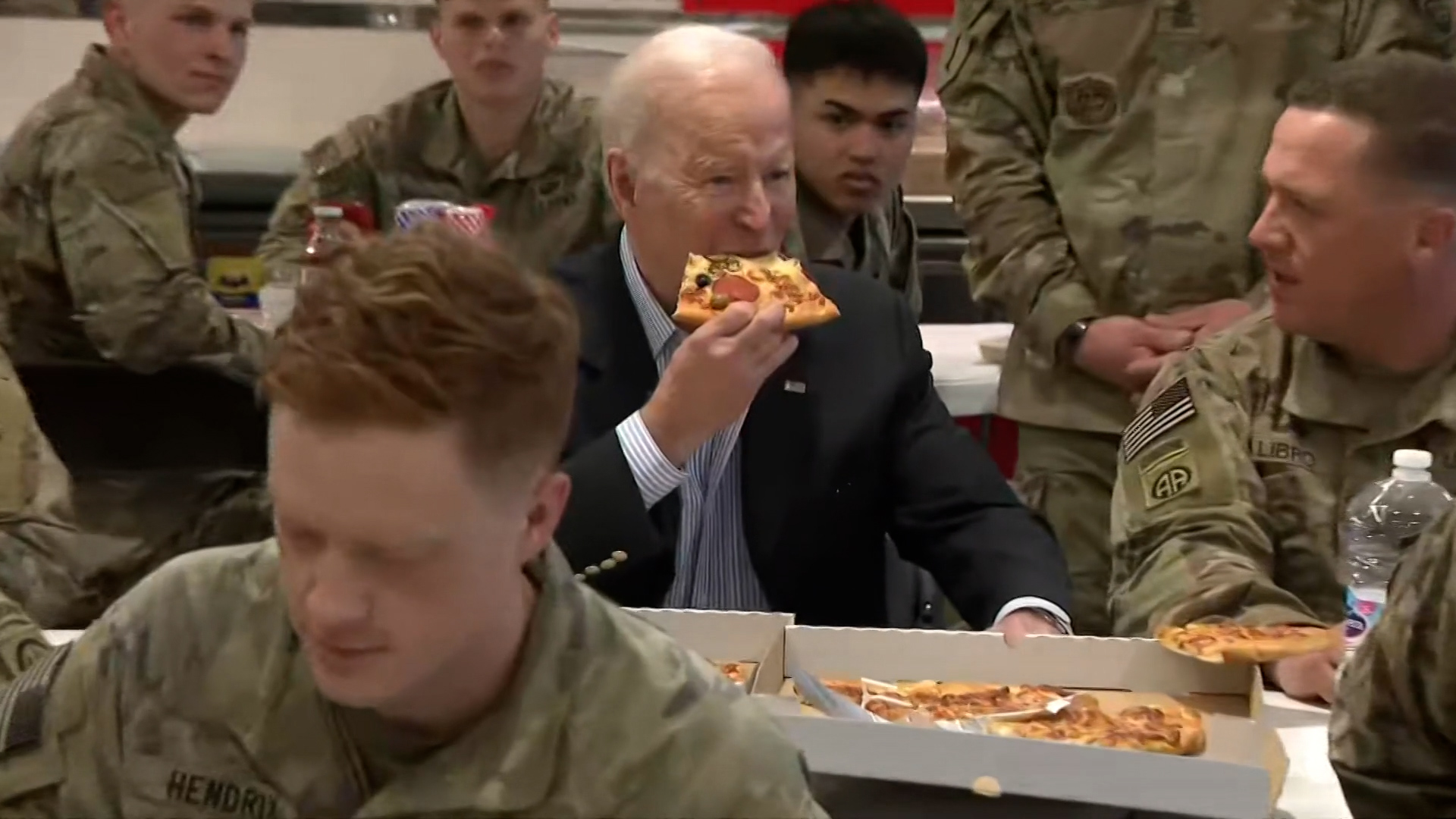 Biden enjoyed pizza, and selfies with the troops. Um…it is not clear what news he gained in Ukraine, but rumor has it he did gain a few pounds.
Now we can be sure this is not a distraction and certain it is in Poland because the fake news said it was. There is no need to fact check any of this because they are the fact checkers.
Poland, according to fake news, has become the epicenter for millions fleeing Ukraine, to meet with U.S. service members and refugees as his presence in Europe sends a powerful message that NATO is united against Russia's violent invasion.
Highlights of the trip was when Biden called Russian President Vladimir Putin a "war criminal," after the State Department announced this week its assessment that Russian forces have committed war crimes in Ukraine. No mention was made of the Ukrainian brute force, bombings and killings of other Ukrainians in Donbass or other villages in the region. committed war crimes in Ukraine.
One news source was most interesting referring to Go Brandon as Mr. Biden.
Mr. Biden visited about a dozen service members from the 82nd Airborne Division at a barber shop at the G2A Arena near the Rzeszow airport, about 50 miles from the border with Ukraine. He greeted three men sitting in chairs in the front of the room, noting their very short hair and telling them, "You guys must have just gotten your hair cut!"
According to the article in the link below, Mr. Biden sent additional troops to guard Ukraine. "In the run-up to the Russian invasion, Mr. Biden sent more than 5,500 additional troops to bolster the military presence on NATO's eastern flank and to send a message to Mr. Putin that he should not consider any direct military action against a member of the alliance." Biden Meets With US Troops Stationed in Poland (printveela.com)
Mr. Biden also told the troops in Poland on Friday that they will witness the bravery of Ukrainians fighting off Russia's invasion "when you're there" — making a significant gaffe after he previously said the US must stay out of the European conflict to avoid triggering "World War III."
"You're going to see when you're there, and some of you have been there, you're gonna see — you're gonna see women, young people standing in the middle in front of a damned tank just saying, 'I'm not leaving, I'm holding my ground,'" Biden said.
So while they were throwing the side shows at us, the main show was Joe. Joe Biden says US troops will be in Ukraine in apparent gaffe (nypost.com)
BREAKING – PRESS QUESTIONS FROM MR. BIDEN EXPOSED!
🇺🇲 Reuters photographed Biden's paper with agreed questions from journalists and his answers.
Meanwhile in Russia while Joe eats pizza... and plays "Mr. Biden Goes to Poland" and mutters "that's what friends are for"…real things are happening.
Artillery of the Armed Forces of Ukraine, hidden in the industrial zone of Chernihiv, burned down.
Russian air defense systems shot down three Ukrainian aircraft (two Su-25 and one Su-24), as well as six unmanned aerial vehicles in the air over the village of Vishnevoe, the Russian Defense Ministry reports.
In addition, one tactical missile of the Tochka-U complex was destroyed near the village of Vasilievka.
Below, the armed forces of Ukraine shelled Donetsk with incendiary ammunition.
Key Happenings in Ukraine, While Mr. Biden Eats Pizza in Poland:
The armies of Russia and the DPR liberate Mariupol quarter by quarter.
The Russian army continues to provide assistance to the residents of the liberated regions of Ukraine.
Russian Defense Ministry Announced – The state will take over the support of the families of the soldiers killed in Ukraine —
"The state will take all decisions to support families, raising children up to higher education, full repayment of loans, solving the housing issue," General Sergei Rudskoy, Deputy Chief of the General Staff of the RF Armed Forces, said.
Lavrov slams all-out sanctions spree, says West's values 'aren't worth a red cent'
A total war has been declared against Russia. The West is not concealing that the goals of its policy are aimed at suffocating and devastating the Russian economy, Russian Foreign Minister Sergey Lavrov said on Friday.
"Today, a genuine hybrid war, a 'total war' has been declared against us. This term, which was exploited by Hitler's Germany, is now pronounced by many European politicians when talking about what they want to do with Russia. The goals are not concealed, they are publicly announced, that is to destroy, devastate, ruin, and suffocate the Russian economy and Russia as a whole," Lavrov stressed.
The foreign minister lashed out at this "sanctions spree", pointing out that it is becoming clear that all values that those in the West have been preaching to Russia, like freedom of expression, a market economy, the sanctity of private property and the presumption of innocence, are not worth a red cent. Read full article:LIVE: Lavrov Says West's Values "Aren't Worth a Red Cent" | News | teleSUR English
Russia Updates:
During the day, operational-tactical and army aviation hit 117 military facilities of Ukraine, the Russian Defense Ministry reports. Among them:
▪️six command posts,
▪️three installations of MLRS,
▪️one anti-aircraft missile system S-300,
▪️nine warehouses with weapons and ammunition, two with fuel,
▪️92 strongholds of the Armed Forces of Ukraine, nationalist battalions and the area of concentration of military equipment.
Western experts note that the defense of Eastern Ukraine for the Armed Forces of Ukraine can be significantly complicated. And this is on the assumption that the Ukrainian group will be able to retreat to the second line of defense, which is in doubt.
Photo above: Russia destroys caches with Ukrainian ammunition with "calibers".
From Intel Slava:
"Yesterday, the administrator of one of the military telegram channels received a message from his subscribers (possibly from the ranks of the Armed Forces of Ukraine who are against Nazism) that Ukrainian militants are accumulating equipment and personnel in this sector in order to break through our front in this zone. Our intelligence checked the information, the information was confirmed and our artillery worked on the Ukrainian grouping. All enemy equipment was destroyed and detonated until the morning. One can only imagine how many living forces died there.
"I want to appeal to all network users and administrators of our resources. Continue to collect and share information about the movement and locations of Ukrainian units. Our scouts process all the information received and immediately respond to it with the available means of destruction. Each of you who helps us with such information also brings the end of the war and our victory closer."
The Russian army delivered 70 tons of humanitarian cargo to Gomel for citizens of Ukraine.
Huge columns of Russian military equipment go to the aid of Donbass
Russian units will, together with the armies of the people's republics, fight against the occupying Ukrainian troops.
The Austrian Parliament refused the President of Ukraine to appeal to the deputies.
The parliament said that Austria is a neutral country, and Zelensky's speeches are one-sided and reflect only one point of view.
Yesterday Ukrainian media and politicians talked about some battles in Kherson and promised to "liberate" the city by this morning.
The best answer to these claims is a video by the News Front agency, recorded this night on the streets of the village and its environs. There are no sounds of collisions or even artillery shelling on the footage.
As we have written more than once, due to the lack of real significant success in Kyiv, they are busy inventing virtual victories.
British Defense Minister Ben Wallace said that Britain refused to supply tanks to Ukraine, because their use requires skills that the Ukrainian military does not have.
The head of Crimea, Sergey Aksyonov, said that after the Russian military blew up the Ukrainian dam that blocked the water supply to Crimea, more than 35 million cubic meters of water had already entered the peninsula through the North Crimean Canal. Yesterday it was announced that the North Crimean Canal was full.
Pictured below: New trophies of Russian troops in Chernihiv
Russian troops are redeploying, not withdrawing from Kyiv – Fox News
"Any movement of Russian troops from near Kyiv is a redeployment, not a withdrawal, and the world must be ready for a major offensive in other areas of Ukraine," the US official told the agency.
Military equipment and warehouses of the Armed Forces of Ukraine were destroyed.
Which bring us to RUSSIA PHASE TWO… WHAT IS THIS TO BRING? WHAT WILL JOE EAT DURING THIS PHASE?
What were they doing when we were watching distractions? Like Will slapping a Comedian and the J6 committee and a Judge who can't define Woman? I'm sure there are many, many things…
Keep on pressing into the Kingdom of God. Press, press, press!
Dianne