The replica of the tower of Babel in the Kaluga region of Russia, was set on fire and is burning, burning, burning!
It sure looks like Putin is sending a message to the Khazarian Oligarchs that their New World Order shall never be built – they are going down just like the Bible says they shall!
This definitely has a symbolic meaning. I wonder if the banksters see and hear it?
Read what God has said of Babylon the Great and know that the meek shall inherit the earth, not the Great Merchants who desire to enslave and destroy God's people.
Remember all nations were deceived by her sorceries. We are in the world but not of the world… come out of her MY PEOPLE, is the call to those who love the Lord, for her sins have reached into the heavens.
Putin appears to be strategically hitting black opps in Ukraine. It is said that Ukraine has become a den of corruption and a hub for sex trafficking, human and child trafficking, money laundering, bio-lab experimentation, and who knows what else. All of this is sponsored by US politicians and Khazarian oligarchs who desire to achieve a one world order. The EU is fully aware of what takes place in Ukraine…many have taken part in their share of the world corruption and are in league with the United Nations to bring this utopia of tyranny into fruition.
As the Bible has said, the nations give their crowns to the beast for one hour. This is what has taken place and now we are watching as the unlikely man, Putin, emerges to end the evils being done in what technically is still Russia, the evils that many are now calling the head of the snake which is the Oligarch, NAZI controlled Ukraine.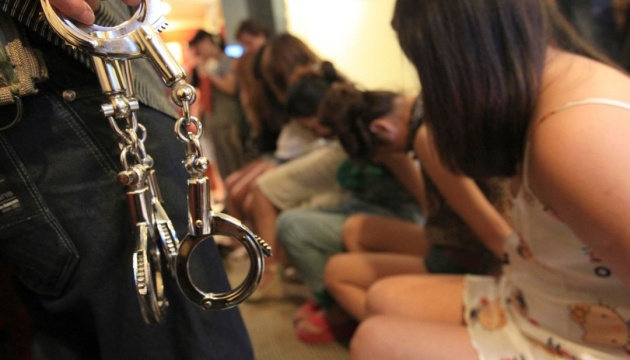 Ukraine has become a wicked hub for child trafficking from all over the world. Almost 230,000 Ukrainians have become victims of human trafficking since 1991.
In 2013 and 2014 the Obama puppet regime fanned the war flames creating the red revolution and Ukraine on fire to stop Russia from doing what they are doing right now and that is exposing and putting an end to the inhumane bio-labs, human experiments, child and human trafficking, theft of Ukraine's resources and finances, money laundering and the killing of Russian citizens.
Ukraine refugees face risk of human trafficking
As millions of women and children flee across Ukraine's borders in the face of Russian aggression, concerns are growing over how to protect the most vulnerable refugees from being targeted by human traffickers or becoming victims of other forms of exploitation. (March 12) Watch video from USA Today: Ukraine refugees face risk of human trafficking (usatoday.com)
Putin is exposing the fake leaders in Ukraine and all who have infiltrated to control it. He is ending the puppet regime placed for and by the Khazarian Oligarchs who have goals to rule the entire world and depopulate it according to their desired number. The research in Ukraine also consists of the largest brain research institute in the world; how convenient for the Schwab, Gates mind control RESET goals that will (if they get their way) control the mind and body of all of the citizens that remain alive after their genocidal culling they call a plague.
The world is watching as this great evil is exposed and there is no turning back now. All the media can do to hide their sins is shout this is a war when in reality, this is the ousting of the deep state political arm who has infiltrated and turned Ukraine into a geopolitical piggy bank and den of corruption from making Bio-Weapons of mass destruction to doing horrific Frankenstein type science experiments on humans and children.
The real war is the one against all humanity. The solution is for the people to end the "we pick the puppet leaders" game these oligarchs have played on the entire world of nations.
Bogomolets Institute of Physiology, National Academy of Sciences of Ukraine, Kyiv, Ukraine
The Bogomolets Institute of Physiology (BIPh) is a leading scientific research center in Ukraine in the areas of molecular physiology, neurophysiology, and pathological physiology. BIPh of the National Academy of Sciences of Ukraine was founded in 1953 as a result of merger of the Institute of Experimental Biology and Pathology and the Institute of Clinical Physiology. BIPh's organizational structure includes 3 divisions (Molecular Physiology, Neurophysiology, and Visceral Systems), each consisting of 4-5 departments, Laboratory of Molecular biophysics, and experimental facilities. In 1992 the Institute spun off the International Center for Molecular Physiology (headed by BIPh Director Acad. Platon Kostyuk), an "independent research organization" aimed to involve Ukrainian scientists in cutting edge research in cooperation with the world scientific community.
Institute's Focus
The Institute developed considerable core
competencies in a number of areas of molecular
physiology and related fields:
• molecular bio-physics
• mechanisms of membrane receptors activity
• nervous and muscular physiology
• neurophysiology and neurochemistry
• studies of visceral systems and neuronal networks
under normal and pathological conditions
• preventive and rehabilitation treatment
• space medicine
The center also engages scientists temporarily working abroad along with their host institutions in cooperative projects. The members of the Center's Council are prominent scientists from the USA, Germany, Italy, France. The Center is well equipped with advanced computer-based systems for cell characterization and image analysis, the result of successful participation in a number of grant competitions. The Institute is a co-founder of International Astro Physical and Medico-Biological Scientific Center in the Caucasus, Elbrus Mountain region (the Kabardin Balkar Autonomous Republic, Russia), which has a well-equipped scientific base with laboratories, a vivarium, dwelling buildings and a sports center.
When you see who is involved with Ukraine's Research, then you see why it is needed by the Oligarchs!
"Ukraine's status as an associate member of CERN will help Ukrainian scientists deepen research in the field of nuclear medicine, forensics, and nuclear nanotechnology, and promote the development of the domestic sector for high-tech and innovative products," Hryschenko's press office quoted him as saying.
He said that Ukraine had successfully undergone the difficult procedure of verification of its conformity as an associate member of the organization.
"Ukrainian scientists are well known at CERN thanks to their successful participation in a number of areas for the Large Hadron Collider project," Hryschenko said. Read article: Ukraine to become associate member of European Organization for Nuclear Research – Oct. 02, 2013 | KyivPost
Back to Bogomolets Institute of Physiology:

BIPh is actively pursuing grant funding opportunities from a number of international granting agencies, such as INTAS, CRDF, Fogarty International Center, Wellcome Trust, Howard Hughes Medical Institute, DFG Foundation, STCU. Often, experimental projects are performed at the collaborators' sites (Saarland University; Dalhousie University; Georgetown University; Laboratoire de Physiologie Cellulaire, University of Science and Technology of Lille; University of Maryland; Department of Biochemistry, etc.). The Institute maintains dynamic relationships with a number of counterpart institutions in Europe including the National Center for Scientific Research (CNRS, France), Max Planck Institute for biophysical Chemistry (Germany); University of Liverpool, (United Kingdom); and many others. The Institute worked jointly with the Institute of Nephrology, Institute of Gerontology, Institute of Endocrynology of the Academy of Medical Sciences of Ukraine to develop a number of therapeutic non-medicinal applications.
BIPh makes efforts to extend its outreach to domestic as well international industrial partners. In the
Dnipropetrovsk branch there were collaborative research projects with AC "Debyut-Fidav" and a scientific production company BIOTEK.
Sanger (wellcomegenomecampus.org)
The entire world is now a lab experiment!
COVID-19: Technology, Social Connections, Loneliness, and Leisure Activities: An International Study Protocol
COVID-19: Technology, Social Connections, Loneliness, and Leisure Activities: An International Study Protocol – DOAJ
Participants include residents aged 18 years and older in the countries and snowball sampling is employed via social media platforms. We anticipate that the findings of the survey will provide useful and much needed information on the prevalence of use and intensities of digital technologies among different age groups, gender, socioeconomic groups in a comparative perspective. Moreover, we expect that the future analysis of the data collected will show that different types of digital technologies and intensities of use are associated with psychological well-being and loneliness. To conclude, these findings from the study are expected to bring in our understanding the role of digital technologies in affecting individual social and emotional connections during a crisis.
It makes one wonder if this is part of the A.I. study and research that could bring dead people back to life as a chat bot.
Keep on pressing into the Kingdom of God! Press, press, press!
Dianne