And that's not a HAPPY future!
The Great RESET was planned a long time ago and it has been rolled out and now the people around the world are waking up and realizing they meant what they said, and they are actually implementing all of it. While some still think they can vote evil out and go back to sleep… many of the other type of "WOKE" folks believe this means they will all be able to have everything they desire… they haven't stopped long enough to read what this all means yet. Many believe the foundations who send them pay checks for dancing with fire in the streets are their true friends. They have been promised a utopia of sorts, one without police officers…they were not told the new policing will be INTERPOL. They believed they will have their rights to be whatever they want to be…they weren't told they would be robotized and or removed, along with the rest that don't meet their new ESG scores.
A lot of "WOKE" folk think the ESG Scores mean "equal social gains" while those who are awake know it means "Everything Sane Goes" which the two "thinks" have been met with division and chaos, which has allowed a lot of covert infiltration of controlled opposition in all segments of our so-called civilized society. Whereas the real meaning behind ESG Scores mean "Environmental, Social, Governance" where all things are monitored and controlled by the Khazarian Mafia and their new world order INVESTMENT COMPANIES, and implemented by gestapo type control systems.
ESG Awareness
Presently, only a small number of voters are even aware of these ESG scores and what exactly the Great Reset movement really is other than bad. Those with higher six figure incomes and bigger businesses are more aware of what these scores mean to their capitalism, and it isn't good. Young people are more aware, or so they say… and more agreeable to it, but that is because they are not informed of the dangers of it or what it really means for them. It appears the years of programming by the NWO machines have paid off, such as climate change and we are all going to die if we don't do crazy things like remove our older generation and put our minds in the cloud for the good of humanity. After all, being able to have google in your brain sounds totally awesome, now doesn't it?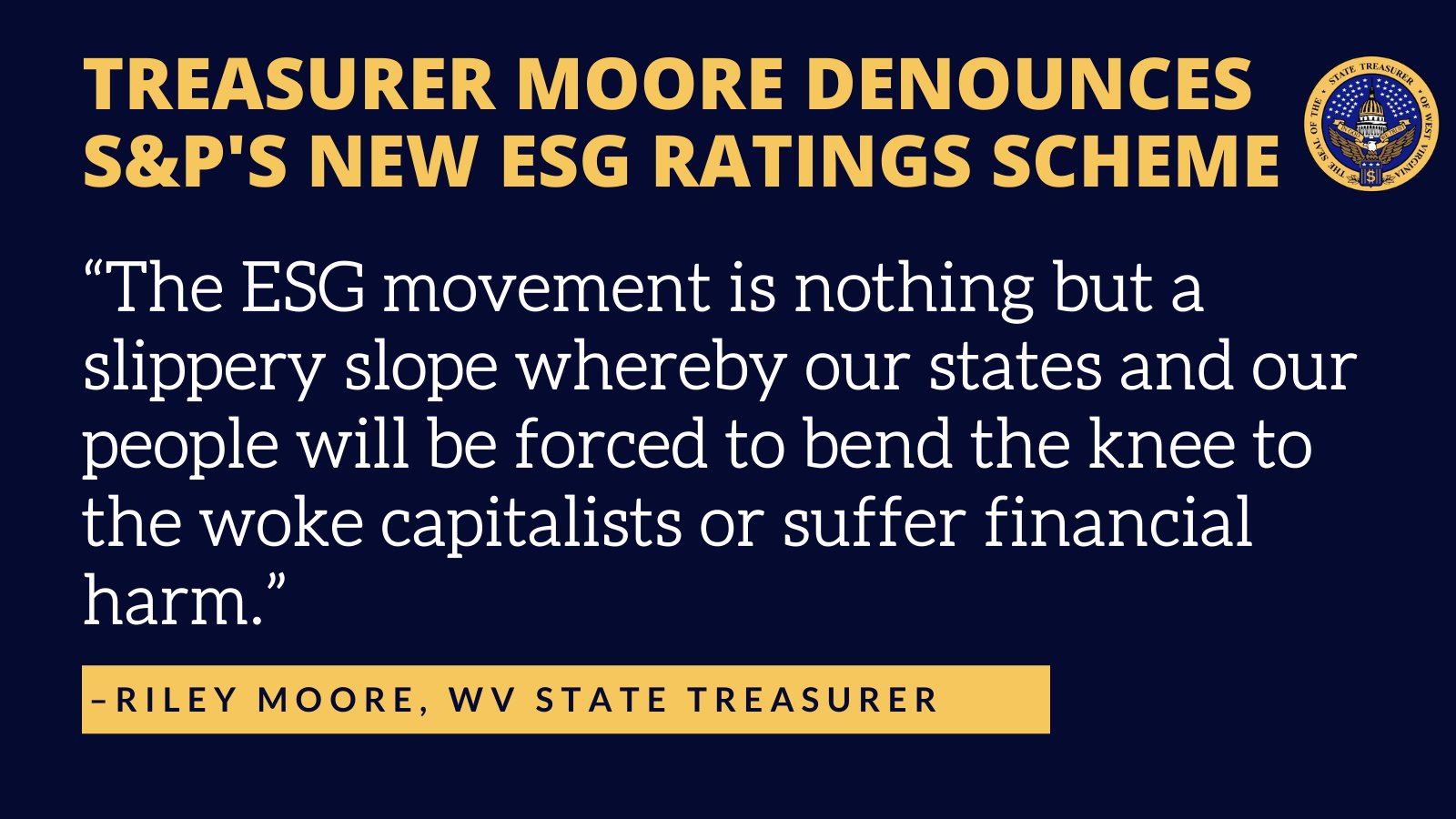 However, among all likely voters, the majority oppose any use of such ESG scores that will dictate every aspect of a person's life. These scores are credit scores, and they will dictate who gets to buy what and when. So far it isn't popular with 67% of society. Of those who are for it… they truly must not have been told what it actually involves, or at least not had all of it properly explained. They truly haven't understood the "You will own nothing and be happy" side of it all. The truth is, most people don't even know what it is about, let alone have enough information to vote on it.
Listen to Glenn Beck explain what ESG scores are and how are they being used by global organizations to manipulate our nation's largest corporations and YOU!
Glenn is joined by Justin Haskins, executive director of The Heartland Institute, who has researched the public awareness on the topic and found it lacking. Together they explain how ESG scores work and why they're so dangerous to not only our free economy — but to YOUR freedoms as well.
REMEMBER VIRUS EQUALS DISTRACTION, DEATH, INJURY, LOCKDOWNS, MASKS, CHAOS IN THE STREETS, STOLEN ELECTIONS AND RESET GOALS ARE PUSHED IN THE MIDST OF THE CONFUSION.
NEVER FORGET THAT BITTER TASTE OF RESET AND ESG SCORES WHEN THEY DECIDED WHO WAS ESSENTIAL AND WHO WAS NON-ESSENTIAL IN BUSINESS! LOW SCORES EQUAL NO BUSINESS FOR YOU!
And today… we hear the arrogance of opinion about the American small businesses who got shut down because they were not essential. These proud ones admit they were wrong in one breath… and in the next say NON-ESSENTIALS need to find another profession!
The Rubin Report certainly gave the appearance of an example of controlled opposition. With a "Gee we were wrong, but hey… you just chose the wrong profession". The first guest Mike Rowe gave his take on it and it struck a nerve.
ALLOW ME TO GIVE A RANT…
The arrogance of this conversation of essential / non-essential and 'find a job that's better after this', type of crap. Defining so called educated with whatever was implied. Well, let me tell you Mr., you missed the entire point of why they created non-essential – it was to destroy small businesses! Of which they were successful in closing down a lot of them! But Rubin's university controlled brain didn't catch that part of the shut down. Or so it appears.
So let me rant…the in-school class rooms were non-essential, salons, gyms, physical therapy, any non-life-threatening surgery… sorry guys that can't walk- even though your knee surgery has been scheduled for months, it is now non-essential and sorry about not getting your physical therapy after your surgery Mr. Doe…that place is closed due to not being essential. But you can take a wheelchair to Walmart and go to Home Depot. Those are essential. But you can't get a haircut…that career is not essential…but if you have the clout, you can still do it like Nancy Pelosi did! Just don't get caught! But fear not you can go to a marijuana dispensary and feel good about it, or you can go to the liquor store and get some whisky and drink on it.
Indoor banking all closed down but left some drive throughs opened due to non-essential, and so did all government buildings…now that I agree was mostly non-essential…. however, there were many nice small businesses that shuttered up and many closed forever, like places to get your computer repaired and florists, boutiques, clothing stores, print shops and half of the stores in malls …but hey Walmart has some children of the corn garbs to hang on ya all. You should all be made to buy your next suit there or whatever comes close to it!
And don't even go there with your essential big box chain stores who have Blackrock and Vanguard investors controlling their destinies… all of the arses who push this hype of having folks change careers should be denied service in every business they deemed non-essential – for at least ten years and see how their pompous ass-hat attitude shifts. That means… no golf, no church, no sports, no restaurants, no haircuts, no gyms, no novelty shops, no one to work on their computer, no cell phone shops, no construction, no surgeries, no physical therapy, no gov. buildings, no parks, no beaches, no public buildings…. No in- school learning or school sports for your families! No concerts, no theater, no movies, no pizza places, no , no, no……!
Just hang out in your big box Walmart!
Well… that felt therapeutic, but it doesn't change the state of affairs, nor the number of controlled opposition…and I am sure I left out a lot of the small businesses that were harmed…even vacation rentals were not allowed to be rented out in many states. Yea, that happened in Florida and other places.
The message here is TO REMEMBER WHAT THEY DID AND DO NOT ALLOW IT AGAIN! The UN vote is coming up on May 22nd. Call your representatives and shout to get out of the United Nations and their New World Order Goals all together! We should be voting to pull out of the NWO RESET! RESET IS THE NEW WORD FOR NEW WORLD ORDER – KLAUSE HAS TOLD YOU SO! IT'S IN THEIR GUIDE BOOK!
Meanwhile, it appears open borders equals Democrat votes… who'da thought?
And this one is not about the election…it's about Hannity and his new stance on the J-6 Trump invitational gathering…. it appears Hannity is now categorizing Citizens who are against election fraud as bad people.
KEEP ON PRESSING INTO THE KINGDOM OF GOD! PRESS, PRESS, PRESS!
DIANNE