President Trump is on top of the treasonous coup and has prepared for this moment in history and it is EPIC!
Remember in his speech to the people he stated, " As President I have no higher duty than to defend the laws and the constitution of the United States. That is why I am determined to protect our election system, which is now under coordinated assault and siege.
"Millions of votes were cast illegally in the swing states alone, and if that's the case, the results of the individual swing states must be overturned, and overturned immediately.
"The Democrats has this election rigged right from the beginning. They used the pandemic as an excuse to mail out tens of millions of ballots, which led to a big part of the fraud… and there is no one happier than China."
President Trump's speech was given on 12-02-2020. Look at all those 2's. Angelic guidance?
The Angel Number 222 has a very significant and powerful vibration. It contains the attributes of 2 and 22, the Master Builder Number of inspiration, big ideas and the focus and persistence needed to manifest big dreams into reality and has to do with manifestation, keeping in balance, and creating blessings on a huge and global scale.
See full audit of Dominion voter machines in Michigan showing voter fraud on a grand scale!Antrim_michigan_forensics_report_121320_redacted.pdf (dropbox.com)
President Trump and the world all know this election was a fraud and now many past elections are also in question. It is no longer hidden, and dominion no longer is operational for treasonous deep state coup operators who do the bidding of foreign nationals who desire global order.
President Trump knows the entire lockstep force and how they used the plandemic to commit their horrible attack on America and the entire world. These great merchants of the earth will weep and wail just like it is written int he Holy Bible in the Book of Revelations!
President Trump stated in his speech, "The only conceivable reason why you would block commonsense measures to verify legal eligibility for voting, is you are trying to encourage, enable, solicit or carry out fraud. It is important for Americans to understand that these destructive changes to our election laws were NOT a necessary response to the pandemic. The pandemic simply gave the Democrats an excuse to do what they were trying to do with many many years. "
In President Trump's Executive Order signed in 2018, it describes who will be subjected to having all their assets seized by the United States government — this applies to corporations, individuals, partnerships and even non-profits:
In Sec. 2. a (ii) to have materially assisted, sponsored, or provided financial, material, or technological support for, or goods or services to or in support of, any activity described in subsection (a)(i) Sec. 2. a (i) to have directly or indirectly engaged in, sponsored, concealed, or otherwise been complicit in foreign interference in a United States election.
Click link to see full Whitehouse Copy of Executive Order: Executive Order on Imposing Certain Sanctions in the Event of Foreign Interference in a United States Election | The White House
It looks like President Trump will invoke the 2018 EO!
Election fraud and voter fraud is a felony. Under military law during a time of war, it's treason! Under the 2018 EO, anyone engaging in this behavior will have all their assets seized by the U.S. Treasury. I said this before, but what this means is that Twitter, Facebook, Google and all the fake media heads such as CNN, MSNBC, etc., have put themselves into a position where all of their assetts can be seized and perhaps given back to McGibbens who held the patent on the technology that was stolen by the U.S. corrupt patent office and the CIA. Or will it be controlled in a safe and free manner to the public? McGibbens had stated that his idea for this technology was to give it to the world freely. The same as the internet is. McGibbens has fought for his patents for over a decade and appealed to President Trump when he first took office. Is he about to get justice? Are all the people about to see a huge turn of events?
President Trump has lots of evidence and sealed indictments ready to roll out. CIA director Gina Haspel has admitted to election interference in a full confession which has now been acquired. Evidence of Dominion election interference is secured and the Kraken has taken it down!
The following is from an article on Thursday, December 03, 2020 by: Mike Adams
10 USC 394: Authorities concerning military cyber operations
In case you're wondering whether the U.S. military under Trump really has the authorization to respond to acts of cyber warfare with coordinated conventional military actions, read 10 USC, Section 394. Subtitle A, Part 1, Chapter 19, which is available via uscode.house.gov: (I'm bolding the especially important sections): §394. Authorities concerning military cyber operations (a) In General.-The Secretary of Defense shall develop, prepare, and coordinate; make ready all armed forces for purposes of; and, when appropriately authorized to do so, conduct, military cyber activities or operations in cyberspace, including clandestine military activities or operations in cyberspace, to defend the United States and its allies, including in response to malicious cyber activity carried out against the United States or a United States person by a foreign power. (b) Affirmation of Authority.- Congress affirms that the activities or operations referred to in subsection (a), when appropriately authorized, include the conduct of military activities or operations in cyberspace short of hostilities (as such term is used in the War Powers Resolution (Public Law 93–148; 50 U.S.C. 1541 et seq.)) or in areas in which hostilities are not occurring, including for the purpose of preparation of the environment, information operations, force protection, and deterrence of hostilities, or counterterrorism operations involving the Armed Forces of the United States. (c) Clandestine Activities or Operations.- A clandestine military activity or operation in cyberspace shall be considered a traditional military activity for the purposes of section 503(e)(2) of the National Security Act of 1947 (50 U.S.C. 3093(e)(2)). f) Definitions.-In this section: (1) The term "clandestine military activity or operation in cyberspace" means a military activity or military operation carried out in cyberspace, or associated preparatory actions, authorized by the President or the Secretary that- (A) is marked by, held in, or conducted with secrecy, where the intent is that the activity or operation will not be apparent or acknowledged publicly; and (B) is to be carried out- (i) as part of a military operation plan approved by the President or the Secretary in anticipation of hostilities or as directed by the President or the Secretary; (ii) to deter, safeguard, or defend against attacks or malicious cyber activities against the United States or Department of Defense information, networks, systems, installations, facilities, or other assets; or (iii) in support of information related capabilities. https://merrileebeazley.org/situation-update-dec-3rd-trump-invokes-foreign-interference-provision-of-his-2018-executive-order-authorizing-military-response-to-cyber-warfare-see-nspm-13/?fbclid=IwAR3ZC2ufMlKqJxlFMaYFlyqz6cUDuyxjcHjmKii84OGqjBn_MvHxfbY5tGg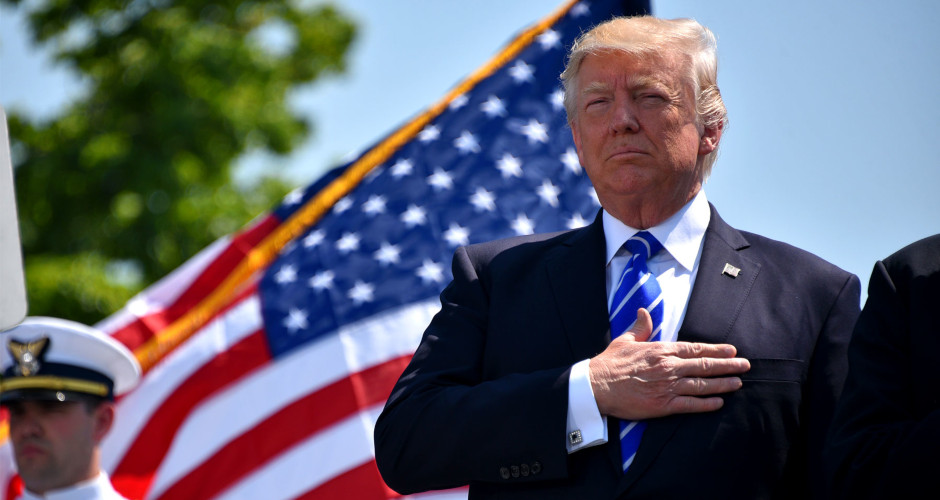 Trump announced "offensive cyber operations" just one week after signing his September 12, 2018 Executive Order!
Trump's rally in Georgia today Dec. 5, 2020 will be EPIC!
God bless America and God bless President Trump and We The People!
Dianne Marshall