ACROSS THE NATION, PATRIOTS ARE TAKING A STAND – the first amendment is still ours and let no man, woman, or global cabal take that from you! The more fake news sponsored by George Soros tries to ban Americans from truth and free speech – THE LOUDER PATRIOTS SHOUT!
Here is just a few posts on what Patriots are shouting to their country men and women- the MARXIST HAVE AWAKENED THE SLEEPING GIANT AND THAT GIANT IS ROARING AND WILL NOT STOP UNTIL ALL THE EVIL DEEP STATE CABAL ARE DEALT WITH THROUGH THE LONG ARM OF THE LAW!!!!
Maureen McKnight Winans: He wants to change the voting demographic first off to keep Marxists in power. That will keep dirty money flowing into his coffers and keep freedom at bay in the US. He hates the US, so he doesn't give a damn what it does to the people of America. It will also change the religious makeup of America forever. If Islam is allowed to rule in America, Shariah Law will be commonplace. People will be more easily cowed and controlled. Islamists were deep in bed with the Nazis and they still harbor that ideology. The foundations behind funding the called for embracing of immigrants are communist based. Soros is taking advantage of another weak country in order to manipulate power and wealth. His son will follow right in his footsteps as well.
Dr. Ben Carson – U.S. secretary of HUD– Trump Administration
Jesse Morgan—a truck driver (subcontractor) with USPS in PENNSYLVANIA…
General McInerney – We're talking about more than voter fraud, we're talking about Cyber Warfare – we are at war…..
Lorion Bunyea –
Linda Adrian Ewers – Heaven's No N.E.V.E R.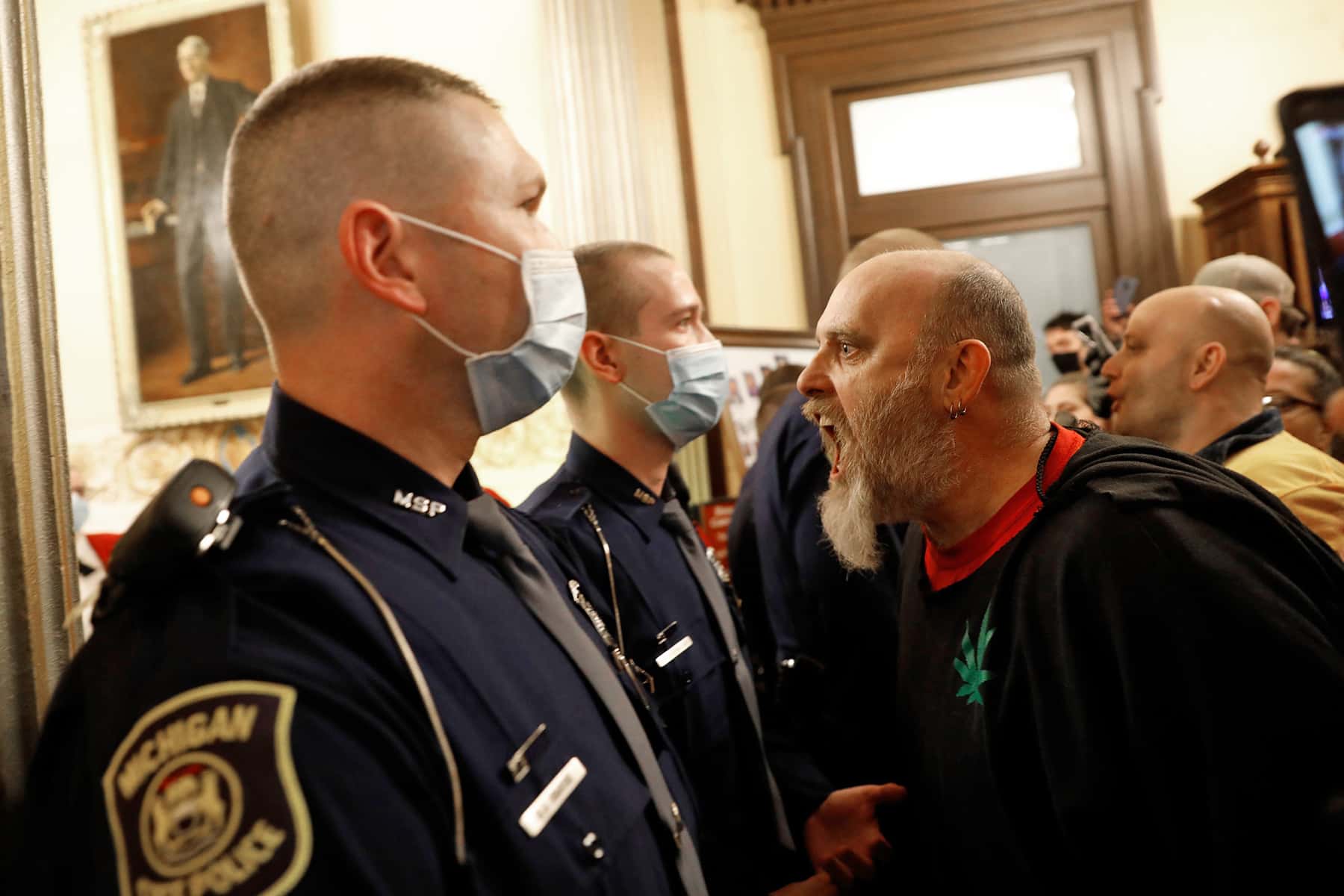 Jeff Kowalsky's photograph of the "American Patriot Rally" at the Michigan statehouse on April 30 shows a large, bearded man, leaning forward, mouth open, screaming. Positioned between two police officers who are staring blankly ahead above their masks, he is focused on something they are preventing him from reaching: the legislature. His fury is palpable.The screaming "American Patriot" is a portrait of how the individualist movement has failed | The Milwaukee Independent
This is just a spec of the massive out shouting that is taking place. JUST A SPECK~!!
WE THE PEOPLE ARE RISING UP and taking a STAND for the Constitution and The United States of America! The left called for uniting and WE HAVE UNITED!
Dianne Marshall