ARE WE HEADED FOR A NEW GOLD STANDARD? Schwab's RESET WORLD ORDER Is ALL BUT OVER!
The (fiat) US Dollar, issued by the Federal Reserve (CENTRAL BANK AIR PAPER DOLLAR), honored all over the world, is recognized as backed by the full strength and credit of the so called wealthiest nation in the world, the United States of America, Inc.. However, the "wealthiest nation in the world" has been impoverished by COVID 19 LOCKSTEP SCHEMES that have been robbing "We The People" of their savings, their homes, and their ability to earn a living and run small businesses with mandated lockdowns, jabs and boosters that caused disabilities, sickness, death, and continuous side effects leading to cancer, heart conditions and general overall weakness. Add to the mix a big dumping of inflation and taxation, along with the games of the Great Merchants and Central Banksters.
Thank Dr. Fauci, Birx, Gates, WHO, CDC, the medical community, political Marxists, Big Pharma, and Big Corporation who pushed it. In their greed, the great merchants of the earth and their push to destroy this Great Nation out of greed to own everything and make us all happy owning nothing, have killed their own FIAT DOLLAR and ideas of having their one world utopia – the great RESET pushed by Klaus Schwab and his participating puppet leaders and greedy great merchants. Thankfully their plan to enslave the world has been usurped and corrected to Free the World.
Since last Friday and on Monday Banks were said to be collapsing. Basel 3 compliance was required March 1, with a 30-day grace period, is ending the last week of March all over the world. Any banks not merged – are required to meet all Basel 3 requirements or close their doors. Basel III is an international regulatory accord that introduced a set of reforms designed to mitigate risk within the international banking sector by requiring banks to maintain certain leverage ratios and keep certain levels of reserve capital on hand.
Read PDF of Basel 3 Regulations: Basel III: A global regulatory framework for more resilient banks and banking systems – post BCBS meeting – revised version June 2011 (bis.org)
WHAT DOES THIS MEAN?
Banks everywhere are reporting that they have this new currency ready to deliver to clients. It has been heard that the huge task of converting all Tier 1 banks, holding large amount of USD, has been completed. So rest assured, no one anywhere will be left holding worthless paper and the United States will be great again!
Biden signed the Libor Transition Law into effect on March 15, 2022. US Enacts LIBOR Transition Law | FSR and Corporate Crime notes (hsfnotes.com) They just announced that the transition law into a new currency backed economy is official!
US Enacts LIBOR Transition Law – Finance and Banking – United States (mondaq.com)
It sure sounds like we are going on the Gold Standard. President Trump had talked many times of putting the USA back on the gold standard. So with the LIBOR Transition Law signed and Putin putting Russia back on the Gold Standard on March 4, 2022… it looks like that is where we are headed.
Putin has put Russia on the Gold Standard as of March 4, 2022 and yesterday, Putin announced that all sales now from EU and US markets must be paid in the Ruble which is on the Gold Standard. They will not be taking any of the Fiat dollars. Read: President Putin Returns Russia to the Gold Standard | Truth11.com
Putin's demand for ruble payments? No way! say EU nations
President Vladimir Putin's threat to have "unfriendly" countries pay for Russian natural gas exports only in rubles from now on has got the not-so-friendly treatment from European Union nations.
"I don't think anybody in Europe really know how rubles look like," said Slovene Prime Minister Janez Jansa. "Nobody will pay in rubles." Read: Putin's demand for ruble payments? No way! say EU nations – ABC News (go.com)
Meanwhile we have Biden clown double playing a fool somewhere in a virtual world.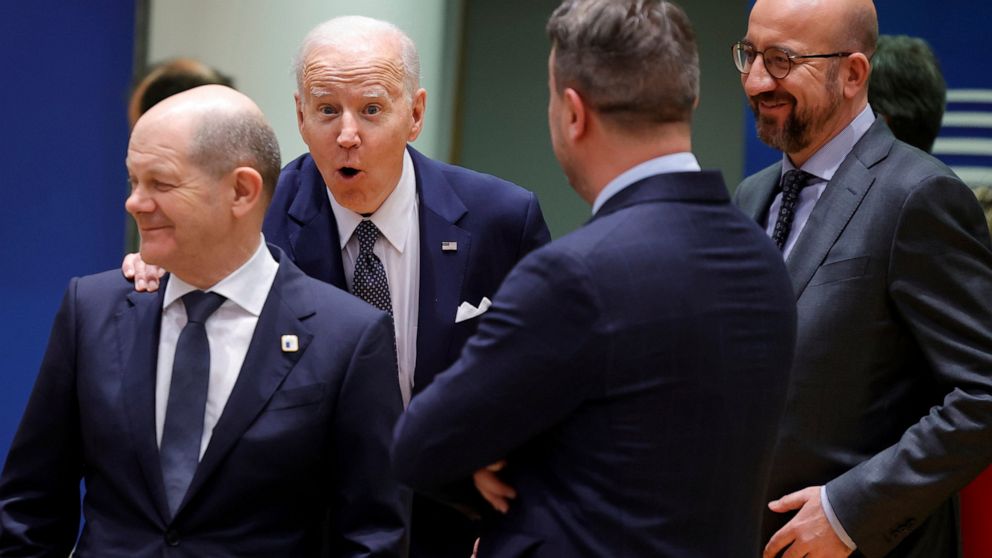 Meanwhile, BANKS AND CORPORATIONS ARE GOING BROKE!
China property giant Evergrande suspends share trading again!
HONG KONG, March 21 — Troubled Chinese property developer giant Evergrande and all its units suspended trading in Hong Kong Monday morning, according to a notice to the stock exchange.
China's property firms have struggled in the wake of Beijing's drive to curb excessive debt in the real estate sector, as well as rampant consumer speculation.
Among those embroiled in the crisis is Evergrande, one of the country's largest developers, which has been involved in restructuring negotiations after racking up US$300 billion (RM1.2 trillion) in liabilities. Read: China property giant Evergrande suspends share trading again | Money | Malay Mail
This is a clear demonstration of the end of the CCP. What many don't know is that every business funded by the Chinese Government (CCP) is owned/ 50% and funded by the government. A failure of this magnitude, allowed to go into bankruptcy, demonstrates the inability of the CCP to carry this debt. They are done. Big, beautiful chocolate cake type broke.
The Central Bank of Iraq is also closed while the nation's business is being handled. Good news about the New IQN is expected this week. The People of Iraq have had enough. Where's Schwab? I heard he had COVID.
Hunter's laptop comes out on the 23rd with all that entails. How can these evil doers escape the righteous outrage of the People? They cannot.
How did Hunter Biden's depraved behavior and his and his family members' dubious dealings with adversaries and oligarchs compromise and corrupt Joe Biden? What did Joe know, when did he know it and did he directly or indirectly profit? To what extent would—and today, does—the Biden family's conduct loom over vital issues of American foreign policy, and thus national security?
They are the supposed nonpartisan group of top spies looking out for the best interest of the nation.
But the 51 former "intelligence" officials who cast doubt on The Post's Hunter Biden laptop stories in a public letter really were just desperate to get Joe Biden elected president. And more than a year later, even after their Deep State sabotage has been shown again and again to be a lie, they refuse to own up to how they undermined an election.
The officials, including CNN pundit and professional fabricator James Clapper — a man who was nearly charged for perjury for lying to Congress — signed a letter saying that the laptop "has the classic earmarks of a Russian information operation."
What proof did they have? By their own admission, none. "We do not know if the emails .?.?. are genuine or not," the letter said. They're just "suspicious." Why? Because they hurt Biden's campaign, that's evidence enough.
READ THE LIST OF 51 INTELLIGENCE OFFICIALS – CIA AND NATIONAL INTELLIGENCE DIRECTORS WHO LIED FOR BIDEN ABOUT THE LAP TOP.
READ: Named and Shamed: The 51 Intel Officials Who Lied About the Hunter Biden Laptop Emails – Election Central (uspresidentialelectionnews.com)
EXCERPTS From link above:
"Perhaps the most alarming part of the list is seeing where these individuals all work and their circle of influence. Some within the government, some retired, some in big defense companies, some working as cable news analysts, and some in academia. All pillars of influence within the intelligence community and influential in the media. They all decided, as part of groupthink and pure hatred of Donald Trump, to sign a letter saying Hunter Biden's laptop, filled with damning evidence against the entire corrupt Biden family, was Russian disinformation purely to help put Joe Biden in the White House.
"The danger here is that the media colluded with the Biden campaign, coupled with the intelligence community and big tech, to squash a story that would harm the Democratic candidate. It's the most basic and deceptive threat to democracy and it happened as the voting public stood by watching."
Does this mean there was election tampering and does that mean their funds will be confiscated? And does that mean arrests will be made?
That being said… Among the list of names of those who now have Covid… WE CAN ADD THESE PEOPLE:
Sen. Cory Booker – fully vaxxed, COVID positive
Sen. Elizabeth Warren – fully vaxxed, COVID positive
Sen. Lindsey Graham – fully vaxxed, COVID positive
Piers Morgan – fully vaxxed, COVID positive
Jeff Ross – fully vaxxed, COVID positive
Bill Maher – fully vaxxed, COVID positive
Lloyd Austin (SECDEF) – fully vaxxed, COVID positive
Lt. Gov Dan Patrick – fully vaxxed, COVID positive
Whoopi Goldberg – fully vaxxed, COVID positive
Rep. Alexandria Ocasio-Cortez – fully vaxxed, COVID positive
Geraldo Rivera – fully vaxxed, COVID positive
Keep On Pressing Into The Kingdom of God! Press, press, press.
Dianne