IT KEEPS HAPPENING OVER AND OVER AND OVER AGAIN. DOING THE SAME THING AND EXPECTING DIFFERENT RESULTS!
There is a lot to be said about those who are shouting…."Unless you fix the rigged system your votes won't count!" But, alas, people call those people lots of names and none of them are patriotic or truthers. The eye opener in France should once again show the people that elections are rigged by the same group who wants to rule the world and anoints or shall we say "places" such lame brained puppets into their offices. These are nothing more than order takers to go with the script they have written and are pushing. The fact is they don't even care anymore who knows it…for what can you do about it? Not much….or so they believe that.
Le Pen was the clear winner, but France is in league with the Khazarian ruled mafia and all the Dragons within it. Same as Joe….and who will be next?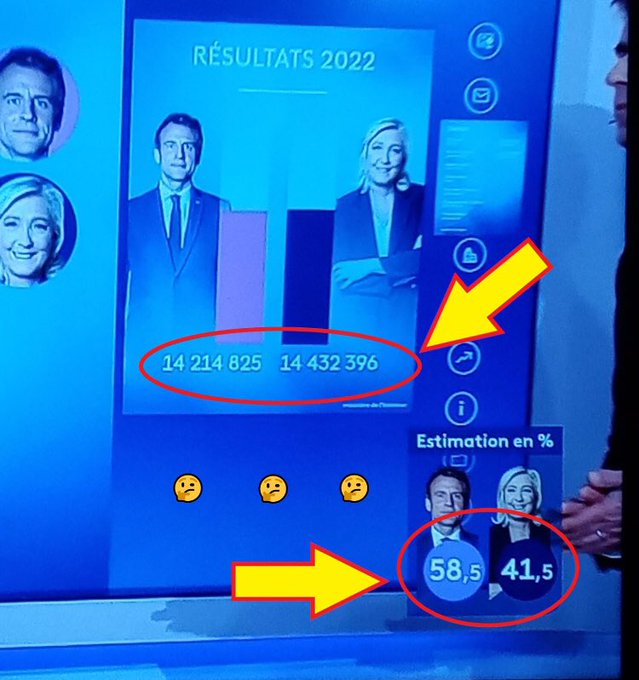 It happened to Le Pen in 2017 and it has repeated itself in 2022. But, when you aren't the right character and you believe in nationalism versus globalism… Dominion wins…even on paper ballots for it doesn't matter how many vote, it matters who counts the votes. Who said that? Oh yea…it was another Khazarian.
Stalin's real name was Djugashvili Stalin's mother was Ossete, from the Khazarian region." But this isn't about Stalin… it's about the rigged election which is Khazarian mafia controlled.
 An article in the Chicago Tribune stated that Le Pen pledged to dilute French ties with the 27-nation EU, NATO and Germany. These were moves that would have shaken Europe's security architecture as the continent deals with its worst conflict since World War II. Or so that was their opinion. Le Pen spoke out against the EU sanctions on Russian energy supplies and of course received backlash during the campaign over her friendliness with Russia, but same as all who are watching the disaster taking place, Le Pen was obviously using common sense.
But what is more concerning is the ones who still have the systems infiltrated to decide who will be their leader, and not necessarily the leader of the people.
French President Emmanuel Macron defeats Marine Le Pen to win reelection — to Europe's relief – Chicago Tribune
It's time to call out the ones who have rigged everything from our elections to our food supplies, Big Pharma and all our systems! IT'S TIME TO UNRIGG!
KEEP ON PRESSING INTO THE KINGDOM OF GOD! PRESS, PRESS, PRESS!
DIANNE