On November 19, 2020 an article reporting the truth was printed stating some actual true reporting. Congratulations to Central City News in Louisiana for telling the truth! Most newspapers are not reporting anything except the fake news talking points. It is a breath of fresh air to see that there was honest reporting in other parts of the nation!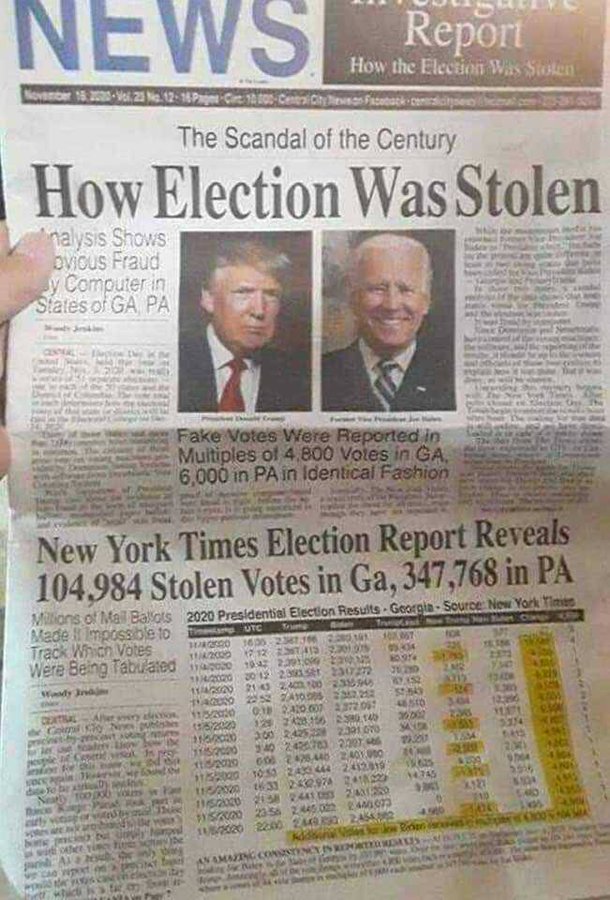 There's finally a break through to the truth in an actual NEWSPAPER and most of us are just now finding that out!
Page A01 | Central City News | centralcitynews.net
On November 22, 2020 The New York Times Reported the following:
After every election, the Central City News publishes precinct-by-precinct voting returns to let our readers know how the people of Central voted. In preparation for this issue, we did that once again. However, we found the data to be virtually useless.
Nearly 100,000 voters in East Baton Rouge Parish took part in early voting or voted by mail. Those votes are not attributed to the voter's home precinct but simply lumped in with other votes from across the parish. As a result, the only thing we can report on a precinct basis would the votes cast on election day itself, which is a far cry from reporting how Central voted.
With roughly half of all votes being reported as part of a parishwide total, it is impossible to determine where most votes are coming from.
In larger states such as Georgia and Pennsylvania, which had millions of early votes and mail-in ballots, the problem was even greater. The public was told for days after the Nov. 3 election that "votes are still being counted." However, as new vote totals were uploaded, neither the public nor the media knew where those votes were from.
Fear generated by the virus created an acceptance of the widespread use of mail ballots, but there was no corresponding effort to insure that those ballots were being collected and counted honestly and correctly. On the contrary, some states including Louisiana, actually reduced normal security safeguards on mail-in ballots.
In the aftermath of the Nov. 3 vote, the media never told the public how or why it was necessary to still be counting ballot days after Nov 3. The confusion and uncertainty of the "new normal" in elections led to acceptance of votes being uploaded without knowing where they came from.
On Election Day, in the Commonwealth of Pennsylvania, Donald Trump took an early and commanding lead.
By 22:54 UTC Nov. 4,
President Trump was leading former Vice President Joe Biden by roughly 285,000 votes. However, that began to disappear as someone, somewhere began to dump "votes" into the system. There were 44 separate vote dumps, resulting in 347,768 votes being put into the system — all in increments of 6,000, 12,000, or 18,000 additional net votes for Joe Biden.
The remarkable consistency of the votes added to Joe Biden's totals has shocked even Democratic office holders who have seen The New York Times' election data.
It was quite a feat for Joe Biden to come back from an election night defeat by 285,000 votes to a 46,000-vote margin of victory four days later. Election fraud has been around a very long time. However, election fraud by computer is something relatively new.
This election is proof that much more work will be necessary to insure free and fair elections in the future.
***
The initial New York Times data was provided to the Central City News by an anonymous source. The writing and research for this piece was by Central City News editor Woody Jenkins with assistance from Jolice Provost.
​Read full report here: New York Times Election Report Reveals Stolen Votes 104,984 in Ga, 347,768 in PA – 1BS Focus
Hang in there we are about to have a breakthrough! And when we do…brace yourself the deep state will throw everything they have at MAGA! Hold the line and be strong!
Dianne Marshall