HERE WE GO AGAIN….NOW WAR ROOM'S STEVE BANNON IS INDICTED FOR CONTEMPT OF CONGRESS!
Two Charges Filed for Failing to Honor House Subpoena From Select Committee Investigating Jan. 6 Capitol Breach!
Stephen K. Bannon was indicted today by a federal grand jury on two counts of contempt of Congress stemming from his failure to comply with a subpoena issued by the House Select Committee investigating the Jan. 6 breach of the U.S. Capitol.
Bannon, 67, is charged with one contempt count involving his refusal to appear for a deposition and another involving his refusal to produce documents, despite a subpoena from the House Select Committee to Investigate the January 6 Attack on the U.S. Capitol. An arraignment date has not yet been set in the U.S. District Court for the District of Columbia.
"Since my first day in office, I have promised Justice Department employees that together we would show the American people by word and deed that the department adheres to the rule of law, follows the facts and the law and pursues equal justice under the law," said Attorney General Merrick B. Garland. "Today's charges reflect the department's steadfast commitment to these principles."
"As detailed in the indictment, on Sept. 23, 2021, the Select Committee issued a subpoena to Mr. Bannon," said U.S. Attorney Matthew M. Graves for the District of Columbia. "The subpoena required him to appear and produce documents to the Select Committee, and to appear for a deposition before the Select Committee. According to the indictment, Mr. Bannon refused to appear to give testimony as required by subpoena and refused to produce documents in compliance with a subpoena."
In its subpoena, the Select Committee said it had reason to believe that Bannon had information relevant to understanding events related to Jan. 6. Bannon, formerly a Chief Strategist and Counselor to the President, has been a private citizen since departing the White House in 2017.
Each count of contempt of Congress carries a minimum of 30 days and a maximum of one year in jail, as well as a fine of $100 to $1,000. A federal district court judge will determine any sentence after considering the U.S. Sentencing Guidelines and other statutory factors.
An indictment is merely an allegation and all defendants are presumed innocent until proven guilty beyond a reasonable doubt in a court of law.
The case is being investigated by the FBI's Washington Field Office. The case is being prosecuted by the Public Corruption and Civil Rights Section of the U.S. Attorney's Office for the District of Columbia.
Stephen K. Bannon Indicted for Contempt of Congress | OPA | Department of Justice
Steve Bannon's Lawyer told the House select committee in October that he would not comply with its subpoena because Trump had instructed him not to produce any documents or testimony "concerning privileged material."
We all know Steve Bannon was a senior White House advisor during the first seven months of Trump's presidency. So the Pelosi cabal led congress decided since he left office after 7 months that whatever executive priviilege he had went null and void after that. WRONG!
The fact remains that President Trump appealed the case the U.S. Court of Appeals for the District of Columbia Circuit, which granted a temporary injunction to withhold the release of the White House records. Therefore, Brannon is obeying the real law and order and not breaking the law to abide by the congress's kangaroo anything goes congressional hearing circus act. Which is their pattern of distracting from their other lawlessness which happens to be their sins of treason in one of their past Kangaroo court sessions – notably the Russia, Russia, Russia and their star witness Fiona Hill. That has blown up in their faces with the recent indictment by John Durham of Igor Danchenko, a Soros Connected Associate of Lying Schiff Star Witness Fiona Hill.
SILENCE!! BECAUSE I SAID SO! ANOTHER KANGAROO COURT IN SESSION – WHERE LAWLESSNESS ABOUNDS!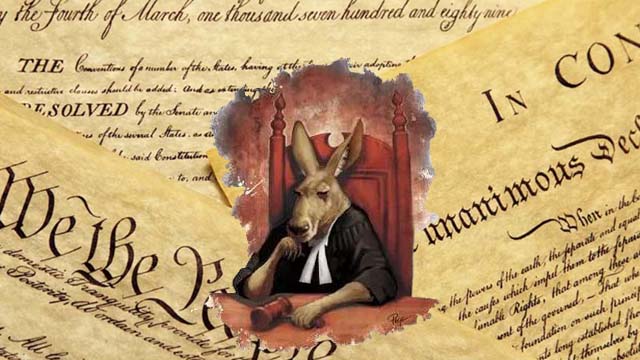 It is obvious they don't have any thing else to do but LIE LOUDER THAN EVER BEFORE AND CONTINUE TO SAY THE INNOCENT ARE GUILTY AND THE GUILTY ARE INNOCENT! That game is old, it is exposed, and it is no longer to be tolerated!
Also in another statement, committee chairman Bennie Thompson, D-Miss., and vice chair Liz Cheney, R-Wyo., said they are considering contempt proceedings against another Trump ally — former White House chief of staff Mark Meadows — for failing to comply with their subpoena.
Thompson rejected the reference to executive privilege, the doctrine that allows some executive branch officials to keep some communications confidential, as an argument for noncompliance with a congressional subpoena. And of course he did that because they have no rules except the ones they make up as they go along…but that lawless game is now old, It stinks, and it no longer plays in America.
Time will tell what happens to the ones playing their congressional hearing circus games. They are all but showing their own guilt in the coup by their sloppy distractions to cover it up. and in so doing they are unwittingly pulling the curtain wide open exposing all their wicked evil treason against the American People and their corrupt judicial system!
I'm waiting for a house to fall out of the stormy sky and land on some of these wicked witches and warlocks who call themselves elected officials.
Remember President Trump, never conceded the 2020 election to Biden, and the audits are still taking place. The rolls royce that was stolen will have to be returned. That is the bottom line! They need to know that just because you squat in an empty building does not mean that now it belongs to you. Far from it!
Why do you think they really want Bannon out of the way? It has nothing to do with their Kangaroo Court Subpoena….it has everything to do with free speech and the constitution! Who's next?
KEEP PRESSING FORWARD….PRESS, PRESS, PRESS GOD IS LEADING HIS PEOPLE JUST KEEP PRESSING HE WILL DO THE REST!
DIANNE